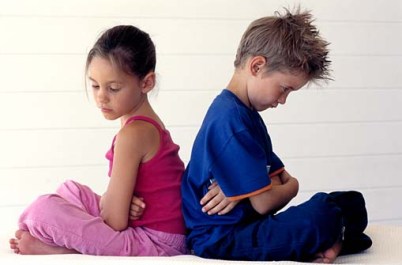 One of our inside family jokes has to do with a certain child of ours who had the hardest time simply apologizing or admitting she was wrong.
(This same child, as a two-year-old, used to wear a t-shirt with the picture of a well-known TV character who had a similar problem.  The most he could ever do was say, in his coolness, "I was wr-r-r-r-r."  I wonder if the t-shirt rubbed off somehow.)
Anyway, the conversations would go something like this:
"You need to tell her/him you're sorry."
"But I didn't mean to."
"It doesn't matter – you did it.  Say you're sorry."
"But I didn't mean to."
"But you did it."
"It's not my fault."
"SAY IT!"
"I DIDN'T MEAN TO!"
Where Could She POSSIBLY Learn Something Like That?
To this day, we haven't really understood what a simple apology symbolized to this child, but she wasn't buyin'.  But let's face it.  We all come by our reluctance to admit fault pretty honestly.  Our first parents had a bit of denial of their own.  "That woman," Adam said.  "The serpent!" Eve said.
"It's not my fault!"
We've been predisposed to duck responsibility for mistakes ever since.
Somewhere along the way, maybe as far back as my DNA deposit, I was wired completely differently.  I don't grovel or walk in the room putting my best "sorry" forward, but if that's what will cut the tension in a relationship, I'm so there.  Pride be fried.
As opposites attract, however, I married someone who wants to see an apology more than hear one.  "I don't care how sorry you say you are," she'll say.  "I want to see a change in behavior."
"Oh, OK.  Sorry.  Uh, I mean…"
So with her, I have my own way of communicating my remorse and repentance.
I unload and/or load the dishwasher.
Hey dude, figure out your own way out of the doghouse.  For me, being married to a very visual person, it means changing something she sees.  You can pick up roses; I'm picking up my shoes.
(By they way, I'm pretty sure she is completely unaware of this subtle tactic, so if you know the missus, please don't let her in on our little secret.  It's been working pretty well for 26-plus years.)
For most other people, however, it's amazing how effective it can be just to say with integrity: "I regret my actions.  I was wrong; please forgive me."
In Organization Life
The reluctant apologizer in our family has grown a lot over the years, but for a long while, I seriously thought she should be an attorney or senior business executive.  She'd fit right in.
Why have some organizations, including some churches and denominations, been so reluctant to acknowledge mistakes if apologizing is so important and effective?   Moreover, why have many organizational leaders had a hard time admitting they blew it?  Maybe it's pride.  Maybe it's greed, or the fear of being sued or some other financial loss.  Maybe it's that whole, "anything you say can and will be used against you."
That said, I'm hopeful.  Some people and businesses are beginning to see the light and face the heat in the wake of their failures.  Toro, the lawn mower enterprise, changed its policy on apologies and decided to throw caution to the wind.  The result?  The average cost of a claim dropped from $115,000 in 1991 to $35,000 in 2008.  The company hasn't been to trial since 1994.
The VA hospital in Lexington, Massachusetts, developed an astonishing approach to apologizing for errors.  The even go so far as to acknowledge a mistake when no patient request or claim was made.  In 2000, while the overall mean VA system malpractice settlement was $413,000, The Lexington VA hospital settlement average was $36,000-and there were far fewer per patient claims to begin with.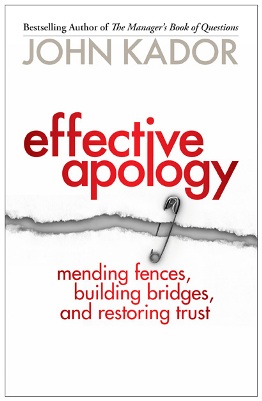 This and much more is what John Kador's new book, Effective Apology:  Mending Fences, Building Bridges, and Restoring Trust is all about.  "Apology," Kador says, is the bravest conversation we can have with ourselves."
Apology is no longer a sign of weakness or defeat. Indeed, the willingness to apologize signals strength, character, and integrity. Effective leadership is impossible without effective apology. It is an expression of accountability, transparency, and humility. Crafting and delivering a confident apology is in your self-interest as a way to defuse resentment, reduce litigation, create goodwill, and transform a relationship ruptured by mistrust and disappointment into something stronger and more durable than it ever was before.
The book explores the "Five Rs" of wholehearted apology:
Recognize the wrong and the person harmed;
accept moral Responsibility for your actions and consequences;
express Remorse;
provide meaningful Restitution; and
offer assurance that the offense will not be Repeated.
Jim Kouzes and Barry Posner have been saying the same thing about leaders for years in their books Credibility and The Leadership Challenge. Accountable leaders keep a close watch on the effects of their actions, and are quick to respond to mistakes. This begins with admitting mistakes when they happen. Often leaders either deny or attempt to cover up any wrongdoing because of legal concerns or a fear that admitting a mistake may hurt credibility.  As a result, they actually assure damage to their reputations.
Offering an apology in the wake of a mistake sends a message.  It says, "We care about the impact or problem my/our actions may have created."  Followed by quick action to deal with the immediate consequences of the mistake, the leader or organization communicates concern for long-term trust.
Just make sure, in your zeal to shoulder responsibility and earn your constituents' trust and respect, you don't send out a roach letter by mistake.  One of the corporate legends that gets passed along from time to time has to do with an airline passenger who found a dead roach in his salad.  As soon as he could, he fired off an angry letter to the airline – something along the lines of "I've flown this airline for years and I deserve better" (as if they singled him out for a special treat in his salad).
Very soon thereafter, he received a reply, from no less than the president of the company.
"Dear Mr. ____________,

Your letter caused great concern to us. We have never before received such a complaint and pledge we will do everything within our power to insure such an incident will never happen again. It might interest you to know that the employee serving you has been reprimanded and the entire plane is being fumigated. Your concern has not fallen on deaf ears."
Needless to say, the man was impressed. That is, until he noticed that the letter was attached to his original angry correspondence, and the president had hand-written on it, "Send the usual roach letter."
Oops.
Sorry.
But he didn't mean to!
Somebody better start unloading somebody else's dishwasher.