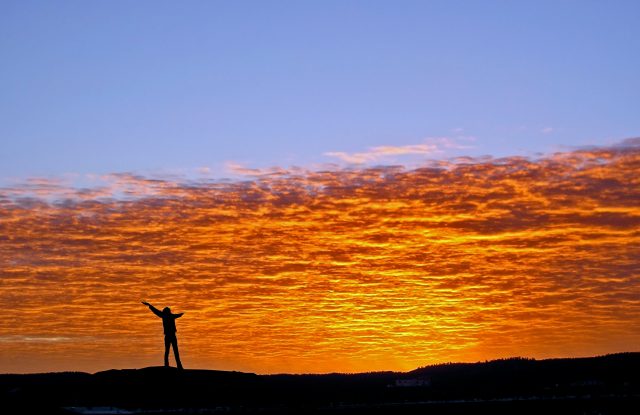 Hey.  Bible scholar.
Yes, you.
I have a thought question for you.
Remember David?  King… giant slayer… and that other nickname he is famous for?
Yeah, that one – a "man after God's own heart."
God Himself used the phrase first and it is repeated throughout scripture. Samuel said to Saul, "But now your kingdom shall not endure. The Lord has sought out for Himself a man after His own heart…" (1 Samuel 13:14). And He found that in David.
And He repeated that over and over again, not just during David's lifetime, but throughout the Bible.  Something about this man, who obviously had some pretty serious personal flaws (liar, adulterer, and murderer for starters) was so unique that God used His version of neon lights and pointed to this man again and again.
Why?
Weren't there other righteous people in scripture who didn't involve themselves in scandal?
Yes. Joseph, for starters. But David had something Joseph didn't.
Abraham also comes to mind. What a demonstration of profound faith. But the "father of many nations" and the father of true faith is not referred to as "a man after God's own heart" because David had something Abraham didn't.
The same could be said for Abel, Noah, Moses, Isaac, Jacob, Gideon, Samuel, and a bucketload of others who are presented as heroes and examples.  They all had something to model – something to offer. But none of them are mentioned with the same language as David.
Why?
Do an Internet search for "why David was a man after God's own heart," and you'll get a cornucopia of reasons – nearly all of which make David just like all those others.
Courage? Check.
Faith?  Check.
Obedience?  Check.
Repentance? Uh huh. Lots of that.
We're Looking in the Wrong Place.
The problem is that we're looking in the wrong place.  We're looking into David's heart to find out why he was a man after God's heart.  Here's a novel idea – why not look into God's heart?
That's what David did.
David sort of unlocked a combination – and did so as a very young man, long before he was ever anointed king over Israel. In his years of isolation as a shepherd, he connected with God in a way that no one to that point had. And he discovered something profound.
Unprecedented.
Almost radical.
And nobody prior, despite their spiritual exploits, had discovered this amazing "secret."
Now after David, the "secret" is out of the bag. Or at least it should have been.
Have you guessed what it is yet?
A Seemingly Obscure Reference
The answer to the question is found in a place where the Bible – and David – is doing some housekeeping. It's one of those passages where in between big miracles and exploits somebody stops and gets organized.
"He appointed some of the Levites as ministers before the ark of the Lord, even to celebrate and to thank and praise the Lord God of Israel…. Then on that day David first assigned Asaph and his relatives to give thanks to the Lord" (1 Chronicles 16:4, 7)
And what, you may ask, is so significant about this?
Other than a passing reference to a type of sacrifice in Leviticus, this is the first time the words "thanks" and "thanksgiving" show up in the Bible from Eden all the way until the reign of David. 
There are celebrations, of course, and plenty of altars built for worship.  Lots and lots of sacrifices.  But no intentional gratitude.
Stop. Think about this.
Enoch walked with God. But never said "Thank You."
Noah built an ark and through him God rebooted the world. But Noah never said "Thank You."
Abraham demonstrated exceptional faith, without which it is impossible to please God. But Abraham never said "Thank You."
Joseph delivered two nations and certainly demonstrated love and forgiveness. But Joseph never said "Thank You."
Moses led the Israelites out of bondage and gave the Law of God from the hand of God. But Moses never said "Thank You."
Joshua led the invasion of Canaan and established Israel in the Promised Land. But Joshua never said "Thank You."
The Judges repeatedly helped deliver Israel from one calamity after another. But none of them ever said "Thank You."
Nobody – nobody – is recorded to have said "Thank You" to God before David did.
But even this event wasn't a first for David. Read the psalms, many of which date chronologically much earlier. And there you recognize the pattern.  Relentlessly, publicly and privately, in good times and bad, David the shepherd and David the King expressed thanks to God.
Now in this context David has returned the Ark of the Covenant to Jerusalem.  He knew the Law and its requirements of priests. But he takes the worship of God one step further.  In an unprecedented move he appoints some of the Levites as ministers of thanksgiving and praise before the ark of the Lord.  And he assigns Asaph and his relatives to give thanks to the Lord.
Appointment and Assignment.  That was Asaph's job.  It was the chosen Levites' specific appointed positions.
This was unprecedented.  Gratitude as an assignment? As an appointed office?  Why?  Because David understood something about the heart of his God.  In the zenith of Israel's growth and glory, David, the man after God's own heart, changed the worship of Israel by establishing intentional gratitude.
He got it.
And so should we.
Why Gratitude?
So what's the big deal about giving thanks?
And why is that such a big deal to God?
Because the one thing that He doesn't already eternally possess is human gratitude.  He is completely self-contained and needs nothing.  He is eternally surrounded with unbridled and unbroken praise in heaven. But the one thing He seems to yearn for, and the one thing that seems to leverage His direct activity more than any other is the offer of thanksgiving.
Even Jesus was shocked and I think a bit dismayed when He healed the 10 lepers and only one came back to say thanks.
So you want to follow in David's footsteps? You want to be a person who is "after God's heart?" Then sure, explore the things that made David like the other heroes of the Bible. But while you're at it, dig in to what made him different.
Gratitude isn't just a nice thing to do check off on your feel-good list.  Something about giving thanks electrifies the heart of God… and leaves you in hot pursuit of it.