The Rental
Last week we made a cross-country U-turn and returned to Lubbock for a wedding and some work and training.  We needed to rent a car, but weren't too worried about it.  Hey, it was Wednesday, in June, in Lubbock Texas.  What could possibly be a problem with renting a car?
Texas Tech University, that's what.  It's the tail that wags everybody's dog in Lubbock, and it seems they were having Freshman Orientation or something, and all the cars were booked.  Except at Hertz.  So we stand in the long line and wait.  Finally I tell the desk jockey I would like an SUV for four days.
"I can do that rental for $131.00," she says.  I'm impressed.  "Go for it," says I.
Turns out that was $131.00 a day.  Something about supply and demand.
Oh well.  Sometimes you're just running on five cylinders.
(Speaking of supply and demand, the next day Alamo had a supply – $21.00 a day for a Camry – and I made a demand that Hertz take their gold-plated rental back.)
The Tie
It's customary if you're in the wedding party to wear a tie. That's especially true if you're the one actually performing the wedding ceremony.
Guess what I forgot to pack?  Come to think of it, I don't even remember unpacking the box back in Mobile that has ties in it yet.
Anyway, on the way to the wedding ceremony, I needed to stop by the mall and pick up a tie for the wedding.  Mission accomplished, we headed off to the venue in downtown Lubbock, all systems go.
Turns out, it was more like, all systems uh-oh.  That tie?  Totally disappeared.  I mean, grew legs and walked off.  It was nowhere to be found.
How do you lose a tie – in 15 minutes, for crying out loud – when it's tightly contained in a Japanese rental car for the duration of the ride?  I wanted to blame Hertz, but they were nowhere to be found.
Fortunately, on Saturday afternoons, there is a men's clothier (did you just hear the sound of a cash register?) in downtown Lubbock, open until six.  Unfortunately, well, just remember the previous lesson about supply and demand.
So, new tie now tied in the store (I wasn't letting this one get away), I raced back to the venue.  Just as I got out of the car, the mystery was solved.  That first tie?  Fell out of the car when I dropped Robin off at the front door.  There it lay, in all its folded splendor, on the cobblestones of 13th Street.
Oh well.  Sometimes you're just running on four cylinders.
Sonic
On the way to my daughter's house, I stopped by a local Sonic to pick up a couple of drinks.  Don't you just love the convenience of those handy dandy credit/debit card machines that allow you to pay for your order from the convenience of your car?
So I slid my card and waited.  And waited.  And waited some more.
Hmmm.  These handy dandy machines have been known to go bad.  Just before I backed out to try a new machine, a little voice went off inside my head.  "You fool," it said, "you have to place the order first."
Sigh… Oh well.  Sometimes you're just running on three cylinders.
The T-Shirt
New Orleans Airport.  Just about to board the plane, I notice across the way this guy is wearing a crimson-and-white t-shirt that says, "BACK-TO-BACK CHAMPIONSHIPS."  Ah, the joy of being back in Dixie.
Turns out this guy was on my flight, and was walking past me, clad in crimson pride.
Time to reach out and make a connection.  Time to exude coolness and make a statement all in the same breath.  So just as he was passing by, out of the corner of my mouth, just loud enough for him to hear that we're in this thing together, I say, "Roll Tide!"
He didn't exactly respond like I would have predicted.  He had a little smirk. But there was none of the Southern passion, none of the football-is-religion that I would have expected.
Time to take another look at that t-shirt.
"It's a minor league hockey team," he said smiling.
Hockey?
I've never been so embarrassed in all my life.
Oh well.  Sometimes you're just running on two cylinders.
Disney
I guess it's travel that brings out these moments of brilliance in me.  Which reminds me…
Last December we took the whole family to Disney for Christmas.  "Whole" means whole – all 15 of us, including three-week-old Jonah, who won the trooper of the year award or something.
We'd had a fabulous first day – worn our custom-designed t-shirts, enjoyed the magic of the Magic Kingdom, and caught the bus back to the hotel.
That's when somebody with a camera noticed that Cason, Grandbaby #5, who was sitting in my lap, had seen enough magic for one day.
And so had Papa.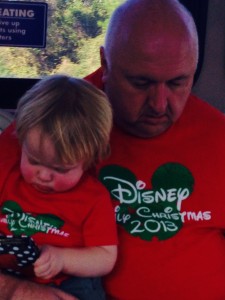 Oh well.  Sometimes you're just running on one cylinder…
And that's a good time just to catch a little nap.