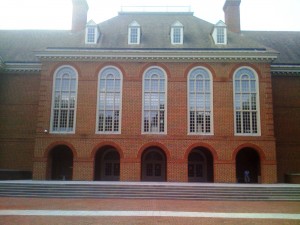 For the last six years I have had the privilege of serving on the adjunct faculty of Regent University's School of Undergraduate Studies.  When I started, Regent Undergrad was a simple two-year degree completion program, designed to help people complete a bachelor's degree so they could attend the prestigious graduate program founded by Pat Robertson of The 700 Club and CBN fame.  But now RSU, as it's called by insiders, is a four-year institution of its own.
And I hear they're thinking about starting a golf and tennis team.  Woo hoo!
Anyway, one of the high points for me is the Fall Faculty Workshop, where they fly people in from wherever to attend a day or two of meetings for training, inspiration, coordination, and schmoozing.
Especially schmoozing.
Whatever my day job has been during the last seven early-Augusts, it has been a highlight since 2005 to return to the scene of my Ph.D. work, with its stunning campus, caring people, and fresh ideas.
Did I mention schmoozing?
With a lot of turnover, growth, and the ebb and flow so typical of a young, growing enterprise this is an annual opportunity to make connections.  And memories.  And yes, impressions.  Add to that the fact that this Coastal Alabama boy had not left drought-ridden Texas since Thanksgiving last year, and hadn't seen rain in over six months – I was ready for a change of pace.  And, of course, to make an impression.
Well, maybe not like the impression I made at the DFW Airport. Catching the Skylink to the next terminal, I go long-striding through the open doors, luggage in tow, and plow my head right into the overhead hand rails.  Yeah, that got everybody's attention.  And left an impression… on my forehead.
I've gotta get out more.
Then there was the TSA check-in at the Norfolk Airport at the wicked-early time of 5:30 a.m., Eastern.  I was going to be prepared.  I was not going be one of the reasons the line got held up by some yokel who didn't know a boarding pass from an itinerary.  After all, I was a seasoned traveler!  So I couldn't imagine why the TSA agent just looked dazed and confused when I presented my boarding pass and photo ID.
Oh.  Wait.  That was a credit card.
I've gotta get out more.
After a day of meetings, exchanged ideas and fellowship, the high point of the day was the dinner banquet.  Adjunct Teachers of the Year were to be awarded, and we had the opportunity to hear the esteemed David Gyertson, gifted speaker and former Regent President – a pioneer of the school, back when it was called CBN University.
I showed up stylishly late and found that tables were assigned.  Imagine my surprise when my assignment was not with my department, but with Dr. Gyertson, the Dean, and other assorted professors.  And the empty chair was next to the Dean.  Score, I thought to myself, all the while wondering why, exactly, I was there.
Serving must have started early, so I started working on the salad in front of me as I was also busy looking interesting and intelligent to the Dean, seated to my right.
Have I ever mentioned that I'm not a good multi-tasker?
"Um," said the Dean, "Did you know that you just put coffee cream on your salad?"
Sigh…
I didn't win the Adjunct Faculty of the Year award.  But watch for me on a later edition of The 700 Club, where maybe I can present a few other fresh serving ideas for your next banquet.  (Hmmm.  Maybe I should tell them about the Holy Spirit salad.)
Anyway, if the goal was to make an impression, I have my reward!
I've gotta get out more.