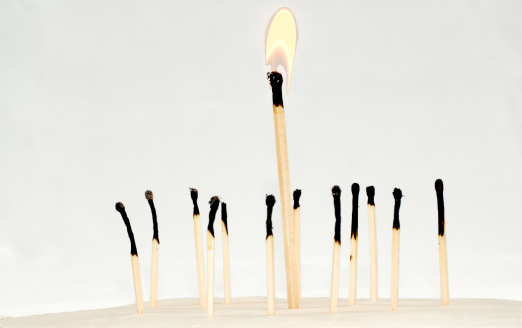 In the last post I shared six signs of a leader who breathes life into organizations and followers, as opposed to those who have a way of sucking the life out of them.  Definitely worth a review if you missed it.  My guess is, you have probably experienced both types on a personal level, whether it's in your workplace, your church, or your community.  We've certainly seen both types on a global or national scale as well.
What I'm more concerned about, however, is the leadership you show, even if you don't think of yourself as a leader.  Everybody influences somebody, and you're no exception.  And all of us can learn from the example of the ultimate life-giving leader, the Lord Jesus.  Here are six more signs of a life-giving leader.
7.  Relationship:  He leads people first, then missions.
"Everyone who drinks of this water will thirst again; but whoever drinks of the water that I will give him shall never thirst; but the water that I will give him will become in him a well of water springing up to eternal life" (John 4:13-14).
Jesus understood that his primary role wasn't to start a movement or create an organization – it was to change the hearts of people.  It wasn't a task for the sake of accomplishment.  And even in leading his disciples through Samaria, the target was people.
Death-by-leader organizations treat people as expendable and task-oriented goals as supreme.  Life-giving leaders understand that organizations and balance sheets and machines are all somehow reflective of real, live people, and they lead accordingly.
8.  Perspective:   He gives followers a sense of purpose and understanding of their role in the bigger story.
"I sent you to reap that for which you have not labored; others have labored and you have entered into their labor" (John 4:38).
Jesus routinely explained the big picture – the "back story" – to his disciples. He helped them see that they were included in an epic plan of redemption and world conquest, and that what they did mattered.  That's what all life-giving leaders do. They make sense out of the daily grind, the uphill battles, the victories and the losses that their constituents endure.
Life-sucking leaders routinely keep their minions in the dark. They use phrases like "need to know basis." They divide and conquer. They limit communication across the organization.  They believe that knowledge is power, and they aren't interested in giving their power away.
9.  Forgiveness:  He creates a culture of forgiveness.
"Truly, truly, I say to you, he who hears My word, and believes Him who sent Me, has eternal life, and does not come into judgment, but has passed out of death into life" (John 5:24).
Jesus the Savior came to bring people from death to life. Jesus the leader came to lead people out of a sense of futility and failure.  That's that life-giving leaders do. They create a culture where failure is not an option, but forgiveness is.
If you want to know whether your leader is life-giving or life-draining, this may be the easiest test of all:  How free are you risk epic failure in order to try new ideas to fulfill your organization's vision?  If your organization breeds a fear of failure, it may be a lot of things, but life-giving isn't one of them.
10.  Confidence:  He inspires confidence and trust.
"…he who believes in Me will never thirst…" (John 6:35-36). 
The message of Jesus was consistent, especially in John's gospel:  Believe in Me!  All things are possible to those who believe in Me!  That was what His entire ministry – the lessons, the healings, the other miracles – everything was for.  It was go inspire people to believe in Him.  Why? Because that's where the life is!
On a much smaller scale, life-giving leaders do the same today.  They work very hard to inspire confidence and trust – first in the organization, then in the leader.  They recognize the absolute necessity of earning the trust of their constituents, and avoid anything that hinders that.
11.  Abundance:  He creates a culture of sufficiency.
"The thief comes only to steal and kill and destroy; I came that they may have life, and have it abundantly" (John 10:10).
Everything Jesus did, He did abundantly.  And in every interaction, He approached people, needs, problems, even warfare from a perspective of sufficiency.  He embodied and communicated a spirit of "more than enough."  That's how life-giving leaders think.
Compare that to life-sucking leaders who gain and keep power on the basis of a scarcity mentality.  To them life is a zero-sum game, and there is only so much to go around.  Moreover, they use scarcity thinking and fear to manipulate people to do what they want.
12.  Hope:  He creates confidence for the future.
"I am the resurrection and the life; he who believes in Me will live even if he dies…" (John 11:25).
Jesus had a way of showing up at the most hopeless of moments and infusing them with new possibilities and new confidence for the future.  He wasn't insensitive or blind to the grief or pain of others – He even wept at Lazarus's tomb knowing He was going to raise Him from the dead.  But in dealing with problems or pain, Jesus never accepted them as the final word.  Neither should you, if you intend to infuse life into the people you influence.
Anybody in leadership can talk about problems.  Life-giving leaders don't pretend those problems don't exist. But they do raise the horizons of hope that those problems can and will be solved.
Regardless of your leadership history, you can begin today on the journey of offering quality of life to the people in your realm of influence.  And Jesus, the ultimate life-giving leader, has already given a clear place to get started.  "Follow Me," he said to fishermen Peter and Andrew, "and I will make you fishers of men."  As you follow Jesus, receiving life from Him, sharing it with others, including entire organizations, becomes as natural as breathing.
Choose life.  Not just quantity, but quality. Not just for yourself, but for everyone whose work and life is touched by yours.