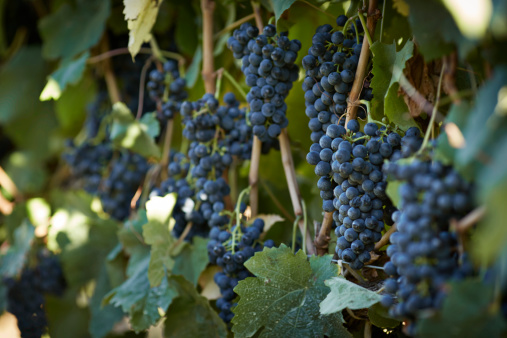 Two extremes.
Two in-your-face, He-can't-be-serious statements made by none other than Jesus Christ.
Two simple statements of fact covered up and made sleepy by years of self-initiated religion.
I'll tell you right up front – you'll say you believe it.  But I would gently challenge you that on typical days you probably don't.
The statements?  Read this slowly as if you're reading it for the first time (maybe you are!):
"I am the vine, you are the branches; he who abides in Me and I in him, he bears much fruit, for apart from Me you can do nothing... If you abide in Me, and My words abide in you, ask whatever you wish, and it will be done for you" (John 15:5-8)
"Apart from Me you can do nothing… abide in me and ask whatever you wish."
Nothing… Whatever.
I wonder what Jesus meant by that.
You should know, I went to seminary and have a license to operate Greek.  Know what those two words mean?
They mean "nothing" and "whatever."
And I think, crazy as this may sound, He may have meant exactly what He said.  Which begs the questions, What am I trying to do without Him?  And what am I boldly asking for?
The Key: Abiding
How does somebody go from complete helplessness to unlimited asking power?  From "nothing" to "whatever?"
In a word, abiding.  Remaining.
In Christ.
In intimate fellowship with Him.
So united that your identity is lost in His.
So intimate that you hear, not just His commands, but His wishes, His heartbeat.
So connected-in-rest that He is you source of confidence and peace.
(Somebody just read that and translated it, "Yes, I need to do more for the Lord."  Stop it.  Now. You've completely missed the point.)
The Image:  Branches
What does it mean to abide in Christ?  To relate to Him as a vine relates to branches.  To maintain a dependent connection, and to receive the flow of life from Him that only He can supply.
This flow of life is constant, like a moving river.  And in that context, He invites you to jump into that flow and ask.
How can He make such a promise?  How can you avoid a self-serving request?
Simple. When you're abiding in Christ, receiving the flow of life only He can give, you won't want to do anything that stops the flow.
It's the flow that stirs up a different kind of ambition.
It's the flow that awakens the heart to call on Him.
It's the flow that stirs new wishes – new desires to ask Him for.
Nothing in your spiritual life is more important than that flow.  It must be protected.  You can't survive without it.  You'd wither up and die.  With it, to keep the metaphor Jesus used, you bear much fruit.  Regardless of your position or lot in life, you bear much fruit.
Ask the Right Question
It's easy to lose our way sometimes by asking ourselves the wrong questions.  Preachers ask, "Can I bear more fruit in a different church or with a different strategy?"  Job seekers ask, "Can I have more success in a different career or job?"  Students ask, "Can I be more marketable with a different or additional degree?"  Volunteers ask, "Can I make more of a difference serving in a different capacity?"
Those questions have their place.  But the answers are irrelevant unless you're abiding in Him.  The secret is not in the vocation, but in the flow.
So how, then, do we tap into the flow?  By faith in Jesus as your way, truth and life (John 14:6).  He is your source of energy and power (life). He is the basis for what you believe, not just about spiritual or religious things, but all truth.  He lights a pathway that always – always – involves following Him to get where you're going.  That's where you'll find the flow.
And get this – that flow actually manifests itself in your life as the indwelling Holy Spirit.
It doesn't take a church house or a temple to find it.  It doesn't take a set of rules or procedures.  Don't misread this – it doesn't even require that you go off and pray about something.  When you're abiding in the flow of life He offers, He'll show YOU what to pray about.
Right now you're living in one of two worlds – the World of Nothing or the World of Whatever.  In the World of Nothing, you're pretty much trusting in your own devices to schlep forward.  Your talent. Your wisdom.  Your strength.
In the World of Whatever, you position yourself as completely dependent on Jesus, and only Jesus, as your way, truth, and life. And then, as you move in the flow of His Spirit, you are set free to ask greatly… and expect anything.
A limitless supply of life, energy, peace, growth, and fulfilled purpose awaits… all wrapped up in a Person. Aren't you ready to retire from the rat race of doing it all on your own?
Related articles across the web