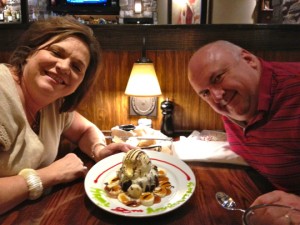 Want to increase your expectations?  Increase your options.
Robin and I celebrated our 30th anniversary yesterday. To be honest, it started with little-to-no expectations. She had been feeling really bad pain-wise, then got a cold on top of that. The day was a work day for both her and me, and we both had a lot to do.  So we said all the right things and assumed we'd plan some other celebration later.
The one thing we planned, sort of, was dinner.
But there was one option we didn't consider – the option that she would actually feel very good at the end of the day.
The cold was much better, she had less pain and more energy, and we had a really nice evening together. Fortunately in this case, when the new realities presented themselves, we were able to act on them.
The evening was made all the more special by Ralph, our server at the Longhorn Steak House.  Ralph saw his job as being more than taking orders and serving food.  He increased his options by becoming a celebration facilitator.  I actually heard him ask the table next to us, "Are you guys celebrating anything special tonight?"
Ralph saw to it that since we were there to celebrate, we would have a celebration.  He engaged with us conversationally without being annoying.  He was personable. And by the time the night was over, it felt as though he had been the conductor of our own little symphony. We had attention from five other people at the restaurant. I'm sure some of that was standard operating procedure. But I think some of it was more than that.
The highlight came at dessert time. Robin said she wanted something chocolate, but wasn't sure.
"Know what I think you should do?" Ralph said.  "We have two different desserts.  The molten chocolate is good, but when you put the caramel from the Bananas Foster on it, and then the bananas, it's amazing."
Another option.
"Go for it," we said.
Ralph brought back what we found out later was his own creation.  He had even drizzled "Happy 30th Anniversary" on it.
"I've never done the whole drizzling thing before," he admitted.
But he considered another option.  I hope he appreciated the 32% tip.
Two Roads Emerged
I routinely counsel or coach people who are at something of a crossroads. Usually it has something to do with their work or education. They don't have unlimited time or money and need to make the best possible choice.  With all due respect to Robert Frost, I don't suggest the Road Less Traveled.  I suggest the road that creates the most options.
That's exactly what happened in my own journey when I had to choose between two very fine schools to get a doctorate. Two different programs.  Exactly the same requirements and cost. The biggest difference: one offered more options afterward, even if I never exercised any of them.
Guess what?  Even though at the time I had no intentions of choosing what I thought was "Plan B," life (and God?) had other ideas.
Two roads emerged, and I chose the one with the most options at the other end.  And it made all the difference.
Dead Ends
Sometimes the choice is not between two or more options. It's more a case of having none. Or at least it seems that way.
The minute you think you're out of options, you'd better be on your death bed.  Otherwise, you're dead before you die.
As long as you're above ground, dead ends are illusions.
You think you've tried everything; you haven't.
You think something you tried before that didn't work will never work. Maybe the timing is better now.
You think you lack the skills or training; then get the skills or training. Better still, borrow or hire somebody else's.
You think that failure of yours left you with no choices. Don't be an idiot. Sometimes failure limits some choices, but it often opens the door to others.
You think the situation is impossible; then develop or strengthen your relationship with the One who eats impossible for breakfast.
When you're standing at what appears to be no choice at all, it's time to reframe the situation. Look at it through other lenses and different perspectives.  Increase your options.  Wisdom will follow.
Poisoned Pathways
One other scenario sometimes limits our point of view. I call it the Poisoned Pathway.  It's where it looks as though there is only one path, and the path is an ugly one.  This is usually laced with the words, "I have no other choice."
Of course you do.  There is always another choice.
You may think you had no other choice than to quit that job. But you do have other choices. You could stay and stand your ground. You could build trust over time. You could improve your skills at areas where you seem lacking. You could appeal to higher authority.
Don't misunderstand. Quitting may be the right thing to do.  But it's only right when you realize it's not your only option.  Increase your options. Wisdom will follow.
On the other hand, you may think you have no other choice than to stay at that job. Seriously? Is your world that limited?  There is always something else you can do, though it may not leave you in the same town or offer the same "job security."  Increase your options. Wisdom will follow.
You may think your only solution is a divorce. Better think about that one again. Do you honestly think that's going to make your life or the lives of your children better in the long run?  Hear me: There may be reasons why that is an option. But divorce is never the best option when you think it's the only one.
Where the Options Come From
Anywhere. Everywhere. A multitude of counselors. Your mother-in-law. Another industry. Your competition.  Your business partners. Your harshest critics. Your most faithful encouragers. Shakespeare. The Bible (these aren't in any specific order). Biographies.  The Kardashians (NOT). A cereal box. A trip to the pond to fish.  Unplugging.  Online searching. A preschooler. A professor.
What if you began with the premise that it takes 100 bad or OK ideas to find the one good one? That way you don't get offended or frustrated by the other 99. They're just ideas that don't fit this situation at this time.
And what do you do if, in your list of 100, you find 10 really good possibilities?  Pick one, for crying out loud, and take massive action! Live as someone who is gloriously free of perfectionism.
Or, of course… you can pick the one that creates the most options.
That's what I'd do anyway.
Related articles