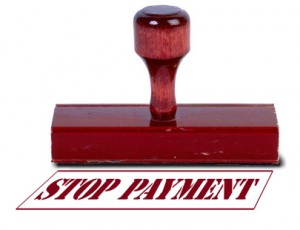 These days I make a trip to the bank just about every day.  I'm on a first name basis with most of the tellers, which feels good.   And most days it's a pretty straightforward deal – one or two deposits, mostly business.  Even a left-handed guy like me can get that right.  About the worst mistake I ever made was driving around in a cluttered truck and realizing that beneath all that clutter was a deposit I forgot to make.  For about a week.
Then came Friday.  Four deposits.  Three different accounts.  And one of those was a check I'd written to myself to deposit in our personal account.
I pulled up to the window and realized I hadn't endorsed the check I'd written to myself, so while the probie teller waited for me patiently, I paused to do that.
I'd venture to guess there was about a six-inch gap between the deposit drawer and my truck window.  And somewhere in that six inches, as I reached for the drawer with a pile of bank bid-ness, that freshly-endorsed check was sucked away.  Weird even for the dusty plains, the drive-through lanes had formed a wind tunnel.  And the wind tunnel took my check.
My assumption:  Oh.  This is frustrating.  I'll have to get out of the truck and pick it up off the ground.
My reality:  Y'all, it was gone.  Vaporized.  On its way to Amarillo, I suppose.  I always fuss because Amarillo gets all the rain (out here we refer to it as "moisture").  Now they got my check.
(Did I mention Amarillo is two hours north?  If you live there and you see my check, would you please let me know?)
I looked everywhere. Under.  Around. Behind.  It was nowhere to be found.  I drove around the bank and looked everywhere.  I even drove into the back alley of the shopping center that backs up to the bank.  Nothing.
A Much Larger Problem
Now there was a much larger problem.  This wasn't just a completely annoying and embarrassing experience.  I was legally exposed.  That endorsed check was as good as cash, and I was on the short end of the deal.
I hurried home to find out what the check number was.  I called the bank to request a stop payment on that check, only to be told by the recorder that receptionist hours were closed.  "If you know your party's extension, you may enter it at any time."
Extension!  She's a probie!  She doesn't even have a name sign yet, much less an extension!
I hurried back to the bank and caught Miss Probie just in time.  Could she please place a stop loss order on that check?
No, she said.  She didn't have the authority to do that.  But she would leave a note for her supervisor.
Ugh.  Ugh.  Ugh.
Call it a hunch, but I decided I'd better "trust, but verify" Saturday morning.  So I drove back to the bank to talk to Teri – the experienced teller who usually sits in Miss Probie's chair.
Had anybody left her a message about my little dilemma?
Uh, no.
Could she please do a stop payment order for me?
Of course!
Sigh of relief.
Teri the Teller filled out all the necessary paperwork and I signed it.
"Did you know that there's a $25.00 charge for a stop payment order?"
"Yes, that's fine," I said.
"And did you know that someone has already paid it for you?"
"What?"
"Yes. Your stop payment order has already been paid for."
"By whom?"
"It doesn't say.  I just have a note here that it's paid in full."
Amazing.
So if you live in Amarillo and find my check, you can just tear it up.  It's worthless.
A Much Larger Venue
Okay, that last part didn't really happen at the bank.  But it did happen in a much larger venue, where I was much more exposed and vulnerable, to forces much stronger than a West Texas wind vortex.
This was a check I could never cover.  A debt I could never pay. But it had my signature all over it.  It was my life.  My eternity.  And a thief had the legal right to hold me accountable for paying it.
But Somebody issued a Stop Payment Order.  At His expense.  And because He did, I am free from "the handwriting of ordinances against me" (Colossians 2:14).  My debt is paid in full, my identity is completely changed, and I am now an eternal fellow-heir with the Son of God.
That is what we refer to as "the gospel."  It's good news.  And it is offered freely, willingly, and graciously to anybody who will recognize their need for a savior because of their sin, and receive by faith the free gift that God offers.
You don't have to be legally exposed anymore, and you don't have to act as though you are.
Because Jesus Christ completely paid for the sins that gave the enemy a reason to accuse you, they now belong to Him.  And whenever the enemy points a finger at your guilt, he's aiming it now not at you, but at the One who owns the debt.  And I think you know the outcome of that.
I left the bank Saturday relieved.  But that's nothing compared to the load that was lifted off of me when Jesus declared my sin debt was paid in full.
It's the ultimate Stop Payment Order.  And I'm free.
How about you?
Related articles