+++++++
"Whence comes this idea that if what we are doing is fun, it can't be God's will?
The God who made giraffes, a baby's fingernails, a puppy's tail, a crooknecked squash, the bobwhite's call, and a young girl's giggle, has a sense of humor.
Make no mistake about that" –(Catherine Marshall)
Our mouths were filled with laughter,
our tongues with songs of joy.
Then it was said among the nations,
"The Lord has done great things for them."
The Lord has done great things for us,
and we are filled with joy (Ps 126:2-3, NIV).
Have I told you lately that I love to laugh?
That hasn't always been true.
There was a time I was convinced that the world was going to hell and I had to do something about it.  And by God, that was serious.
I'm still convinced the world is going to hell (I have that on pretty good authority).  But I've realized two other things as well.  First, God has already done something about it – it doesn't depend on me.
Second, the nations will never see what God has done for me until my "mouth is filled with laughter and my tongue with songs of joy."  Angry sermons and surly scowls from Mister Blister won't get the job done.
Where all This Started
My friend Rick was probably the first person outside my family to teach me that.  My tenth-grade Sunday School teacher, he helped me start growing spiritually after I started following Christ.  Lots of laughter.  Then I became his associate at two different churches early in my ministry.  Lots more laughter.
"One of the problems with people in the ministry," he would say, "is that we take ourselves too seriously."  Nobody had ever told me that before.  It really liberated me.
One day I was in the men's room.  Rick opened the door.  "Andy," he said.  "Wanna know what sin's like?"
He turned out the lights.  Did I mention the room had no windows?
Another day, on a Sunday, we were just about to make our grand entrance into the sanctuary ahead of the choir and mount the platform to lead people to worship Gaaahhd.  Rick opened the door to the sanctuary, turned to me and said, "Your fly's open."
How do you keep a straight face after that?  You don't.  And that was the point.
To this day, as passionate as he is about the things of God and as compassionate as he is toward the hurts of people, Rick is a reminder to me that picking up your cross to follow Christ doesn't mean abandoning your sense of humor.
Want more scriptural evidence?  Read the qualities of the fruit of the Spirit again:  love, joy, peace, patience, kindness, goodness, faithfulness, gentleness and self-control.  Which of those would turn any well-meaning follower of Christ into a grump pot?
Instruments of Joy
As I continue to figure out what I did when I said "I do" to Jesus, I continue to discover the many ways He fills my life with laughter.  I have a sneaking feeling He's doing the same for you in a way that's unique and wonderfully creative.
He fills my life with laughter when He reminds me who and I love and who loves me.  Without fail, family and friends-for-a-lifetime bring out the hilarity of life lived in the emotional trenches.  For me today that includes the Six Pack – my motley collection of grandchildren.  Never a dull moment there.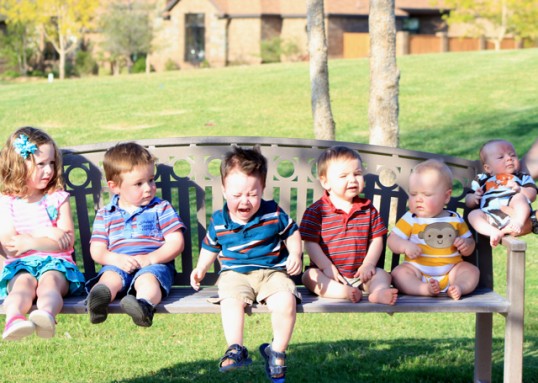 (Here's their first group photo…  Laura Kate says, "Stop touching me."  Cohen says, "But I LOVE you." Shepherd says, "Nooooo!"  Jackson says, "Why is everybody making all this noise?"  Cason says, "Whatever, I'm cool."  And Fischer says, "You're not leaving me with these clowns, are you?")
He fills my life with laughter when He reminds me what's most important… and what isn't.  Sometimes this takes a while because I can still get lost in the urgency of the serious.  Sometimes He uses what seems like harsh humor at the time to show me that there's a difference between the significant and the sacred.  And sometimes I go kicking and screaming to that place where I can laugh at myself.
He fills my life with laughter when he invades my times of sadness with true-hearted gladness.  The older I get, the more important it is to me to laugh in somebody's funeral.  Not at it, of course.  But in it.  After all, people are funny and all of us deserve to be reminded of the times they made us smile.  When my mother died a couple of years ago, it was just as natural for us to be celebrating her life by laughing as it was mourning her loss with tears. That is a healing gift from God.
He fills my life with laughter at the birth of a new day.  Or a new grandchild.  Or a new pair of puppies (due in two weeks – just in time to make great Christmas presents!).  Laughter isn't always the fruit of something funny.  Sometimes it's the expression of hope or anticipation of a better day or a new realm of possibilities.  Sometimes it's the joy of watching someone else learn or grow or try new things.  But He reminds me that if the virtuous woman can laugh at her future, so can I.
He fills my life with laughter with the people who help make it better.  The ditzy and the delightful.  The intelligent and the instructive.  The listener and the singer.  The partner and the encourager.  Those who need me and those who let me need them.  Those who allow me to be stubbornly me – and those who leave me unchangeably moved.
He fills my life with laughter by the many reasons He gives me to say, "Thank you."  No one should laugh more than people who have been greatly forgiven.  Unconditionally loved.  Faithfully provided for.  Deeply healed.  I truly hope that describes you.  It certainly describes me.
Have I told you lately that I love to laugh?  Feel free to join me.  If nothing else, we can always get together over a Holy Spirit salad.