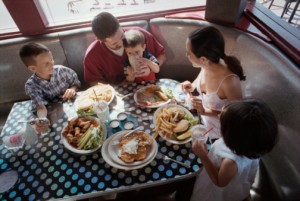 "Where you wanna go?"
"I don't know.  Where do you wanna go?
"I don't care.  Whatcha hungry for?"
"Don' matter to me."
Ever get stuck in those conversations?  Well, friends, I have the cure – especially if you still have kids at the house.  Once you've played The Restaurant Game, you'll never go back to "Oh, you just decide."
I've always lived in one of two kinds of towns – either the kind where you pretty much could cover all the restaurants in a week, or the kinds that were so large, it was hard to make up your mind with so many choices.  Add to that the vein-popping frustration of trying to please five different people – all of whom have opinions about where they don't want to eat – and you have frustration long before you ever even see a menu or a bill.
Then came the restaurant game, and our lives were changed forever.  It promoted family harmony, created family adventure, and for a solid hour rid our corner of the world of greenhouse gases.  President Obama may have mentioned it in one of his early speeches.  Bill O'Reilly is rumored to have suggested it as a way to elect the president.  And though labeled "experimental" and "potentially dangerous," it won the support of the USDA and yes, the Good Housekeeping Seal of Approval.
Okay some of that may be slightly exaggerated for purposes of hyperbole (really just because I wanted to use "hyberbole" in an article).  But I'm telling you, my now-adult kids with kids of their own still talk about The Restaurant Game in hushed and revered tones.
Here's an example of the way it works.  True story.  Dateline, Snellville, Georgia, circa 1995.  We all pile into the car after church for the 40-minute ride home.  But somewhere along the way, we'll stop for lunch.  "And," says I, "we're playing The Restaurant Game!
Cries of joy.  Shrieks of laughter.  Groans from Mama 'cause, truth be told, she's not a fan of giving up that much decision making authority when it can land her in some really strange place eating kimchi or something with a bunch of curry in it.
But this is Suburban Atlanta, where eateries abound, and we're throwing caution to the wind.
So…
One kid gets to be the navigator.  This is an important position.  A second kid gets to pick a random number.  So once the seat belts are fastened, the randomizer picks a number between one and whatever.  On this particular day, the choice was 21.
The rules of the game are pretty straightforward.  Whenever we pass the 21st restaurant, we stop there and eat, regardless.  If the number is 5, we stop at the fifth one, regardless.  It may be McDonalds or Outback or Morton's Steak House.  It may be Greasy Joe's Mexican Food, Ice Cream, and Transmission Service.  Whatever it is, that's where we eat.  No arguing.  No complaining.  No backing out because we don't like it or "can't afford it."
This is where the navigator comes in.  So, the randomizer has picked 21.  Off we go.  When we get to a major intersection, I ask the navigator, "Do we go straight, turn left or turn right?"  The navigator has to decide quickly, or we keep going straight.  All the while we're counting up restaurants (that's usually my job).  Once we arrive at the target number, it's mealtime.
You can have more than one navigator if you have more than two kids in the car.  Just let them alternate decisions.
Once we actually did stop at a McDonald's.  Once I think we landed at an Outback.  Never did we fail to make a memory.  And for the most part all the arguing stopped, too.
So what's the point of all this?
Creative ways to deal with family decisions.
Empowering your children to make some decisions, albeit random, and abiding by those decisions.  Imagine what that does to their decision-making ability when they become adults.
Introducing some variety into the routine.
Turning lunch into an adventure – something of a scavenger hunt.
Learning to live with the choices you make.
Try it the next time you load up a motley crew and head out for grub.  If you're really bold, do it with your adult friends.
And if we see each other at Chuck E Cheese with no kids in sight, we'll know what's up.