(Today I'm starting a new category called, "since you asked."  It will field your questions on whatever level you wish to ask – all viewed through a LifeVesting lens.  To submit a question click the "Have a Question?" link above.)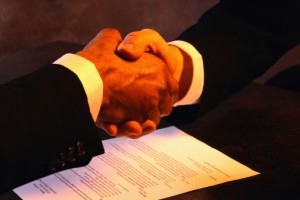 A friend is getting ready to launch a job search, and sent me an extremely relevant question.  His school offers a class in putting together a resume, but nothing about writing a cover letter.  Did I have any advice?
Uh huh.  Believe I do.
(Rule #1 – Never use "uh huh" in a cover letter.)
If you're a complete stranger, your cover letter can carry as much weight, if not more, than the actual resume.  It can make you rise to the top of the applicant pool or send your professional-looking stuff to the circular file.
I've seen this on both ends, as an employer and as an applicant.  A few years ago we conducted a nationwide search to fill two church staff positions.  As you might expect we got a ton of resumes and either cover letters or email messages.  A lot of my thoughts came from that experience of what drew our attention and what turned us off.  We learned as much from the cover letters/emails as we did the resumes.
The value of a cover letter is that while resumes show your credentials, cover letters can reveal some of your character and your communication ability.  This may not matter in some fields (though I'm having a hard time imagining which ones), but it certainly does in the circles where I move and work.
I'm assuming you have a decent-to-amazing resume.  Here are a few DO and DON'T suggestions for the cover letter.
1.  DO have one.
Let's not overlook the obvious.  Resumes alone are a lousy way to introduce yourself unless you do something outrageous.  (I tried that a couple of times – having a crazy-funny-outrageous resume.  Didn't work.)  Resumes introduce your qualifications and history.  Imagine yours sitting in a stack of 50-200 of them.  Imagine a decision maker looking at yours and having any clue about who you are and why they should take another look.
That's where the cover letter comes in.  They introduce you to a prospective employer and make a first impression, good or bad.
2.  DON'T focus too much on yourself.
Dale Carnegie wisely advised that the way to get others to think you are interesting is to get them talking about themselves.  This is the most common error we ran into.  People would introduce themselves by talking about themselves… and it's a total bore and turnoff.
Hey.  I know you're applying for a job and I know you want people to get to know you and I know you think the way for people to get to know you is to tell everything you know about yourself.  Don't do it.  What you want in the cover letter is to get them to want to get to know you more because you may be the solution to their problem.
3.  DO know something about who you are writing to.
Find out something about the employer that is significant and personal to them.  You can find a good bit in a well-written job notice, but dig deeper.  By all means go to the web site.  Read the bios of the leadership.  Find out what the mission or vision statements are (even if they aren't using them).  If possible, try to gain an understanding of what they are really looking for to fill this position – not just blah-blah they advertise.
Then in your cover letter, discuss the need – their needs, not yours.  Explain why you may be the solution they are looking for to reach their goals for this position.
4.  DON'T start your letter with "I read your ad…" or "I read about your opening in…"
This isn't a deal killer and many a cover letter has survived at this point.  But again, if your goal is to stand out in a good way, this won't cut it because you're stating the obvious and starting in the exact same way that over half the letters they get starts.  Whenever I read a letter starting with this, my knee-jerk reaction was, "Awesome… you can read."
5.  DO find a creative way to get their attention.
The last two successful adjunct teaching positions I applied for, I played "drama king" then apologized for it.  Here's what I wrote to one college – a Christian school who advertised a passion for the kingdom of God and a position in the leadership field:
Dear ________,

One Lord and Savior.  Thirty-three years of ministry experience. Eighty-two masters, undergraduate, and/or associate classes caught.  One driving passion:  Make a Difference in Someone Else's Life(MADISEL).

Okay, pardon the drama, please.  I just wanted you to know that when I say I am interested in serving ___________ College as an adjunct professor online, I deeply care about being a connecting point between students with vision and raw abilities (some of which are undiscovered), a kingdom established by the Lord Jesus Christ, and a world that is looking for leadership and answers.
6.  DON'T lead with where you bleed.
I believe in grace and second chances – I've lived them and offered them to many people.  But I don't believe in being an idiot in how you communicate your failures.  Imagine an HR person going through a stack of letters…
Dear HR, I am very interested in helping you fulfill your mission….
Dear HR, I believe my skillset and work experience are exactly what you are looking for…
Dear HR, I just got out of prison and they told me I have to find work…
Dear HR, I'm a gratefully recovering narcotics addict…
Dear HR, I swear it was their fault…
Believe me, your "stuff" doesn't make you unhirable and at some point you'll need to discuss it.  But when you start out with that, you are doing the very thing you don't want your employer doing – labeling yourself by your past performance.  And if you don't have sense enough not to do that, they probably won't believe you have sense enough to meet their needs – even if you have the talent.
7.  DON'T try to accomplish too much with the cover letter.
The goal of the cover letter is not to get the job.
Maybe I should say that again.
The goal of the cover letter (and resume) is not to get the job.  It's to get the interview.  It's to make them want to know more about you and get you face-to face (or phone-to-phone or Skype-to-Skype) with the interviewer(s).
I once wrote a seven page(!) letter and an eight-page vision statement for a church position.  That went over about as well as you can imagine.  Limit your cover letter to one page.
8.  DO ask for a conversation/communication.
Gently let them know you expect to hear from them, and ask for a time to have a conversation.  If and when they communicate back with you about anything – even if it's a form letter or email – send a thank-you reply in the same way the message came (email, snail mail, etc.).  Show them a habit, skills, and an expectation of communication and guess what?  They may actually communicate with you (unlike many churches and schools who are awful at communication).
9.  Proofreed, proofeed, proofred – then have somebody else proofread.
Avoid looking like an idiot right off the bat because of bad spelling or grammar.  Even the best writers routinely have typos and you need to present your best stuff.
Okay your turn.  I'd love to hear what has worked for you or, if you're doing the hiring, what has impressed you or turned you off in cover letters.  Feel free to post a comment below. (Click on the article title if you're reading this via email or RSS.)