(Giveaway alert:  Keep reading to learn how you can win a free copy of John Smoltz's new book, Starting and Closing.)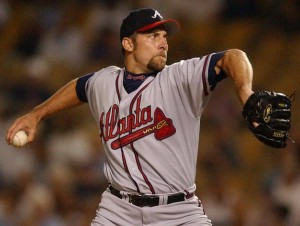 When I was in Virginia Beach a couple of weeks ago, I had a happy surprise.  That Sunday afternoon I watched the Braves finish off a sweep of the Cardinals in St. Louis in what may be their last win of the season.  I especially enjoyed having a chance to hear John Smoltz as one of the broadcasters.  I told my son later how impressed I was that this man, who our whole family has enjoyed as a professional athlete, had brought that same professionalism (and humor) to the broadcast booth.
Imagine my surprise when I'm roaming the hotel at midnight in search of something not made by Pepsi, and there, 928 miles from St. Louis, is John Smoltz, having a midnight burger and fries.
"Andy!"  he said.  "How long has it been?"
"Forever, dude!" I replied.  "I just saw you on TBS this afternoon!  What are you doing here?"
"I'm here for an interview in the morning.  Hey, I heard you spoke at the Servant Leadership Roundtable.  How'd it go?"
"It went well, I think."
"That's awesome.  Hey, I've been keeping up with the LifeVesting blog.  I read it every chance I get."
"Seriously?  Man, that's awesome.  Did you tell Tommy we named our cat after him?"
"Yeah, he thinks that's hilarious.  Says you ought to name your next dog after Maddux and call him Mad Dog."
+++++++
Okay, so… um… it didn't exactly go like that.  Yes, I was searching for a Pepsi alternative.  Yes, I saw John Smoltz.  And then I lost all self-respect, melted into complete tourist, and made a fool of myself blabbering on about what a fan I was and my son wouldn't believe it and would he mind if I took our picture?
He was very gracious, even gave me wise counsel as to how to operate the iPhone camera since I went completely senseless at the whole event.
Then I gather up all my coolness, and forward the pic to my three Braves-fan children with the message:  "Guess who I ran into?"  Here are their replies:
Cassie:  That's awesome!
Carrie:  I have no idea who that is.  (She got with the program when I told her.)
Joel:  Go back downstairs and get his autograph.
Well, I didn't do that, but I did find out what John was doing there.  He was being interviewed on The 700 Club about his new book, Starting and Closing.  And through the generosity of William Morrow and Harper-Collins Publishers, I have five copies to give away to LifeVesting email or RSS subscribers.
Starting and Closing is a very personal memoir of John's career, his avocation (golf), and most importantly, his coming to discover the life and love that is in Christ.  Whether you're a basefall fan or not, you will be encouraged and thoroughly entertained by this book.  And you'll feel as if the 1996 Cy Young winner is sitting in your living room or across the table, just telling his story.
I'm Not Afraid to Fail
I've watched Smoltz over the years do things you just don't see pitchers doing.  How many do you know who win baseball's most coveted prize for pitchers, then go to the bullpen and become an all-star closer, then return to the starting rotation a few years later?
How many pitchers have you ever seen steal second base, for crying out loud?
Or pitch nine shutout innings in Game 7 of the World Series – only to see his team lose to his boyhood hero who pitched 10 innings of shutout ball in one of the greatest World Series of all time?
Starting and Closing tells the secrets to John's command of the situation.  I've heard him say this often in interviews, and he says it again in the book:
The postseason always felt like the place where I was supposed to be.  And I wanted the opportunity to be in that spot every single time…. Even if we'd had a pitcher on our staff who was 20-0 in the regular season and I was 14-6 or something, I would have gone to my manager and said, "Give me the ball."  It's just an inner desire, not a cockiness.  I want to be the guy.  And if I fail, then I'll learn from it.
Talent, Smoltz says, will only get you so far.
At some point you have to decide, All right, I'm going to go in with this game plan, and with the right plan I'm going to execute this.  And if I fail, so be it.  I'll learn something that will help me be successful the next time.
Looking Back and Looking Ahead
John's journey takes the reader through the ups and downs of a surefire Hall-of-Fame career.  And one of the fun things to me are the recollections of the people he has worked and played with, including Tom Glavine, Greg Maddux, Steve Avery, Bobby Cox, Jeff Foxworthy, and many others.  While his love for the Braves and Atlanta are clear, I also appreciate his respect for the game and its fans – particularly the great fans of the St. Louis Cardinals, who are without a doubt the classiest in the country.
He also gives a behind-the-scenes look at his role in helping launch Kings Ridge Christian School in Alpharetta, GA, as well as some of the other charitable work he has done in the community and the world.
Smoltz has brought the same commitment to excellence to the world of broadcasting.  And as he describes his other athletic love – golf – he has set his sights on competing on the senior PGA circuit when he turns 50.  I love it.
Look Up
The book describes John's coming to faith in Christ through the influence of key people in his life – most notably Walt Wiley, who was the Braves' chaplain in 1995.  John describes how his spiritual growth has fueled his life as a man, a father and husband, an athlete, and a public figure – particularly in times of adversity.
Through it all, through the ups and the downs, the slumps and the victories, and the wins and losses, while I may at times be disappointed and frustrated, I have learned enough to know and trust that at the end of every day, God's love is enough…. Joy is central.  The rest of it is peripheral.
One of the things he says works for him in times of adversity is to sit down and read the entire book of Philippians in one sitting.  "I would suggest that the next time you find yourself getting carried away – with either success or failure – take a few minutes and read this letter from Paul…"
Smoltz summarizes his lessons learned this way:
Have dreams and chase them. Don't be afraid to fail.  Learn how to rally, and trust that you have the ability to find your own measure of success in life.  If an accordion-playing kid from Michigan can do it, believe me, so can you.  And finally I would say, in all moments, look up.
How to Get the Book
This is certainly a book to own and to give as a gift to any fan of America's Team or America's Pastime.  You can order it here.
But as mentioned earlier, we're giving away five copies through a random drawing to any LifeVesting subscribers who enter.  And entering is easy.  In the comment section below, tell me some celebrity YOU have randomly run into – or wish you could.  Make sure to leave your name and email address so I can notify you if you have won.  (If you're reading this as an email, click on the article title to go to the site.)  If you are an RSS subscriber, start your comment by typing (RSS).
Not a subscriber?  That's easy to fix, and I hope you will!  In the column to the right, click on either the RSS subscription button, or the email subscription button.  Make sure to follow the directions carefully.
Also, please pass the word about this with your friends, neighbors, enemies, followers, or whatever else you call your email, Facebook, or Twitter connections.
Winners will be selected and announced on THIS POST as an update on Monday, June 4.
No purchase necessary.  Void where prohibited by law.  I have no idea what that means, but now I guess I'm legal.
And a personal word to Mr. Smoltz:  Thanks for 21 years of memories for a family to continue to talk about.  Thanks for playing despite the pain.  Thanks for saying "no" to your fears.  Thanks for being the guy who says when the season is on the line, "Give me the ball."  Thanks for being just as fearless in your walk with Christ in a very public arena.  And I promise, if we ever get another cat (not likely), we're naming him after you.
(Photo credit: LUCY NICHOLSON/AFP/Getty Images)