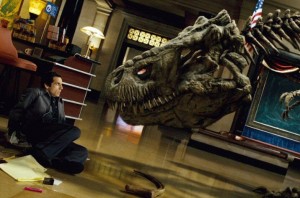 Have you ever woken up first thing in the morning and realized you were in a museum?
And you were what was on display?
You may not have recognized the location at first because everything seemed so real.  You were traveling through one mental display after another of your past life.
Names.
Faces.
Feelings.
Friends.
Sometimes the scenes are wistful and happy reminders of people and days gone by.  Sometimes you're reliving the glory days.  But sometimes it plays out more like a horror movie or a disaster cleanup.  It's ugly – and you're the reason.
It may be a new day on the outside, but in here you're trapped in the old ones.
That happened to me a couple of weeks ago.  I woke up feeling contemplative and sad.  I was remembering an ugly season in my life from many years ago.  I can't point to any triggers that brought it all up, but here it was, and there I was reliving it.
I'll spare you the details – we can save the vomit for another day (or no day).  But in a matter of minutes I had a new view of how drunk I was on myself back then.  Of how sick and broken I had allowed my life to become on the inside, all the while pretending to be somebody else on the outside.  I was too blind to see it then.  But with my eyes still closed on a Tuesday morning years later, it was all too clear.
Then it came.  The haunting questions.  The accusations.  I should have known who my tour guide was, but the memories were so vivid I got lost in them.
"That's who you really are."
"You're no different today than you were back then."
"You're a joke, and when people are kind to you, they're just being polite."
"You're a reject, and you should be."
Depressed yet?  I was headed there.  But that was when I did something profound and mood-changing:
I got out of the bed.  And out of those thought patterns.  I made the coffee.  I wrote out some things in my journal.  And I listened for the Voice of Truth from God's word and His Spirit.
And here's the gist of what He had to say:
Why do you continue to pay and pay and pay – as if you COULD pay for the exceeding sinfulness of your sin?
Maybe there's a better way – an only-good way. Read this.  Declare it over your life.  And by My  power, live it:
I lay the exceeding sinfulness of my sin on the cross of the Lord Jesus Christ, where it has been paid for once and for all.
I account to Him for my wretchedness, but also for His redeeming life that flows through me.
I yield, not just to the demands of His holiness, but to the truth of His declaration that I am forgiven and free.
I place my dependence, not on my performance or my ability to please people, but on His ultimate declaration that "it is finished."
I base my worth, not on my ability to manipulate or my ability to grovel in the guilt, but in the proven worth of His offer – His wealth in exchange for my poverty, and His life in exchange for my death.
I remember my past as the works of a dead man – not just the works of sin, but the works of self-righteousness, which are just as repugnant to God.
I look soberly at my past life as relics from a museum – reminders that I once was lost but now I am found.
Once found, sometimes I lose my way – badly.  But I can look at today and, despite circumstances or conditions I may wish were different, I can declare I am free.
I may yearn for what I have lost, but not as one who has been lost to God.
I may mourn for lost opportunities I wish I could do over, but not as one who has forever lost a God of opportunity.
I may grieve the losses, but I rejoice in a God with the infinite capacity to restore and even multiply the years that the locusts have eaten.
The end of the story hasn't been told about me yet.
If Samson – God's wild child – still had something left in him after his defeat and humiliation, then so do I – a Christ-covered, blood-bought child of the living God.
If David had more victories to win, albeit it at painful cost, then so do I.
By the grace of God I am what I am.  And His grace to me will not be in vain.
I am not the man I woke up remembering this morning.
And I am not the man I am yet to become by his still-transforming grace and love.
The next time you wake up in a mental museum, make sure you know who your tour guide is.  You may think you're looking at facts, when all you're truly seeing is a freak show – and he's telling you the lie that you're the freak.