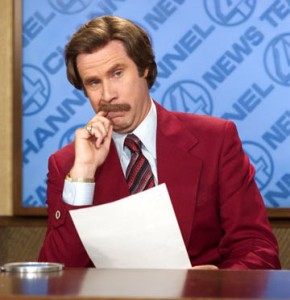 Live in 30 seconds.
Go Camera One.
Camera one.
Go Camera Two.
Camera two.
Cue Intro.
And five… four… three… two…
From around the world, across the nation, and up your street, we welcome you to another edition of…
(bup bup budup bup baaaaaah!)
Hanukkah Hams!
It's been a while since our last edition, so for the uninitiated, let me catch you up.  A Hanukkah Ham is sort of like Candid Camera without the "candid" or the camera.  It's a glorious celebration of people who later asked "What was I thinking?"  Hanukkah Hams are named after the Greenwich Village market who did this clever ad display.  And in the past we have explored drains on the brain such as airline travel, higher education, electricity, hunting laws, and Christmas.
Today we go live and on the air to the world of news, weather and sports broadcasting, where, as you probably know, anything can happen.
Live.
Like this:
http://www.youtube.com/watch?v=zNOcOActmys&feature=related
A Prince of a Journalist
So you think you have what it takes to be an on-air reporter?  Try this.  In the late 1930s, the Prime Minister of Canada was MacKenzie King.  The mayor of Winnipeg was John Queen.  Surprise, surprise – who should visit The 'Peg in 1939 but the King George VI of England and his wife, Elizabeth – along with the Prime Minister, of course.
YOU be the radio announcer for the CBC and try saying this out loud:
Here comes the Royal Family now.  The automobile has now stopped, a member of the RCMP is opening the car door.  Oh, there's the King.  He's stepping out, followed by her Majesty Queen Elizabeth, nattily attired in a silver coat.  Mr. King is now shaking hands with the King and introducing Mr. Queen to the King and Queen and then Mrs. Queen to the Queen and King.  They are now proceeding up the steps to the well-decorated City Hall, the King and Mr. King together with the Queen being escorted by Mrs. Queen.  The King has now stopped and said something to Mrs. Queen and mr. King and the Queen laughed jovially.  The King leaves Mr. King and goes to Mrs. Queen and the Queen and Mr. King follow behind….
We've Heard This Before, Haven't We?
Newscasters have a tough job.  They're pretty much at the mercy of their directors, writers, producers, and whoever else has access to the teleprompter.  And all the while they're supposed to look professional, sound intelligent, and remain unruffled.  Uh huh.  So imagine the tension the lead anchors at KVAL-TV in Eugene, Oregon had with this:
Anchor 1:  The brief twister or wind gust which hit the area this afternoon also sent a tree right down the middle of a Springfield woman's home.  Linda Russell was just feet from where the 40-foot fir crashed through her kitchen, severing her house in the Gateway area.  Fortunately no one was injured, although she's not sure where her cat disappeared to.  She said the wind lasted only a few seconds.
Anchor 2:  Well, the brief twister or wind gust which hit the area this afternoon also sent a tree right down the middle of a Springfield woman's home.  Linda Russell was just feet from where the 40-foot fir crashed through her kitchen, severing her house in the Gateway area.  Fortunately no one was injured, although she's not sure where her cat disappeared to – [turns to Anchor 1] We've heard this before, haven't we?
Action Impaction
Sports broadcasters are always looking for a more picturesque way of describing the action, and some are quite good at it.  Take Denis Cometti, the famous Australian Football League announcer, who has a gift for turning a phrase on the fly:
"Scotty Cummings alone in the square, jumping up and down and waving his arms like they're playing My Sharona …"
"Farmer may have an injury to his calf … hmmm, a farmer with a calf problem …"
"Ball to Barker to Barlow – The Hawks are attacking alphabetically"
"Walker to Carr . . . that's a step up . . ."
"Ashley McIntosh, like a good hair spray … capable of a subtle hold."
"He's made a typo! – he wanted Bickley and he's got Buckley!"
[After a player injured his eye…] "He went in optimistically and came out misty optically."
"The Magpies ought to be kicking themselves right now, but with their luck, they'd probably miss."
On the other hand, other sportscasters have a knack for being in the wrong place at the bright time.  Take Jerry Coleman, longtime broadcaster for the San Diego Padres:
"There's a deep fly ball… Winfield goes back, back… his head hits the wall … it's rolling towards second base."
"There is someone warming up in the Giants' bullpen, but he's obscured by his number."
"Last night's homer was Willie Stargell's 399th career home run, leaving him one shy of 500."
"Hector Torrez, how can you communicate with Enzo Hernandez when he speaks Spanish and you speak Mexican ?"
"Sometimes, big trees grow out of acorns. I think I heard that from a squirrel."
"Gonzo leaps like a giraffe and grabs it."
"Hats off to drug abusers everywhere."
"There's two heads to every coin."
What I'm Trying to Say Is…
Sometimes when the cameras are pointing and the issues are particularly sensitive or heartfelt, it's easy for our tongues to cover our eye teeth so that we can't see what we're saying.  Take Lawrence Kudlow of CNBC, who brightened us all after the earthquake and tsunami in Japan earlier this year with the good news: "The human toll here looks to be much worse than the economic toll and we can be grateful for that."
Or when Fox News anchor Brian Kilmeade was on a tear about keeping and protecting the sacred side of Christmas and its public symbols:  "A holy symbol like Frosty (the Snowman) should not be taken away from Christmas.  Well, maybe that is a bad example."
And who can forget Chris Matthews' "objective assessment" of then-candidate Barack Obama's speech? "I have to tell you, you know, it's part of reporting this case, this election, the feeling most people get when they hear Barack Obama's speech. My, I felt this thrill going up my leg. I mean, I don't have that too often…. No, seriously. It's a dramatic event. He speaks about America in a way that has nothing to do with politics. It has to do with the feeling we have about our country. And that is an objective assessment."
Say What?
"And now the sequence of events in no particular order" (Dan Rather)
Sometimes the words fly by so fast neither the speaker nor the hearer catch it until later.  Like the Arab News weather report:
"We are unable to announce the weather. We depend on weather reports from the airport, which is closed, due to weather. Whether we will be able to give you a weather report tomorrow will depend on the weather."
Or this from Monday Night Football:
Al Michaels: Well, it appears that he has pulled his groin.
John Madden: And it's a shame, it's such a great groin.
"That was a well-executed play that they didn't execute very well" (Kirk Herbstreit).
"Traffic is very heavy at the moment, so if you are thinking of leaving now, you'd better set off a few minutes earlier" (Anonymous Traffic Report).
"We now have exactly the same situation as we had at the start of the race, only exactly the opposite" (Sportscaster Murray Walker).
"Mr. Milosevic has to be careful. The calender is ticking" (Richard Haas, NBC News consultant).
"He was probably our greatest living painter – until he died" (LBC British Television News).
"They're going to keep running the ball even when they're not running the ball" (Troy Aikman).
"Most cars on our roads have only one occupant, usually the driver" (Carol Malia, BBC Anchorwoman).
The "Duh" File
And sometimes all you can say is, "Well Duh!"
"This is a home game.  This is where you finally get to play at home" (Joe Theismann).
"The Dallas Cowboys have two kinds of plays in their offense: running plays and passing plays" (John Madden).
"The winner of this game is going to be whoever has the most points on the scoreboard at the end of the game" (John Madden)
"You gotta score to put points on the board" (Joe Theismann).
"Thank you for evoking memories, particularly of days gone by" (Mike Ingham, BBC-2 TV announcer).
"For most people, death comes at the end of their lives" (GLR broadcaster, UK).
Well that's about all for this edition of Hanukkah Hams.  We leave you with this profound thought from British politician Tony Benn:  "Broadcasting is really too important to be left to the broadcasters."
I think now I know what he means.