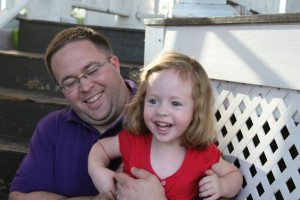 Where does she get this stuff?  I know that verse about "out of the mouths of babes," but seriously?  So here's the story…
Kyle, my son-in-law, had been away on his second mission trip in three weeks – this one to Ecuador.  Back home, Carrie was shepherding Shepherd and corralling the one she calls the "Big Sasster."
A certified Daddy's girl, Laura Kate was ecstatic when he got back.  There back at the casa, Sassy Pants exclaimed, "This is our castle and our king has come home!"
All was well.
The promise of "soon" was replaced with the presence of "the king."  And she was once again with the man she loves more than all others.
And out of the mouth of a babe – well, technically a three-year-old – God perfected praise.
If only she knew – and one day she will…
This is Our Castle
We are a race with a fascination with homes.  Our home.  Your home.  The homes of the rich and famous.  The homes that some stranger is buying on that TV show.  The Parade of Homes.  Home improvement stores.  The museum homes of the long departed.
Ever wonder where we get that?
I think it's inscribed in our DNA, both natural and spiritual.  We… long… for…  Home.  And we're never quite satisfied that we've ultimately found it.
Especially since Jesus made that alluring promise:
"There are many dwelling places in my Father's house. Otherwise, I would have told you, because I am going away to make ready a place for you" (John 14:2, NET).
Talk about a castle!  He's been working on that place for two thousand years and counting.  And if you know Him, it's a place with your name on it, prepared especially for you.
It's personal, but not private.
It's a refuge, but not a hiding place.
This dwelling place is in the Father's house.  And there you will find for the first time no reminders of the sin or shame that haunts us or makes us afraid.  Your home – and you – are safe in His castle because you are safe in His heart.
Our King
Jesus wasn't done.  With imagery they all understood, He told His disciples,
"When everything is ready, I will come and get you" (John 14:3).
This is personal.  The first century wedding language of a bridegroom.
And regardless of the wait or the wacky predictions, His promise stands secure.  On a day when you least expect it, and sooner than you know, your King will return.
Faithful and True, clothed in a garment dipped in blood, His eyes like a flaming fire, His head crowned with many crowns, He's coming for you… to clothe you in His righteousness… to crown you with His love… to finish transforming you into His image.
What sights to behold!  What glory awaits!  But while you are lost in wonder, love and praise at the spectacles before you, remember this:  there will be no mistaking who the King is.  He will be the one you most resemble.
Has Come Home
"I will come back and receive you to Myself, so that where I am you may be also" (John 14:3, HCSB).
I can only imagine the celebration that took place in heaven when the risen Christ ascended to heaven to sit at the right hand of the Father and assume His rightful place.  There He brought back a souvenir of his journey – the broken soul of a thief, made whole by His grace on the day He died.
Now one more reunion awaits – the entrance of the Bride – His glorious, radiant, spotless Church.
This is no knock, knock, knocking on Heaven's door.  He is coming, with your name inscribed on His palm, to take you home.
There the veil that separates us will be removed forever.  There the longing of every heart that ever followed Him will be made complete.  There the unbridled glory and unhindered display of worship will consume every participant.
And we'll never again wonder, "Is this the day?"
We'll never again ask, "How long, O Lord?"
We'll never again long for the presence of the One we love.
We will declare with eternal satisfaction, "This is our castle!  And our King has come home!"