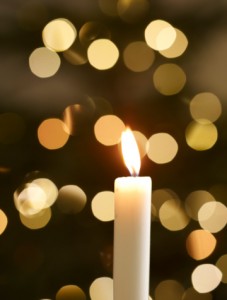 Wherever you may find yourself this Christmas – in prosperity or poverty, health or sickness, laughter or tears, togetherness or solitude – I pray that you will experience the same sense of wonder, gratitude, and grace (and more) that I have found. 
I pray that in the midst of all you call blessings, you experience the beauty of knowing the miracle of being loved in this life – deeply, fully, completely…
That the evening shadows and stars remind you of the one star that mattered most and the Spirit behind it, guiding those who sought Jesus to discover His presence, and to miss Herod's schemes…
That as heaven and nature sing of the glory of God, the mountains you face only serve as reminders that they are no match for the love He has shown you in His coming and His care…
That Jesus, our Emmanuel, would manifest His faithful awareness and presence and the miracle that takes place when God and sinners are reconciled in love and grace…
That whether you hear His voice in a prayer or a song, a promise or a still small voice, that you would truly hear it – and that as He sings over you, you would taste and see that the Lord is good,  His mercy everlasting, and His truth endures forever to you and yours…
That joyfully and triumphantly, you would live in anticipation and adoration of the Word of the Father who appeared in flesh, and that you would not for one moment miss the opportunity to invest your life in what He is still doing today…
That in the silence of the night or the newness and glory of the morning, you would experience again and again the coming of the King – with the promise that the One who lit the sky once will split the sky when He comes again to claim you…
That the nearness and tender care of the Lord Jesus would carry you through the seasons of loss and the memories of those you miss this Christmas season…
And that the Carpenter's son who built a bridge of goodness and light will find you waiting, however long it takes, for the day He returns.
Merry Christmas!