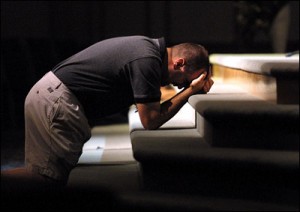 "He who is powerless before God is powerless before men" (Watchman Nee). 
On September 16, 2001, an amazing phenomenon took place in churches across the United States.  Civilians came out of their foxholes in the wake of the terrorist attacks of September 11.
And they were talking about God.
On that day, in churches everywhere, they came looking for answers.
Within a matter of weeks, however, things had settled down to business as usual.  Not long after, The Washington Times had a story that predicted that within a decade Americans would "invent" a religion of their own that met their needs.  The article said that when they revisited the places that had once nourished them, they didn't find what they were looking for.
Ouch.
To be fair, maybe they were looking for a place that let them have a god of their own making.  And the fact that people may try to invent a religion of their own doesn't bother me – we've been doing that since Adam and Eve were escorted out of the Garden.
What bothers me was that when they came to our house – the church – looking for answers, evidently something was missing.
What if they came to our house looking for answers, and we were just as confused as they were?
What if they came looking for life, and we were just as dead?
What if they came looking for supernatural power – some evidence that God is still on the throne, still works miracles, and still has the power to change lives – and all they found was platitudes, programs, and politics?
The good news is, some of our greatest teaching opportunities take place when we recognize that something is missing.  Remember when the disciples couldn't cast a demon out of a boy, and they asked Jesus why? That was a teachable moment.
Another one took place after Jesus had sent them out on their first mission excursion.  They had come back excited about people saved, healed, and delivered.  Yet still, they recognized something was missing.  They saw the difference between how Jesus prayed and how they did.  They remembered what he said – "The harvest is so great, and the workers are so few.  So pray…"
They got it.  And they came to him with a simple request: "Lord, teach us to pray" (Luke 11:1). It's the greatest investment you can make in eternity.
Dependence
The first thing Jesus did in response to their request is to give them an example of what to say.  We call it the Model Prayer; it has five parts:  praise, submission, petition, confession, and protection.  It's remarkable for its simplicity and directness.  Jesus never intended it to be a vain repetition, but a guide for the things to talk to God about.
Approach Him as Father, but a Father whose name is holy.
Approach Him recognizing that His kingdom is where our citizenship is, but that as long as we have breath on this earth, we will live in the tension between his kingdom and the world's.
Approach Him with needs, big and small.
Approach Him with your guilt and conflicts, humbly releasing both into his hands.
Approach Him with your vulnerability to temptation, and ask for his help.
In each of these things, you are asking God to do what only God can do.  You are declaring again your need for, and dependence on, Him.  You are reminding yourself that He's God and you're not.
You lose power in your walk with God when you make the Christian life a "do it yourself" project.  All the power you ever need is available to you – but it isn't your power!
Persistence
Jesus dropped a startling truth on the guys by telling them a story:
Suppose you went to a friend's house at midnight, wanting to borrow three loaves of bread. You would shout up to him, "A friend of mine has just arrived for a visit and I've nothing to give him to eat." He would call down from his bedroom, "Please don't ask me to get up. The door is locked for the night and we are all in bed. I just can't help you this time."  But I'll tell you this – though he won't do it as a friend, if you keep knocking long enough, he will get up and give you everything you want-just because of your persistence (Luke 11:5-8, LB).
Jesus says that in prayer, persistence is even more powerful than friendship or relationship.  With all of the Bible's emphasis on a relationship with God, this is an amazing statement.  God will respond to your persistence in asking, seeking, and knocking even more than He responds to us out of love.
The word translated "persistence" literally means "shameless."  The idea is that we're not put to shame if God doesn't respond to our request the first time.  We don't fret about bothering God, we just keep asking.  If that doesn't get a response, we keep on seeking.  If that doesn't get a response, we keep on knocking.
The reason some of us lose spiritual power is that we become discouraged.  We ask and don't get an answer, so we give up.  But your Heavenly Father is waiting for some shameless asking, seeking, and knocking!
Perspective
"You fathers – if your children ask for a fish, do you give them a snake instead? Or if they ask for an egg, do you give them a scorpion? Of course not! If you sinful people know how to give good gifts to your children, how much more will your heavenly Father give the Holy Spirit to those who ask him"(Luke 11:11-13, NLT).
Attitude matters!  Jesus said we must approach God as one who knows how to give good gifts to his children.
The enemy tries to sell you the lie that God is a Father who gives us snakes when we ask for fish.  But God not only responds to our requests as requests ‑ he responds to them by personally getting involved in our lives!  The Holy Spirit is God!  And He is God's personal answer to our needs, petitions, requests, and dreams.
Every time you ask in faith for a simple request, God, your Heavenly Father, responds by giving Himself first.  And when He gives me the Holy Spirit as the answer, one of three things will happen:  (1) You  receive the supernatural answer You're asking for; (2) you receive "exceeding abundantly" more, or (3) you receive something in His presence that makes the original request meaningless.
Every child instinctively knows this.  Have you noticed that when they ask a parent to do something, what they really want most often is the parent, not the request?
When my twins were small, it wasn't the glass of water they wanted after the lights were out.  It wasn't the stories I sometimes told.  It was me.  They trusted me.  They wanted my presence.
One early morning a few years ago, the Lord literally gave me a message in a dream – something that had never happened to me before.  Here's what He said:
"My people are powerless because deep down inside, they think that if they ask for a fish, I'm going to give them a snake."
Maybe it's disappointment.  Maybe it's fear.  Maybe it's guilt, or maybe it's anger.  But something has led you to question whether you can trust your Father.
God's answer to you is, yes, you can.