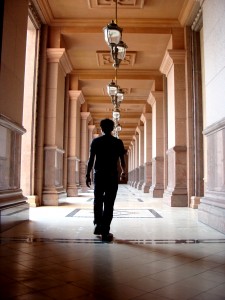 There wasn't much about Barry Wheeler to command respect.  He was certainly no athlete.  His skinny frame was the product of a lifetime of allergies and a bad case of asthma that earned him the cruel nickname of "Barry Wheezer."
Barry was no musician or class politician.  He couldn't carry a tune in a bucket, and his shy, withdrawn personality made him just another face in the crowd at high school in Topeka.
Barry was no geekzilla either.  A "B" student in regular classes, nobody called Barry out for the National Honor Society – or any honor, for that matter.
Barry was just a guy.  But he had one thing going for him.
Barry Wheezer was a beleezer.  Um, I mean, believer.
Barry trusted Jesus Christ.  Regardless of how unfair life seemed to be, and how badly it hurt sometimes, Barry just kept trusting Jesus.
When both of his parents died without seeing him graduate from high school or get married, Barry grieved.  But he kept trusting Jesus.
When the jocks and geniuses in high school teased him, Barry withdrew sometimes, or played along sometimes.  Either way, he just kept trusting Jesus.
When he took the job working for a foul-mouthed boss who hated Christians and looked at Barry with disdain at best, contempt at worst, Barry just tried to do the best job he could and endured.  And he kept trusting Jesus.
When Barry's second child was born with a rare disease that decimated what savings he had and practically guaranteed that Barry would die deeply in debt, Barry took on the second job.  And in places where no one could see him, Barry could weep, and cry out to God to heal his baby.  But no healing would come.  Yet still, Barry just kept trusting Jesus.
When his wife walked out after 15 years of marriage, with no warning or notice, Barry felt like a fool and a complete failure, with the weight of the world on his shoulders.  But he just kept trusting Jesus.
When Barry went to the doctor in his early 50s and learned his body was covered with cancer and he had weeks to live, even then… above all, then… Barry Wheeler just kept trusting Jesus.
Even though Barry died at a relatively young age, and even though he had been a member of the same church for most all of his life, even his funeral was unremarkable, as funerals go.  A moderate crowd of friends and family, a brief and respectful service, and a pretty good collection of potluck back at the house.
A Different Scene
But behind a veil, past which none of us can see, something different was taking place.
Something louder.
More passionate.
Bolder.
Dare I say it?  More glorious.
For the first time in his existence, Barry Wheeler was getting an ovation.  And I'm not talking about that lame-sounding, deep-voiced, Fatherly pat on the head: "Well done, good and faithful servant."
I'm talking about a celebration so lavish, it's uncomfortable for us to think about it.
On the Receiving End
Read this carefully:
"…so that the proof of your faith, being more precious than gold which is perishable, even though tested by fire, may be found to result in praise and glory and honor at the revelation of Jesus Christ" (1 Peter 1:7). 
We know what that means, right?  It means when our faith is tested and proven true, we go to heaven, where we give Jesus praise and glory and honor.  Right?
Look again.
Yes, our tried-and-true faith results in praise, glory, and honor at the coming of the Lord Jesus.  But who is on the receiving end of that?
The faithful. 
Yes, I understand that at some point we're "casting down our golden crowns around the glassy sea." I understand that every knee will bow, and every tongue will confess that Jesus is Lord.  I understand that the heavens declare the glory of God.
I also understand that the New Heaven and New Earth He promises is not designed for Him.  He is already the "center of unbroken praise."  Jesus doesn't need it. 
Who is Heaven For, Anyway?
Heaven is designed as the place for His Bride.  It's the place where this eternal Bridegroom can express lavish praise, radiant beauty, and honor with abandon to those who believed Him.  Who trusted Him.  (Can you remember those haunting words of Jesus:  "When the Son of Man comes in all his glory, will He find faith on the earth?)
This is no Fatherly nod.
Can you imagine such a celebration? 
I have been on the giving and receiving end of some pretty impressive ovations before.  I have seen applause for lifetime achievements that went embarrassingly long for some people.  I have been in worship audiences in stadiums and huge worship centers where the ovation given to Jesus Christ – loud, long, joyous – surely brought pleasure to Him.
But think about it:  Who gave us the capacity to bring that kind of honor and praise to another? 
A God who created us in His image, that's who.  And nobody can dish out praise like He can.
Can you imagine…
…the kind of ovation…
…you can receive…
…when given by the One…
…who praises perfectly?
Who honors eternally?
And whose glory is offered without limitation to those who will trust Him with fire-walking faith?
Barry Wheeler?  Let's just say, he's not in Kansas anymore.  And when Jesus calls your name, if He finds you faithful… you won't be either.