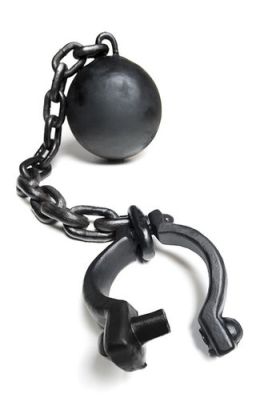 The Spirit of the Lord God is upon me,
because the Lord has anointed me
to bring good news to the poor;
he has sent me to bind up the brokenhearted,
to proclaim liberty to the captives,
and the opening of the prison to those who are bound; (Isaiah 61:1, ESV)

There's something you should know, though I'm not very proud to say it.
I'm an ex-con.
Ex-convict?  No.
Ex-condemned?  You betcha.
Ex-consequences?  Uh huh.
Ex-con man?  'Fraid so.
I lived on the wrong side of a legal system for a long time, and wound up in prison.  But don't go looking for my name in some Federal or state criminal records.  I haven't messed with Texas that much.
The laws I've broken aren't the natural type, either.  Otherwise, my prison could well be a wheelchair or coffin.
No, the con I lived was the spiritual kind.  And I learned the hard way that those who violate spiritual (God's) law encounter a totally different kind of prison.
It's a prison of deception because it appears to be free.  Imagine a death row with no doors, walls, bars, or fences.
It's a prison of identity.  It has a way of marking us, sometimes for life, with a label we wear forever.  In this prison, Jacob is always the swindler, Peter the verbal buffoon, David the adulterer.
It's a prison of attachment.  We become bound to (addicted to) that which we pursue, even after we no longer want to pursue it – sort of like that proverbial dog returning to his vomit.
Because this prison is governed by God's legal system, violating God's law gives Satan (the ultimate legalist) legal claim to our lives and other areas.  The result:  even though you may know you're locked up, you're powerless to do anything about it.
And yet, here comes this prophetic promise.  Sent through Isaiah, claimed by Jesus, then relayed to the likes of you and me when He said, "As the Father has sent me, so send I you" (John 20:21).
We are sent to proclaim to prisoners that their captivity has ended. But if you simply tell that to a drug addict, a lifetime people pleaser, or an adrenaline junkie, they'll just stare blankly at you and stay in prison.  So how do people break free, and how do we help them?
In a spiritual prison, much like a jail cell, captives are legally set free in one of three ways:
1.  The sentence must be served.  Ninety days or ninety years, if you do the crime, the law says you do the time. OR,
2.  The debt must be pardoned by one having authority to do so.  OR,
3.  The person bound must have a changed identity.  If John Smith is imprisoned and it is later discovered he isn't really John Smith, he is released.
Here's where the news becomes gospel.  Jesus Christ, sinless Himself, has entered the prison on my and your behalf!
His Father pardoned the debt.
And I was given a new name.
Now Satan, the accuser, has no legal claim on me, to keep me in bondage.  The prison has been opened!  Only by blaming me – and me accepting by faith his accusation – can he keep me in that cell.
On the other hand, when I live by faith that my debt has been paid, and my offenses pardoned, and with I live in agreement with my new identity, I taste real, lasting freedom.  And I can offer it to others.
Consider yourself offered.