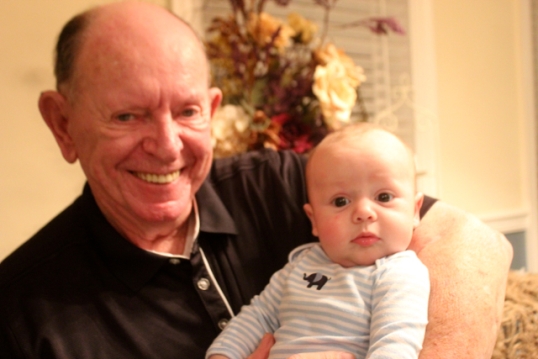 I started writing this last Wednesday with an urgent prayer that I would get home in time to see my dad before he passed away. What would normally have been a routine knee replacement surgery poked a vicious bear called Idiopathic Pulmonary Fibrosis.  He would never leave the hospital.
Lynchburg to Charlotte
On the plane headed home from Lynchburg. Going home to a father who is going home himself. It seems that everybody – including him – has concluded that there is no fight left. He gets weaker every day and this morning he has some sort of infection that requires everybody to wear a glove and mask to be in the room with him.
I postponed the weekend trip to Lubbock. Cassie and Joel are on the way. They will get to Mobile ten minutes before I do. It's just a matter of time.
It was both distracting and comforting to be at a conference filled with worship leaders, listening to people sing about victory over death and the power of the blood of Jesus – even the old standby "I'll Fly Away." It takes on a totally new meaning when my daddy is about to be doing the flying.
And now the kind and dutiful flight attendant has brought me pretzels and a Diet Coke. She doesn't know. Nor does the lady doing Word Search puzzles next to me.
Life goes on.
Cruelly.
Wonderfully.
On the many trips up the highway to the family farm – his parents' house – growing up, I would always be fascinated when we'd pass a dead tree still standing, surrounded by a field or forest of living things. The message was always crystal clear: LIFE GOES ON.
And so it does, whether we wanted it to or not.
When I first moved back to Mobile nearly two years ago Daddy gave Deb and me a document that had a lot of last-wish instructions and directions for where to find different things. They included his funeral wishes. I have scanned over all that, and I know where it is, but now I'll actually have to read the damned thing, and I don't want to.
There is still so much to learn, so much to do. Yesterday at the hotel I woke up and the first thought I had was, the bush hog (shredder for my Texas friends) is still on the tractor. And I don't know how to take it off. I have a Ph.D. In things that don't matter today. Today I just wish my daddy could show me how to remove the bush hog.
My head hurts. Sinus headache. The tears and sadness don't help.
It's a stunning spring day outside. He would so enjoy this – certainly more than the SICU that has been his home for the last three weeks or so.
For most of my world that doesn't know, it's life as usual. Friends call for advice. Students call or email for answers to their school questions. And by the grace of God life goes on. I can attend to whatever needs to be done.
Charlotte
Pilot is saying we'll be landing in Charlotte soon. Then of course the obligatory announcements. My God, always the announcements.
Last night Liberty's 400-voice choir and orchestra premiered Bradley Knight's newest collection. One thing they did was a nice arrangement of "You're a Good, Good Father." It's a sweet worship song about the Fatherhood of God. But it also captured how I feel about Daddy. He's a good, good father. And I want so bad to find a way to tell him that. I want to be able to tell him that when I was little and crying and he would say "hush now" how much it would soothe my little boy's heart. And how Jesus is soon going to say "Hush now" to him and he will never cry again.
I want to tell him how much it meant to me that he was there – that he showed up. That whatever we lacked in money he more than made up for in time.
Landing in Charlotte now. I feel nauseated.
The Charlotte airport is the only one I have ever seen that has a personal attendant in the bathrooms – much like you would see in high-end restaurants and clubs. A wonderful Haitian man flashes a genuine smile and keeps saying things like "Feel better?"
Well, yes and no I suppose.
Charlotte to Mobile
A few drugs and some flavored water and a couple of meal bars later now on the plane to Mobile. Head is feeling a little better. Taking forever to take off.
I'm so glad now I took Carrie's cue and wrote the piece about ten things I learned from my daddy last Father's Day.
A little sleepy. You know – the kind of sleepy you get from crying to yourself on airplanes. My eyes just want to close for a while. It soothes them.
Meanwhile another part of my brain is doing business. Three classes to either teach or cancel tomorrow. And the never-ending stream of grades to churn out. I can hear his voice in my head now…
"Whatterya up ta?"
"Gradin' papers."
"Aw, what a surprise. Your favorite thing!"
"It pays the bills."
Looks like Lake Buford in Georgia on the right.
I've figured out that if you stick your thumb into the bag of mini pretzels and shake the bag you can get some of the loose salt to go with your next handful of mini pretzels.
I don't know what I think about all those images of heaven being a perfect place the way we define it on our very limited terms, but if Daddy can order off the menu at the Marriage Supper of the Lamb then biscuits and molasses will be involved.
While I was listening to choirs and rooms full of worship leaders singing a nice blend of old-meets-new, Robin was at the hospital tending to him and visiting with Dean and other family. At one point she started singing to him. At that point his face just relaxed. And as she sang "Jesus, Jesus, Jesus, there's just something about that name," he started mouthing the words with her. My God, how he loves music. And how he taught me to love it too.
It is sad to me that he will never see Lonesome Pine again. But he and Dean were so wise to make a quick trip up there just before his surgery. It's even sadder to imagine that place without either him or Grandmother or Granddaddy there. The place still sings of their influence and legacy.
There won't be any more journals either…his daily updates emailed weekly to whoever wanted it, mostly about the weather, what he ate that was YUMMMM or a passing opinion about government or politics or church world, but recorded religiously. Suddenly those ordinary days seem much more extraordinary and time seems all the more cruel.
I'm grateful that he got to be there when I last preached – at Cottage Hill just two days before his surgery. He was proud as always and wanted me to know how so many people had nice things to say about the sermon. And the subject was poignant – "Grace So Glorious." If ever he or I needed grace it is now.
Thank God grace is grace. Thank God I have a hope that's an anchor to the soul.
I've been thinking about anchors lately. Deliberately plain-looking and heavy, they do their best work in the deep, unseen places. My hope is an anchor to my soul not because I can stand up and sing or preach about it, but because in private thoughts in airplanes and hotel rooms and in secret sorrows marching through an otherwise-busy world, it calms me. It stills me against the storm of helplessness and fear and sadness and anger. My hope gives me stillness in a sea of unanswered questions and unfulfilled wishful thinking. My hope looks beyond a set of circumstances I am powerless to change to a future and an eternity that makes it possible even now to be steadfast, immovable, and always abounding.
So we sorrow, Paul said, but not as those who have no hope.
I've also been thinking lately, as cruel as his lung disease has been, and as desperate and difficult as it has been for him to breathe, what it will feel like to inhale deeply, freely, and joyfully of the grace and sweet presence of the Lord Jesus. And there, soon, the leader of MY band will sing to Him… "This is the air I breathe… Your holy presence, living in me."
"Ladies and gentlemen we are beginning our final descent."
Maybe that's true of the passengers on this jet. But I know someone who's soon to rise. And while in the natural it feels so unfair and lonely and desperately sad, my hope – the anchor of my soul – says this is soon to be a moment of glory.
And for the life of me, despite the sorrow, I just can't seem to locate the sting of death.
Afterward
For four more days I watched the man who in the natural gave me life courageously fight to extend his just long enough…
Long enough to see me and tell me he loved me and how proud he was of my sister and me…
Long enough to thank our respective families for how willingly we accepted Dean, his wife during the five precious years they shared together…
Long enough to see every one of his adult grandchildren and celebrate the fact that all five of them are in some form of Kingdom service…
Long enough to see to it that we knew how much he loved and trusted the Lord…
Long enough to give explicit instructions (always the planner, to the very end) about different life matters…
Long enough for me to tell him that he's a good, good father…
Long enough to tell me how to take the bush hog off the tractor.