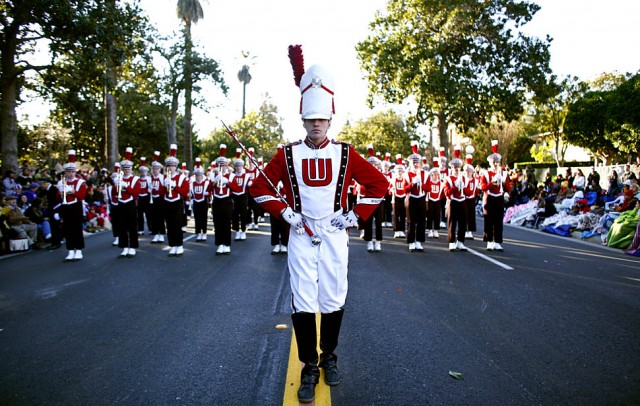 I grew up in the true home of Mardi Gras. And being in the high school band back in the day, we marched in our share of Mardi Gras parades. It was a nice way to raise money for the band, contribute to local community life, and to create some space between the floats so they didn't run into each other. Plus, we helped contribute to festive atmosphere of Carnival season.
I had a pretty interesting role in all this, because I was the Drum Major – the guy in the fuzzy hat that directs the band on the street as they march.
Which means I spent a lot of my time marching backwards through the streets of Mobile.
There are two things you learn by marching backwards on a five-mile parade route. First, it's always better to be at the front of the parade than the back. Why?
Horses. Lots and lots of cancer-free-and-proud-of-it horses, who exist on a high-fiber diet.
Need I say more?
Second, when you're marching backwards in the parade, it may be your job to direct the band – but it isn't your job to determine the parade route. Your job is simply to follow the direction of the one in front of you. If the float ahead of us was driven by a drunk who decided to turn left on Dauphin Street instead of right, we'd have followed right along. Hey, a parade is a parade.
It's an interesting perspective…
Moving forward but looking back and seeing how far you have come, or where your route has taken you.
Looking side to side and seeing the contribution you may be making to the rhythm, reason and rhyme of people's lives.
Being part of a team that depends on everybody to do his or her part.
Recognizing that the role you play was scripted by someone else, and being willing to contribute to something larger than yourself.
I don't march in Mardi Gras parades anymore. But I'm still part of a team that moves forward and contributes to the rhythm, reason and rhyme of people's lives. I still recognize that while I lead in some sense of the word, I don't script the route. Had I been in charge of route management, my life would look entirely different – and not in a good way. Even the last 10 months has been something of an odyssey I never would have imagined, much less planned.
The parade I march in today is a victory parade. It's not my victory – I'm just a bit player in the procession. But it's a breathtaking honor to be graciously included in it all.
As a follower of the ultimate Route Designer, I have one job – keep marching. Keep playing my part. Keep following the direction the parade takes me, whether I can predict (or approve of) the twists and turns of the route or not. The Route Designer – the Grand Marshal, if you will – knows exactly where to lead me and who needs to join in the victory celebration.
…Thank God! In the Messiah, in Christ, God leads us from place to place in one perpetual victory parade. Through us, he brings knowledge of Christ. Everywhere we go, people breathe in the exquisite fragrance (2 Corinthians 2:14, MSG).
Where has God led you lately in His victory parade?
How has He routed, or re-routed your life to show off His glory?
Where has He kept you moving when you thought you were useless and had nothing of value left to offer?
How has he left you shaking your head, marveling at a route only He could have mapped out for your life?
Even today, when it may seem as if you're looking forward but marching backwards, how is He showing the world the exquisite fragrance of what it's like to know Christ… through you?
Don't you think this might be a good time to say "Thank you?"