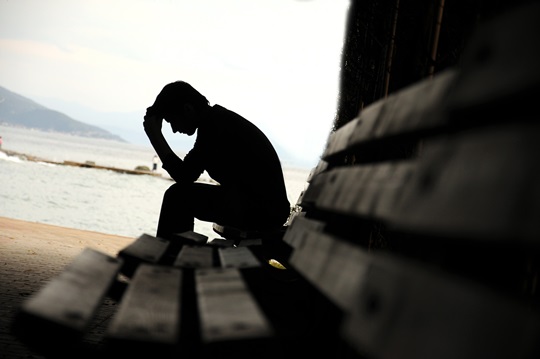 You live in what feels like a constant state of tension. Even your "good stress" is, well, stress. You check the news at least each day to make sure you're on top of the latest thing to worry about. Your time is stretched so thin that any interruption or change of plans sends you reeling emotionally.
Your credit cards are loaded to the max, and your life feels a lot like your email inbox – loaded with clutter, junk, and unfinished business – some of which is actually important.
Your best sleep comes after 2:00 in the morning. You avoid those medical checkups because you already know what they're going to say. Unless, of course, you need to get that prescription refilled.
And then…
…then, somebody comes along, usually on a Sunday, and says…
"Let's worship Jesus!"
And honestly, it just feels like another reason to feel anxious.
What if I were to tell you that if you're harried and helpless, stressed out or fried emotionally, the Bible actually gets where you're coming from? If I could show you a way to magnificently worship the Lord Jesus, even when you're at the end of your rope, would you be interested?
This is an Offering for the Overworked, overstressed, overeating, over-fill-in-your-blank.
Ready? Here it is:
Calm down.
Here is the scriptural phrase for it:
Therefore prepare your minds for action, keep sober in spirit, fix your hope completely on the grace to be brought to you at the revelation of Jesus Christ (1 Peter 1:13).
Peter is writing to people who had experienced deep pain, significant loss, and intense pressure. This wasn't high blood pressure, friends. It was high mortality! They had lost homes, property, businesses, freedom, and lives. And yet, in encouraging them to recognize the greater purpose and the wonder of the grace of God that had been manifested to them, Peter offered this encouragement: clear your mind (mentioned in the previous post), and calm your spirit.
That word for "sober" means to be circumspect, dispassionate, calm and collected. That's why the NIV translates it "self-controlled." It speaks of the ability to see things without the distortion caused by stress, worry, or fear.
Jesus and Paul both spoke into the same situation. It was to people who didn't know where their next meal was coming from that Jesus said,
"your heavenly Father already knows all your needs. Seek the Kingdom of God above all else, and live righteously, and he will give you everything you need" (Matthew 6:32-33, NLT).
Paul encouraged the Philippians,
"Don't worry about anything; instead, pray about everything. Tell God what you need, and thank him for all he has done. Then you will experience God's peace, which exceeds anything we can understand. His peace will guard your hearts and minds as you live in Christ Jesus" (Philippians 4:6-7, NLT).
That all sounds good. But typically, here's what the worrier hears when somebody tosses those verses out: DON'T WORRY! IF YOU WORRY BAAAAAADD THINGS ARE GOING TO HAPPEN.
So guess what they do?
Yep. They just add worrying to the list of things to be anxious about.
Thing is, that's not all that these verses say. Every one of them talks about what to do instead. Jesus said to seek first the kingdom of God. Paul said to pray (seek God) about everything. Peter said to "fix your hope completely on the grace that is to come."
Here's where the worship comes in.
By making a choice to step back from my stresses and pressures to get a larger view, I am declaring my confidence that God actually has a larger view.
By refusing to listen to my fears, and instead choosing to listen to God and what He says about those things I am afraid or uncertain about, I am declaring that what He says is the truth – not what my fears are saying.
By fixing my hope only in the grace that is to be revealed when Christ returns, I am surrendering my outcomes – even the fearful ones – to the Lord.
By abandoning my hope in temporary fixes, instant relief, and earthly comfort, I am declaring to the Lord that what He offers is so much greater.
Okay. So I know you're busy. I can relate. I know you're stressed out. I have a few of those, too. But today, let's do this…
Let's come up for air.
Let's breathe deeply of His truth and perspective.
Let's listen closely for His signal in the noise.
Let's step back and realize that the end of the Book says we win.
Let's attach our hopes, priorities, and prayers to something more than short-term fixes.
Let's worship Jesus.