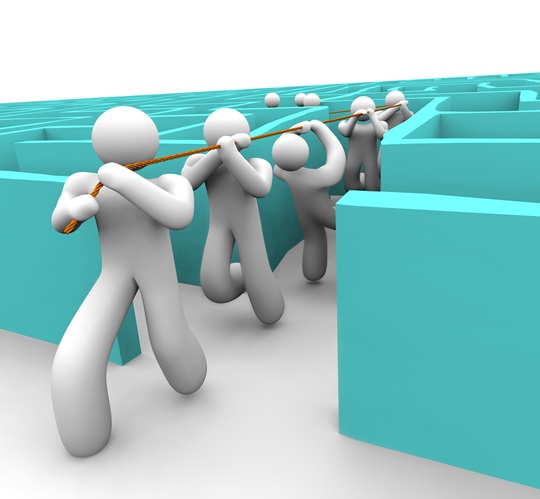 Nobody talks about the life-changing leader who helped them raise their umbrella at the beach.  Influence happens only rarely in comfort zones or times of ease. Vision is not the starry-eyed product of Monday morning quarterbacks or couch potatoes. Adversity was made for leadership.  And leaders were made for adversity.
Seth Godin puts it this way:
The worst moments are your best opportunity.  That's how we judge you and how we remember you.  You are presumed to be showing us your real self when you are on deadline, have a headache, are facing a customer service meltdown, haven't had a good night's sleep, are facing an ethical dilemma, are momentarily in power, are caught doing something when you thought no one else was looking, are irritable, have the opportunity to extract revenge, are losing a competition or are truly overwhelmed. What a great opportunity to tell the story you'd like us to hear about you.
No one knew this better than one of Christianity's earliest and most influential leaders, Paul the Apostle.  Even in an age where there was no television news cycle or viral Internet, he recognized the importance of his own influence during his days of adversity.  In his letter to the Colossians, writing from a Roman prison, Paul writes these words:
Devote yourselves to prayer, keeping alert in it with an attitude of thanksgiving; praying at the same time for us as well, that God will open up to us a door for the word, so that we may speak forth the mystery of Christ, for which I have also been imprisoned; that I may make it clear in the way I ought to speak (Colossians 4:2-4).
I love Paul's attitude here. He asks the Colossians to pray for him that he may speak forth the mystery of Christ with clarity. An awesome prayer request for any Sunday morning preacher.  But Paul was asking that they pray he would have the right words to communicate the mystery of the gospel, "for which I have also been imprisoned."  He was asking for more favor, more clarity, more opportunity to do what got him thrown in jail in the first place!
Sorta makes you wonder who was captive to whom?  It would almost appear that prison was part of Paul's strategic plan to get the gospel to the world, or at least to Rome.
Here are some lessons for leading in times of adversity, based on Paul's example:
1. Demonstrate a relentless spirit of gratitude.
"Keeping alert with an attitude of thanksgiving," Paul says.  I used to think Thanksgiving was an opportunity for feasting or an exchange of pleasantries. I now recognize that gratitude is a weapon of the highest expressions of spiritual warfare.  I don't care who you are, I am almost certain you haven't yet captured and embraced the extreme importance and potential of gratitude as a tool of leadership, influence, and victory.  There are few forces in the world that are so elusive, yet so readily available to believers to advance their cause.
2. Don't compromise your commitment to the mission.
Okay, let's do some math.  Paul was boldly sharing about his encounter with the risen Christ.  Paul was arrested and put in prison because of it.  If Paul plus sharing equals prison, and Paul minus sharing equals freedom, shouldn't Paul figure out that he's not supposed to share?  Change your mission, Paul, and you'll find your freedom.
Some people call that line of thinking "progressive."  Some call it "pragmatic."
(Critics may call this "liberal" but who am I to judge?)
What I love about Paul is that whatever strategies he may have come up with, it was all about the mission, which was to proclaim Christ to the world, the Jews first, then the Gentiles.  Even in prison, the mission's still the same.
3. Don't stop looking for open doors.
One of the unique contributions of leaders in times of adversity is that they seem to be able to sniff out opportunities, even in the worst of times.  He asks the Colossians to pray that God would open up a door for the word.  And by the way, he found the answer to that prayer in the Roman guards he was with 24/7.  By the time he wrote to the Philippians, he says in closing, "All the saints salute you, chiefly those of Caesar's household" (Philippians 4:22).
There is opportunity in your adversity.  Those who are able to spot them and respond will emerge as the leaders of a new generation, a new organization, or a new movement.  That said, don't be surprised if the leaders of a new generation are those who are already leading this one.
4. Don't be ashamed or too proud to call for backup.
Don't look now, but Christianity's greatest leader of the day is asking for help.  From a pack of strangers.  Specifically, he's asking them to pray for him with a spirit of gratitude.
Now let's be clear.  Paul is surrounded in his house arrest by an entourage of partners and assistants.  Yet here he's calling for a new army of intercessors to raise their voices to God on his behalf.  "I need you," he says.
Presumed leaders who are too independent, too isolated, or too proud to call in support or to be vulnerable with those they lead will find that they aren't actually leading anybody.  They're just looking for success in solo terms.
Good luck with that.
When Michael Hyatt took over as CEO of Thomas Nelson, he learned that as a leader, his position was about faithfulness, not achievement.
I came into my role with specific plans about what I wanted to achieve. I had enormous dreams—grandiose in retrospect. Then the Great Recession hit. The story took a completely different turn…. Suddenly, it became clear to me that being faithful in the midst of adversity was the most important thing I could do. 
How about you? Where are the open doors in the midst of your adversity?  Who are the supporters – even strangers – who can help you or your organization?  How are you creating an attitude of gratitude?  And how are you raising up the banner of your calling or mission?
Okay, so times are tough. What a great opportunity to change the world… or at least your little corner of it.