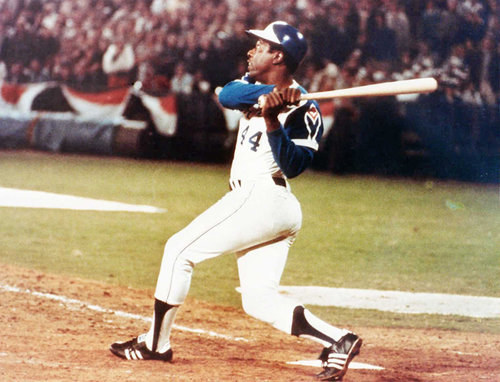 I never really knew that Hank Aaron was black.  But I knew he was from Mobile, my home town.  And, lest I forget, the Mobile Press Register would remind me daily as it tracked Aaron's pursuit of Babe Ruth's home run record, shattered 40 years ago today.
The Atlanta Braves moved onto my radar when I was eight years old.  That's when the franchise moved from Milwaukee to Atlanta.  We started listening to Braves games on WUNI radio, where we heard guys like Milo Hamilton and Ernie Johnson – and later Pete Van Wieren and Skip Carey (my all-time favorite) – call games.  Occasionally we'd watch Pee Wee Reese and Dizzy Dean announce a TV game on the Pensacola station.
My granddaddy loved baseball.
My dad appreciated it.
I loved Henry Aaron.
He was and is a symbol to me.  I grew up in an angry generation, a very angry state, with an angry governor.  I grew up fiercely proud of where I came from, and who I shared that heritage with.  Feeling somewhat picked on by the rest of the nation, people in the Deep South looked for heroes in a variety of places.  I found mine in those who raced at Mobile International Speedway – the Allison brothers, Ellis Palasini, and others.  And in those who shared my hometown heritage.
In baseball we were proud of Billy Williams, Ernie Banks, Tommy Agee, Cleon Jones, and Tommie Aaron – all from in or around Mobile.
But Hammerin' Hank was in a league all his own.  He, too, was greatly underappreciated during his earlier playing days.  People in those days sang the praises of Willie Mays, among others.  Aaron was a classy gentleman, who quietly went about playing the game with a franchise that, during his playing time, lost far more than it won.  You'd never see him drop a bat at home plate and arrogantly stare as the ball left the park.  Even his record-breaking home run in 1974 was followed by a simple trot around the bases (followed by pandemonium and two kooky college kids).
(Wanna see it?  Click here.)
For years I never knew that a random assortment of rednecks sent him hate mail.  I never knew that he had multiple death threats, including the night of April 8, 1974.  I just knew that when Al Downing's pitch sailed into the Braves bullpen off Aaron's bat, my hero stood and delivered.
I viewed Aaron as a home run hitter.  But history records him as a baseball player.  He holds many of baseball's most distinguished records, including runs batted in (2,297), extra base hits (1,477), total bases (6,856) and most years with 30 or more home runs (15).  He is also in the top five for career hits and runs (source:  biography.com).  He had 243 career stolen bases, for cryin' out loud.
When you talk about indelible images of childhood, a picture of this magnificent athlete and man, with a swung bat pointing elegantly over his left shoulder, will always grace my memory, and turn my head.
Happy Anniversary, Hank.  Oh my, did you have a hammer.