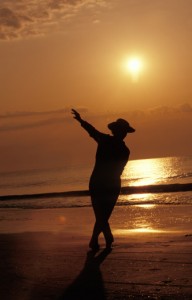 It's my strength, Nehemiah says… the joy of the Lord.
It's the result of an exchange, according to Isaiah's prophecy.  The Spirit of God anointed Jesus to exchange my mourning and ashes for beauty and joy.  Surely you don't think somewhere along the way He's lost that anointing, do you?
Jesus later told his disciples that they would mourn (at his death), but that their mourning would be turned to joy when they saw Him again (after His resurrection).  News Flash!  In case you missed it, He's still alive.
Moreover, Jesus said, as they asked in His name, they would receive, and their joy would be full.  So about that asking…
Joy is the fruit of the Spirit because joy is one expression of the character and nature of God.
It's here that the Lord gets a bum rap. At least in my experience, I have looked at joy as something He gives, but not something He is.
Sort of like parents who patiently, even lovingly watch their children squeal with glee on Christmas morning but remain somewhat detached.  That was my picture of how God relates to joy.
Yet the Bible refers to God as "blessed" – happy.
He sings over us, delights over us, rushes with joy to meet us when we return to Him, and invites us to enter in to that same experience.
I am a saint in the hands of a happy God!  If you're a believer, that describes you, too.
And the more you rest in him, commune with him, listen, love, and talk to him, the more you naturally experience that joy… to the point that Paul says it's a choice to be "filled with joy in the Lord" (Philippians 4:4, NLT).
How else do you think He heals the brokenhearted and binds up all their wounds? Did you think He just limited Himself to expressions of sympathy?  What we preachers call "comfort?"
Think (and thank) again.
Yes, He rocks you in the tender cradle of his fathomless compassion. Then He confounds His critics and makes fools of His enemies by turning all your sorrows into joy.
Sting-of-death sorrows.
Sin sorrows.
Social sorrows.
Stupid sorrows.
To be a saint in the hands of a happy God…
is to bring Him all your sorrows, your tears, your wounds, and your unanswered questions…
and watch with wonder as the same Lord who turned water into wine…
turns your mourning into dancing.
Related articles