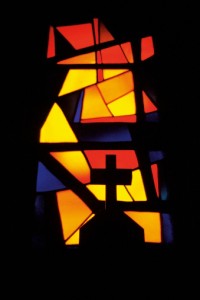 I'd like to tell you how I became a follower of Jesus Christ.  But before I do, I need to tell you how I became a lost church member.  In my story, you can't separate one from the other.
It was Easter Sunday at the church I grew up in, at least from the age of 4.  I was in the fifth grade.  During those days, my sister and I went to Sunday School and church about half to two-thirds of the time.  In the fourth grade we began having more personalized Sunday School teachers instead of being in the big class.  Several of my classmates had made professions of faith in Christ and been baptized.
Mr. Gregory, a kind, caring man and my Sunday School teacher, asked me then if I was ready to accept Christ as my personal savior.  I told him I wasn't ready, and that I would know it when I was.  I don't remember discussing any details of what people refer to as the Gospel.  But I'm sure it was presented. Somehow.
That was pretty much my stance through fourth and fifth grade.  On this day, however, something was different.  I felt a strange sensation in my chest.  My heart was pumping a little faster, I sensed something was about to happen.  This feeling in my heart told me today could be the day.
Our church was starting a revival that Sunday, with brothers BO and Dick Baker in to lead it.  That morning all the children were brought into the auditorium.  BO Baker spoke to us from Revelation 3:20 about Jesus "knocking on the door of our heart."  He would knock on the wooden pulpit to illustrate.
Knock-knock-knock.
Every time he did that, it was like somebody was literally knocking on my heart.  The feeling got stronger, my 10-year-old sense of anticipation became greater.  I was bursting at the seams.
BO extended an invitation for any of the children who wanted to open our hearts to Christ to come forward and meet the pastor at the front.  I was on the second row.  I knew what I had to do.
I froze.  Seized with excitement and fear at the same time, I just stood there.
Then BO said, "Who's going to be first?"
That's all it took.  I left my pew and walked to the front of the auditorium and stood beside my pastor.  I didn't say a word to him.
He didn't say a word to me.
We just stood there.
Nine children came forward in total that day.  I remember some of their names and faces.  We all came and stood next to our pastor silently.
Next, they took us to a room upstairs and sat us in a circle of chairs.  They gave us a card to fill out.  (I may have just given myself away as a Baptist.)
I was filling out the card along with everybody else.  While we did that, the associate pastor was talking to us.  I'm sure what he said was correct and biblical.  But I never heard a word he said.  I was too busy filling out the card.
We turned in our cards, and I went to find my sister.  When my dad picked us up that morning, I announced, "I accepted Christ as my personal savior."  It was a happy day.
The problem is, I had no clue what that actually meant.  It was the language Mr. Gregory and others had always used.
Being a revival week, that Friday night I was baptized.  We had a meeting prior, and they told us how to do it so we got wet and the pastor didn't.  I'm sure they also told us what baptism meant, but I didn't have ears to hear it.
And that's how I became a lost church member.
No one ever asked me, "Andy, why did you come forward today?"  No one explained to me why I needed to "accept Christ as my personal savior" in the first place.
Nobody ever talked to me about my sin.
It wasn't until after that, when I was invited to a new members class, that I heard Mrs. Paul read Romans 3:23 for the first time:  "For all have sinned and come short of the glory of God."
Oh.  That's what this is all about.  I see.
There was no real change in my life.  I went back to being the same mean, hot-headed, arrogant snot with deep-seated security issues I'd always been.
Paul said in 2 Corinthians 5:17 that "if any man is in Christ, he is a new creation.  Old things have passed away, behold, all things have become new."
The only thing new in my life at that time is the club I had joined.  A club that said we pretty much all believed the same thing and had all filled out the card.
A True New Beginning
All that changed a few years later.  I attended a youth retreat in late January.  I was now in the ninth grade.  I can take you to the spot at the camp there in Citronelle, Alabama, where I was walking and for the first time I can remember, the thought occurred to me, My life isn't what God wants it to be.
Later, in a service at the retreat, I felt the need to make some serious changes – to reverse the direction of my life.
The biblical word for that is repentance.
I didn't even know what to say because at the time I thought I was already a Christian.  I had been down an aisle and been baptized.  What else was there?
But at that retreat, for the first time ever my heart was broken over my sin and I turned toward God.  For a while I referred to that as a "rededication."  But I realize that was the first time I had truly trusted Christ.
Repent AND Receive
In simplest terms, becoming a follower of Christ involves two things:  repent and receive.  I repent of the ways I have turned away from God (sin), and I in faith I receive Jesus Christ as savior and Lord of my life.
Can a six-year-old do that?
Absolutely.  One of my children was saved at the age of five and declares it to this day.
Does a young child always do that?  Absolutely not.  That's why it's helpful to at least have a conversation with that child.  The personal conversation nobody at the time ever had with me.
Some people become lost church members because they do one and not the other.  Some repent and never receive.  Life for them is a self-help, get-it-better-next-time project.  They turn over a new leaf, make a new start, try a little harder next time – but they never put their lives completely into God's care and control and rely completely on the sacrificial death and resurrection of Jesus Christ for their sins.
Others receive, but never repent.  That was me.  I never had any doubt about the reality or truth of the gospel or who Jesus is.  But I never turned away from controlling my own life and destiny until that retreat, when I turned away from my own self-will and surrendered my will to the One who had already given so much for me to have life.
The Change
Did my life change after that?  You bet it did.  I found peace, joy and new purpose.  I actually stopped being an arrogant, selfish jerk toward my sister.  I found new patience to replace the anger, new love for people I had hated before.  And I discovered all those "stories" in the Bible were available to inform and inspire my "story" on a daily basis.  In short, I learned that God was real, even on Monday.
How about you?  What's your story?  Have you made that wonderful discovery of a personal relationship with Christ yet?  Or are you still in the process?
Related articles