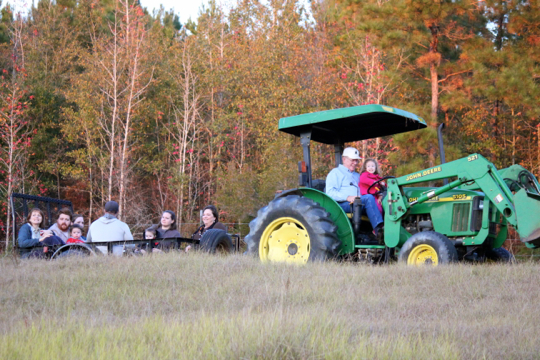 Sort-of-random thoughts from going over the river and through those woods for Thanksgiving…
When the weather report is rain-free and the only wind that is blowing is in your face as you're roaming through the pasture on a hayless hay ride, that's a sign you're having a good week.
I wonder what would happen if there was a new global holiday and the whole world got to swing as high as they could on a swing that is big enough to hold lots of different people.  Maybe people would be less on your case and more at your side.  It works for little kids – why not big ones?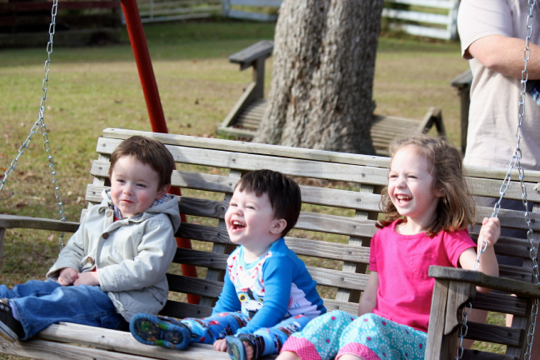 If I could offer you one piece of advice for multiple families traveling together, it would be to avoid red beans and rice at Popeye's Chicken or Wendy's Baconator.  'Nuff said.
A warm pumpkin or chocolate meringue pie has to be the original reason the pilgrims and Indians first sat down to celebrate together. That's what gets me to the table anyway.
There's nothing like the embrace of a grandbaby to make you feel more than thankful – unless it's six at one time.  My cup – and love – runneth over.
I live on the plains at the far end of the time zone.  When evening arrives and shadows get long they take their sweet time.  Back at the farm, on the leading edge of the time zone, the sun doesn't set – it drops like a rock and the stars seem to appear out of nowhere.  Seven-thirty feels like midnight.
Things change.  Sometimes that's fun and wonderful and sometimes it's a little sad.  When there's no one coming to feed the cows because there aren't any more cows to feed, that's a little sad.
When changes are particularly sad because of the death of someone you love, there still is a God who can dry your tears.
The key to gratitude is recognizing there are no guarantees.  I could never presume to hold on to the relationships or blessings I cherish and tend to take for granted for one more day.  Neither can you.  And THAT is what gratitude is for – to celebrate the gift(s) of the present.
If I live for a million years there are some things I will never understand.  Like Black Friday-now-holiday-invading-Thursday.  Of course, what do I know?  I shop on Christmas Eve… On purpose.
If our goal was to make memories, this trip was a hit.  Here's the quote of the week for you.  Laura Kate and Cohen are soaring on the big swing.  I can practically feel their exhilaration at my every push.  LK (age 4) looks to her cousin (age 2) and says, "Cohen, are we farmers?" "Yeah," he says in his best aw-shucks voice.  Love, love, love it!
I know you probably know what a coyote sounds like, but I'll bet you haven't heard a half a dozen of them in the dark about 200 yards away.  That was new and different – made me want to get the dogs in and the shotgun out.
Your trip to the family farm isn't complete without the obligatory photo shoot.  You don't mind, do you Shepherd?  Look up and smile!  No Jackson we're not done yet.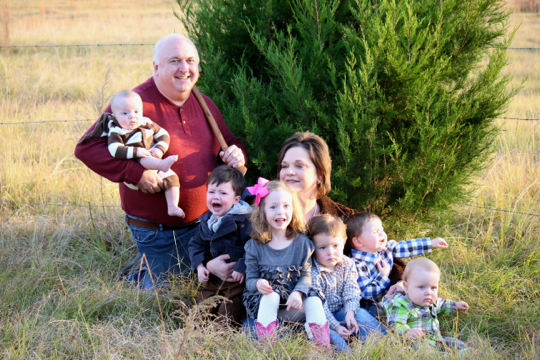 I would never be able to do what you feast-makers do to put on a spread like Thanksgiving dinner. It'd be wrong to try.  Glad to tote a kid or haul out trash, though.  (Hmmm.  I just used the word "tote" for the first and last time in my life.)
I've known it from the time I was little, but it's fun to see it lived out in a whole new generation.  There's nothing like a ramble through the barn to fuel a kid's imagination.  Or a twenty-something's.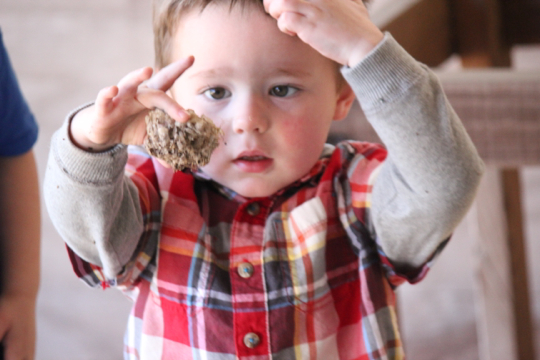 From the moment that we got there 'til the time we went our separate ways, we were reminded continually that we have much to celebrate… and anticipate.  Both are reasons to say "thank you" to God.
I think I may have met a future family member.  Not my decision, of course, but there's no doubt in my mind he'd be a wonderful addition.  You know who you are.
Second-best quote of the week – sorta lets you know where you belong.  Cohen and I are on a Sonic run…
C:  Papa, now when I start crying, you give me Grammy's cheeseburger.
Me:  What?  You have your own cheeseburger.
C:  She can have my cheeseburger.
Me:  So what do I get?
C:  You get a diet Coke.
I'd have to say, even though there are no cows in the pasture, there was plenty of grazing.  Go hungry there and you have no one to blame but you.
I'd have to say, I didn't go hungry.
Back to Black Friday… Oh, never mind.  I wonder if the Cowboys and Lions look back at Thanksgiving Day as Blue Thursday?
I'd have to say, whoever invented infant car safety needs to go back to the crawling board. Let's perch them backwards on a trip down the Screaming Kid Avenue and see how they like it.
There ain't nothing like the delighted sound of a sixteen-month-old that knows your name.  I wouldn't trade anything for that.
I was reminded by the sudden death of my cousin's husband that the things people do to make a difference in your life stay with you for a lifetime.  You feel their influence long after they're gone.
My family, both direct and extended, has grown since our last Thanksgiving together; my love has grown with it.  And I thank God for that.
(Photo notes:  No children were harmed in the making of these photos.  No, there were no seat belts on the wagon or swing.  Yes, that's a wasp nest in the barn – a dead one.  Yes, that's me holding an axe on my shoulder with grandchildren below.  Welcome to life in the country.  And Happy Holidays!)