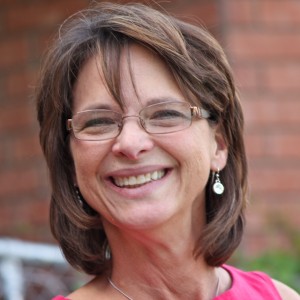 If He carried the weight of the world upon His shoulder,
I know my brother that He will carry you.
-Scott Wesley Brown
It was on an old four-propeller Lockheed Constellation airplane, on an 18-hour-long flight from Tokyo to San Francisco.  It was the mid-1950s.  Carol Willis was just a baby and had a severe earache.  To try to comfort her, her dad walked her up and down the aisle of that old plane throughout that long night.  If you've ever traveled with ear-sensitive children, you know exactly what I'm talking about.
Over the years the family nightmare became something of the family joke.  Harlan – my father-in-law – would say, "I walked all the way across the Pacific Ocean carrying you in my arms."
But the family joke also became the family prophecy and the family legacy, and it was a part of Carol's emotional DNA.  Carol spent her growing up years in Thailand, where she and her family traveled across that ocean again to take the gospel of Jesus Christ to a nation they love to this day.
When the tragic tsunami hit Thailand a few years ago, Carol, her sister, her dad and the rest of a team from Alabama and Texas again took the love of God across that ocean to carry the brokenhearted physically, emotionally, and spiritually.
Anybody who ever knew Carol Strahan, in whatever capacity, knew her as someone who loved people like that – and who said with her life, "I would carry you across an ocean to help you if that's what you needed me to do."
But some oceans are too wide for any human to cross.  Some loads are bigger than any human's ability to carry.  You can discover that to your wonder.  Or you can discover that to your torment.  But sooner or later we all discover that. Carol was no exception.  But she had some pretty good company in a psalmist named David.
A couple of days after Carol's tragic death last week, her mother woke up with this verse in her spirit:  "I will praise You, for I am fearfully and wonderfully made…" (Psalm 139:14).  It brought her a lot of peace, and I began to look a little deeper at David's wonder at what he didn't understand – at the oceans too wide for him to cross and the loads to heavy for him to carry.
Oceans of Understanding and Loads of Knowledge
David said in Psalm 139 that there were things that he could never make sense about.  But they weren't too confusing for God.  "Such knowledge is too wonderful for me; It is too high, I cannot attain to it."
For the last week, nearly everybody who knew Carol has tried to get their minds around things related to her death that just don't make sense, and they never will.  Our simple little explanations will never satisfy all the questions people are seeking answers to.  But as that old song says, "When answers aren't enough, there's Jesus."  And He is enough.
Oceans of Separation and Loads of Togetherness
Many of these, David said, are beyond any human's ability.  But they weren't too lost or distant from God.  "Where can I go from Your Spirit? Or where can I flee from Your presence?  If I ascend to heaven, You are there; If I make my bed in [the grave], behold, You are there." There is nowhere you can hide from Him.  But more importantly, there are places where you can't go, where he already is.
One of the hardest things about the death of a loved one is that they go somewhere you can't yet go.  But they don't go anywhere that doesn't find God waiting for them to get there.
Oceans of Direction and Loads of Guidance
Some of these baffle the wisest human.  But even your times of greatest confusion are no match for God's guidance.  David said, "If I take the wings of the dawn, If I dwell in the remotest part of the sea, Even there Your hand will lead me, And Your right hand will lay hold of me."  
When you don't know where to go and you don't know what to do, we have a God who promises that He will never leave you or forsake you and who promises to give you just enough light for the path you're on.  You can trust Him, step by step, to lead you.
Oceans of Darkness and Loads of Hope
Let's talk about that a minute.  David said, "If I say, 'Surely the darkness will overwhelm me, And the light around me will be night,' Even the darkness is not dark to You, And the night is as bright as the day. Darkness and light are alike to You."
David was talking about physical darkness, but I think he meant much more than that.  There is also an emotional darkness that comes out in a lot of ways.  Sometimes it looks like depression.  Sometimes anger.  Sometimes it feels like rejection.  Sometimes it looks like pride.  And all of us reach those times when the darkness is too dark for us.  But it isn't too dark for God.
When your world is dark because you see no hope, for God's sake and yours, find a Source of hope that's greater than the darkness.
When your world is dark because of the anger you're feeling – especially that anger that seems to give you no way to respond appropriately – here's a novel idea…why don't you ask God to show you what to do with that anger to turn it into something life-giving and good?
When your world is dark because the hurt or betrayal is just too much, why don't you invite the Lord Jesus into your hurt and betrayed heart to bring healing and hope again when you can't do it yourself?
Let me tell you how much the Lord understands your darkness.  Two thousand years ago the Lord Jesus Christ went to a cross and gave His life for the sins of the world – your sin – my sin –– everybody's sin.  And scripture tells us there was darkness in the land from noon to about 3:00 in the afternoon.  There in the darkness, the Lord Jesus cried out, "My God, my God why have you forsaken me?"
Can you relate?
Jesus entered that dark world long before you and I ever got there – and He made it possible for you and me to have hope in the face of death and eternal life.  And that eternal life doesn't start when you die!  It starts when you trust!  It starts when you say yes to Him.  For Carol it started on the steps of her home in Thailand on the day she said yes to Jesus Christ and invited Him into her life.  And this gospel – this good news is so powerful that the faith commitment of a little girl halfway around the world years ago could carry her even past the darkest and sickest days of her life.  And I think she would want me to tell you –
If He carried the weight of the world on His shoulder, I know – I know – He will carry you.
Through life.
Through death.
Through eternity.
If you will just trust Him… He will carry you.