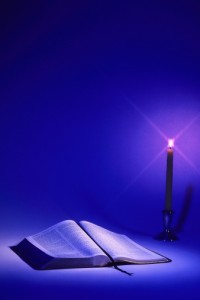 Something happens at the end of the day when the to-do list loses its power, the however-many words we use have escaped us, and the sinks and tubs and TVs have done their duty.  Life gets still.  Sometimes for a fleeting moment before sleep.  Sometimes, like last night for me, for a surprising length of time.  Borrowing from ancient practices, I like to call these moments the Watches of the Night.  Even though the body is tired, another part of you is still very awake.
It's there, in the quiet stillness, that you can hear Him if you listen in your spirit.
It's the same Gentle Whisperer that Elijah heard in the mouth of the cave.
He's the Mighty to Save, who quiets your soul in the most beautiful of ways… He rejoices over you with singing.
This is no task for angels or even people.  This is a visitation in love fitting only for One who can take such personal delight in you, despite your weakness or failure.  And in the Watches of the Night, He Himself becomes the descant of your soul.
Listen with your heart, and in the Watches of the Night, you can hear Him lifting your soul, singing to your hope that He will come back to you again.  He sings to your regrets with His stubborn love, casting them into the depths of the deepest sea.  And in his delight over you, He buoys your heart to face new challenges and new opportunities for patience and endurance.
In the Watches of the Night, He reminds you that you are loved with a love both causeless and ceaseless, beyond any other love you can imagine or experience. He attends to that part of you that still yearns – to the longings and dreams yet to be realized.  And He awakens your spirit to remind you that He still knows how make the most of whatever season you are in.
"I have those experiences, but I'm not thinking about God."
Maybe not.  Maybe you're drawn – by God – to someone who needs the gift of your presence or a touch of your kindness.  Maybe the Watches of the Night are your chance to pray with boldness for the people you love or to ask God to heal a broken or estranged relationship.  Maybe they're a reminder that despite previous setbacks and disappointments, some things are worth waiting for – and the Watches are God's way of waiting with you.
Maybe the Watches of the Night are opportunities to reflect with gratitude on the people who have helped shape your life, or ways you can bring out the finest in others.  Maybe they are God's way of preparing you for changes that are coming – some slowly, others like thieves in the dark.
The Watches of the Night are God's reminder that there is a pace between non-stop and unconscious – and that tucked away in those times are beautiful moments worth noticing and celebrating.  He sings to you of the promise that sooner than ever, you are going home.  But until that day, there are stories about you yet to be told, and God is whispering to you that until you reach the circle's end, He's not finished with you yet.
The Watches of the Night are one of the Lord's ways of carrying you, lifting your spirit and teaching you to soar.  There sad hearts are graced with gladness.  There you can ask those nagging questions or rekindle the fire of spiritual passion and power again.
The Watches of the Night are those moments when the Captor of your heart draws you out of that emotional closet and frees you to feel again.  When your flawless Creator welcomes with delight the clumsiest offering of worship or love that you can put forth.  When your King whets your appetite again for the day you are home in His castle, never to wander again.
In the Watches of the Night, your Redeemer comes to touch your life with deep connection and profound contentment.  He comes to call you – sometimes to challenge you in your times of despair, sometimes to still you in your seasons of exhaustion.  He comes to remind you what's missing in a life covered by grace – namely the shame and the guilt of a life that once was.
The Watches of the Night are God's way of anchoring your soul during the waiting seasons.  Or sometimes they're His way of arousing your soul when it's time to quit wasting time waiting for everything to be perfect.  Either way, in the Watches of the Night, the Lord is reminding you that waiting or working, He is always, always there.
In the Watches of the Night, the Singer invites you to dance with Him in a dance of joy and grace as you learn to respond to His lead.  There He speaks to you in the language of an Intimate Friend – the ultimate Soul Mate who knows all there is to know about you and loves you all the same.  And there He composes a symphony in you that only you can play, but only He can conduct.
All of this and more are wrapped up in seven profound words, sung to you by a Mighty God who is still your refuge and strength.  It's there in the Watches of the Night that He sings a different song – a descant – to the busy rhythms of your life…
Be still.  And know that I am God.
How long has it been since you heard the song?
How long has it been since you embraced the Singer?