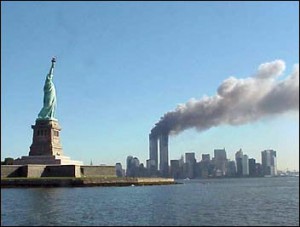 This is raw – straight from my journal and unedited, except for a few explanatory items in brackets.  It was written on September 11, 2001.  At the time I was traveling with Resource Services, Inc. as a church capital stewardship consultant.
This morning my phone woke me up in the Albany, NY hotel where I was staying.  It was Robin, making sure I was all right.  She said the World Trade Center had been hit by a plane in an act of terrorism.  I turned on the TV and was transfixed by the images of what I saw.  Two planes, one hitting each tower.  Then the subsequent collapse of both buildings.  Then the news that the Pentagon had suffered a similar fate from another airplane.
How do I begin to describe the horror, the fear, the fascination, and the numbness I felt?  Then my cell phone began to ring.  First, Amy Shillings from RSI.  Then Connie Smith.  Then Mother and Daddy.  Then Robin again.  Then Daddy again.  All making sure I was OK.
I finally decided at about 11:00 to get out for a while.  The beautiful, clear sky of September in upstate New York belied the scene of billowing smoke and debris that was taking place a couple of hours' drive south of here.
I met a black man, Anthony, on the hotel elevator.  He wanted to know if I was going toward the mall.  "Come on," I said.  I'll take you where you need to go."  Anthony was en route from one girlfriend to another.  No kidding.  Then later would catch the bus for a two-hour ride back home.  To his fiance.
I dropped Anthony off at the mall, and, still in the parking lot, decided to check my voice mail.  I heard the calls from [RSI CEO] Carl Hefton, [RSI President] Bill Wilson, and others – expressing care and support, encouraging us to do what we felt we needed to do, informing us that the travel office was prepared to assist in any way we needed.  I felt loved.  Cared for.  For once, not alone.  And there in the mall parking lot, I just cried like a baby.
I realized that I had never seen the "real" Albany; all I'd ever been exposed to was the airport and Wolf Road.  So, in an effort to be anywhere but cooped up in the hotel room, I took a ride downtown.  What a beautiful state capital and state education building.  Both evacuated and closed for the day.  And the State University of New York!  Amazingly beautiful.  Why did I wait until today to see this?
I drove up the Hudson River and wandered through Troy, the home of the original "Uncle Sam."  Then back to the Macaroni Grill.  I hoped that I could have that life-changing dish I'd had before – one of the finest plates of food I'd ever experienced.  Yes, Tracey said, they still had that.  But today, it wasn't so life-changing.  I think they burned the chicken a little.  Or maybe nothing would taste quite right today.
Back in the hotel room, I continued to watch the devastation.  Listen to voice mail.  And, of course, contact the churches I was supposed to visit.  Stoney called my voice mail from First Baptist in Folkston [GA], wanting to make sure I was OK.  That was neat.  East Glenville, where I was scheduled to be tonight, wanted to proceed with their meetings, albeit at a later time.  They wanted to have a prayer service at 7:00, then have the training meetings at 8:00.  I called [Pastor] Jim Burcham at FBC in Upper Marlboro [MD].  They had members who worked at the Pentegon and Andrews AFB.  All were accounted for and safe.  He was unsure what they would do about their meetings.  I told him that I would be driving from Albany to DC tomorrow, and that whatever he felt appropriate, we'd work with him on.  He said he'd know something around noon tomorrow.
I took a short nap late in the afternoon.  Continued to talk back and forth to Robin, then later the girls.  Some idiot, the girls said, had called in a bomb threat at Monterey [High School].  Whoever it was dialed 911, and they traced the call and caught the stupid fool(s).
I drove to Glenville and arrived at the church early.  Talked again to Robin, who wondered if we should get money from the bank in case we needed cash.
It was good to be at the prayer service.  And that's primarily what it was.  [Pastor] Ron Sylvester read some scripture intermittently, and people prayed.  We sang a hymn to start and to close the service.  Other than that, we prayed.  Once, as in previous times during the day, I was overcome with waves of grief.  I focused on several passages of scripture, namely Psalm 91, John 16, Philippians 4, Psalm 27.  Somebody prayed about the Lord being our strong tower, and how even when our earthly towers were reduced to rubble, the Lord was a tower who couldn't be shaken, where the righteous could run and be safe.  I wanted that, I told the Lord.  I wanted to run to Him.  To be safe.  To be that righteous.  I cried out to Him for His help.
My mind and heart were drawn to Jesus' statement of fact and promise in John 16:33.  "In the world," He said, "you will have tribulation."  No arguing here.  "But be of good cheer.  For I have overcome the world."
When the Japanese bombed Pearl Harbor, Jesus had already overcome that.  When the Oklahoma City bombing took place, Jesus overcame that.  When the world has faced disasters, fears, pestilence, and destruction, it did so from a position of having been overcome by the Lord Jesus.
How can we look at such tragedy and evil and say that we can have peace because our Savior overcame the world?
1.  He died for the sin that prompted it. The unspeakable evil displayed before the world today was evil that the Son of God willingly, lovingly, bore the guilt of.
2.  He loved the people who perpetrated it. And even in the face of their greatest evil, He refused to stop loving them.
3.  He redeemed our lives from the destructiveness of it. He lifted our feet from the miry clay.  He redeemed our lives from the pit.  He brings healing, hope, and help to shattered worlds and broken hearts.  And no evil is greater than His ability to bring peace and solace.
4.  He limited the days of it. No matter how grave, how severe, He has promised a day when all of this will be no more.  When God will bring his ultimate redemptive purposes to pass, and this world will dish out trouble for the last time.
5.  He walks with us through the worst of it. "Nothing," Paul said, "can separate us from the love of God which is in Christ Jesus."  Nothing.  Not tribulation, distress, peril, sword.  Not terror, death, or hostility, either.  We have peace because we have Him.  "In Me," He said, "is peace."  Not in military strength.  Not in financial prosperity – that was vividly portrayed again today.  But in Him.  And tonight, I was reminded again… Peace is my birthright, because I am in Him.