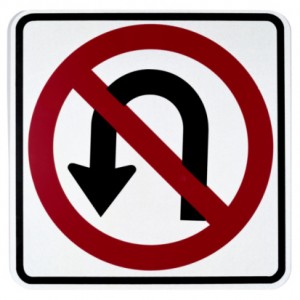 Occasionally I come across somebody who remembers an era when I sang a lot or wrote a lot of music.  They graciously tell me they miss that, and openly wish I would return to it, or "do something with it."
Honestly, it feels nice to hear that.  But I won't be singing "He's Alive" this Easter, and I haven't written a song that doesn't end in "oh, doo-dah-day" in 13 years.
Even more frequently, I see somebody who heard me preach, or was in a church where I served as pastor.  More kind words.  More open wishes.
Truth be told, if feels nice to hear that, too.  But so far I'm not planning on preaching this Easter, and I haven't served in a church leadership role in 16 months.
Do I miss those things?  Of course.  But that doesn't mean that the gifts and callings behind them have been shelved or warehoused.  Just redirected.
In an often-quoted Bible verse, Paul says that "the gifts and calling of God are irrevocable" (Romans 11:29).  He's referring to the Jews and their place in God's heart and plan.  But the implications are much broader than that.  It speaks to Gentile me.
It speaks to you, too.
"God never changes his mind when he gives gifts or calls someone."  That's how God's Word translates it.  Eugene Peterson says in The Message that they are "under full warranty – never canceled, never rescinded."
You can run from your calling or abuse your gifts.  You can make stupid choices that limit your effectiveness.  You can be distracted by the world or rejected by the church, deceived by the devil or pursued by trivia.  But your dead ends or detours haven't changed your gifts and calling, and you'd be wise to recognize that.
Oh… sorry… you still here?  I was preaching to myself and got distracted.  Anyway…
If you intend to invest your life in a compelling future, you must start from the perspective of what you have been given by God.  It's in your spiritual and personal DNA (Designed Natural Aptitudes).
So what do you do with your gifts and calling when life has a way of changing over time?
1.  Embrace the fact that you are called and gifted.
We could talk all day about your gifts never going away, but that won't help if you never thought of yourself as gifted or called in the first place.  So often in Church World we limit our view of gifts and calling to things that take place on a stage or behind a micro-phony.
What a waste.
To say you aren't gifted is to make the Father a liar, the Son a time-waster, and the Spirit an idiot who plays favorites.  The fact is, you are gifted, whether you or anybody else recognizes that or not.  And the quicker you embrace that truth, the sooner you can get about exploring – and using – those gifts in ways that serve and save the world and expand the Kingdom.
2.  Don't screw it up.
Sorry.  I couldn't think of a nicer way to say this and be clear.
Every gift or calling has its potential for undermining your credibility to use it.  For example, the children of Israel were called out from the nations to be a holy nation, separated unto God. The potential undermining influence:  idolatry.
Yep.  They blew that one.  Repeatedly.
On a more personal level, you may be gifted in unique ways to communicate truth.  (The New Testament words for gifts like that include prophecy, teaching, exhortation, word of knowledge or word of wisdom.)  But imagine what it does do your credibility if you are a habitual liar.
Suppose you are gifted in areas of leadership. If you betray the trust of followers or fail to lead people where they are destined to go, it can get a little dicey trying to use that gift in the future.  Or, if you are gifted to pray for the sick, an unhealthy lifestyle can make it hard for people to take you seriously.
Nothing is more grotesque than a believer turning his gifts or calling into a side show or circus act.  Few things are sadder than a gifted, called individual who has been discredited – but still has the gifts and calling.
3.  Don't limit your calling to a job description.
This ain't your job or career we're talking about.  You may use your gifts or calling there, and hopefully you do, but spiritual gifts and calling transcend how you make your living.  We forget Paul was a tent maker and Peter kept his fishing boat.  But leaving the tents or the nets didn't mean leaving their calling.  Paul just worked on the bigger "tents" – the church of the Living God.  And Peter became a fisher of men.
I once heard George Barna say that the average man in America will have 3-5 careers in his working life.  Not jobs – careers.  If he is a believer, that man will take his gifts and calling into each of those careers, even if he is not actively using them to earn a living.
4.  Recognize the difference between calling and drafting.
People draft.  God calls.  In people's minds you may be a number-one draft choice, a free agent, or the latest in the round of cuts.  But what God called and gifted you to be, you still are.  No one can take that away from you.  In spite of your failures, mistakes or the opinions of people, you are still a valued member of God's kingdom and plan.
People do not make you an exhorter or teacher; He does.
People don't wire you for service or administration; He does.
People do not anoint you to communicate truth; that's His job.
Stop looking to people to gift you or call you.  Only He can do that.  But when you do see evidence of His gifts, exercise them without apology.
5.  Respect the confirmation of the Body.
Much as it sounds like a contradiction to the previous point, pay attention to the affirmations you hear from other believers.  They don't call you or anoint you, but they do recognize what God has done in you.
People around me recognized I was ready to move from youth ministry to being a senior pastor before I did.  That kind of thing is not unusual.  If you're the only person in a room of 100 people who believes you are gifted or called in a certain way, it may be wise to give that another look.  On the other hand, if you are repeatedly hearing from others that you are uniquely gifted in a certain area, even if you don't agree, it's probably worth a second look.
6.  Live like someone who has been chosen, forgiven and highly favored.
You are.
Nobody deserves or earns grace gifts – and that's what all gifts and callings are.  They are tangible expressions of the goodness and unmerited favor of God.  You don't interview for gifts or calling.  You receive them when you believe the gospel and receive Christ as your Lord.  Your gifts and calling – regardless of what they are – are trophies of His grace and weapons in His arsenal.
7.  Remember always that you are called first to be, then called to do.
And He appointed twelve, so that they would be with Him and that He could send them out to preach, and to have authority to cast out the demons (Mark 3:14-15).
Your gifts and calling are first and foremost means to be with Jesus.  They are gateways to spiritual intimacy first – then avenues of spiritual power.  When you try to exercise a gift for God before you execute the gift with God, you become like our pal Peter, who, when Jesus was arrested, whipped out a sword to try and defend Him.  Good intentions.  But comically dumb.
Your will spend a lifetime unpacking, understanding, and applying your spiritual gifts and calling.  You may run from them or abuse them, undermine them or use them.  But you'll find that regardless of your performance or perspective, the Giver of Gifts is still giving.
And the Giver of Life is still living.