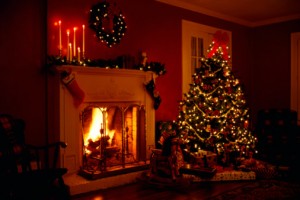 On October 4, 1943, Bing Crosby recorded a song that captured the imagination of millions of Americans.  Within three weeks it was on the top music charts, and remained there for 11 weeks.  A year later, it returned to the charts again.  Since then, it has been recorded by nearly 250 artists.  It was the first song broadcast into space, and remains to this day one of the most cherished songs of all time. 
Remember, the entire world was galvanized in a world war, and hundreds of thousands of American soldiers were in Europe, Africa, and the Pacific fighting for our future.  Nearly the entire country was unified behind our fighting men. 
The name of the song – "I'll Be Home for Christmas." 
Something about Christmas makes us want to go home, or at least to be somewhere with people we care about.  But one of the things you will notice sooner or later if you follow Christ is that this world is anything but home.  Broken promises, bondage, temporary fixes, and profound loneliness all send the same message:  we don't belong here.
But we also live with a promise.  One day we're going home, and we'll never be strangers again.  And just in case you're one of those who get to feeling a little empty around Christmas – sick of the rat race, tired of the stress, missing someone you love, or maybe just wondering what's missing – I want to remind you… one day we'll be home for Christmas!
Then I saw a new heaven and a new earth, for the first heaven and the first earth had passed away, and the sea was no more. And I saw the holy city, new Jerusalem, coming down out of heaven from God, prepared as a bride adorned for her husband (Revelation 21:1).  
Fulfilled Promises
Have you ever had promises broken?  Or delayed?  Have people ever disappointed you?  I know what that's like.  But can I share a promise you can bank on?
And I heard a loud voice from the throne saying, "Behold, the dwelling place of God is with man. He will dwell with them, and they will be his people, and God himself will be with them as their God (Revelation 21:2-3).
This promise is made throughout scripture.  To Abraham and his immediate family.  To Moses and his generation.  Then again when God instituted the New Covenant.  And now to us.
One day, you and I will home for Christmas.  And I believe one of the first things we will say is, "It's true!  It's true!  It's really true!  Thank God Almighty, it's really true!  There really was a manger and a Bethlehem!  There really was a cross and resurrection!  There really is a place for me here."
And when you're home for Christmas, you will never be disappointed again.
Freedom
He will wipe away every tear from their eyes, and death shall be no more, neither shall there be mourning nor crying nor pain anymore, for the former things have passed away" (Revelation 21:4).
No more separation when we get home for Christmas.  No more loneliness or sad good-byes.  All of us have experienced the ache – short or long – of having to say good-bye to someone.  But the day is coming when we'll be home for Christmas, and you will say good-bye for the last time. 
No more death.  Without a doubt, it's the most frightening thing we face here.  The "last enemy to be destroyed," Paul calls it.  But the day is coming that we won't have to fear dying again.  We'll be home – and eternally alive – for Christmas.
No more tears.  My daddy used to have a unique way of comforting me when I'd cry as a kid.  He'd hold me and say, "Hush  now."  And something about the way he said it would ease my tender heart.  But one thing was sure – my tears would always come back.  But one day, I'll be home for Christmas, and my Heavenly Father will personally wipe those tears away.  And when God wipes your tears away, you'll never cry again.
No more pain.  I'm talking about those headaches, ma'am.  No more surgery, cancer, heart trouble or doctors.  No more DIEts, back trouble, arthritis, or lame limbs.  No more blindness, glasses, or insurance quagmires.  Where do we get the fortitude to go on serving Jesus, even when we are tired and hurting, and it would be much easier just to quit?  We get it from knowing that there is coming a day when we won't hurt any more.
Finality
And he said to me, "It is done! I am the Alpha and the Omega, the beginning and the end.
The waiting… done.  It's really true – "Hope deferred makes the heart sick" (Proverbs 13:12).  And when we're home for Christmas, hearts will be sick no more.
The warfare… done.  No more wrestling against principalities, powers, and rulers of the darkness of this world.  No more dying daily to the lures of the lurid.  No more clinging to or crawling back to the grace of God to heal the brokenness of our lives from sin.  No more living as an alien or exile in a place that is not our home.  When I go home for Christmas, the Alpha of Peace will be the Omega of warfare once and for all.
Fellowship
They will see his face, and his name will be on their foreheads (Revelation 22:4, ESV).
I have followed Christ for more than 35 years.  In that time, I've lost count of how many sermons I've preached, pieces I've written or people I've led to the Lord.  I have forgotten as much as I remember of the wonderful things I have seen and experienced.  But with all I've had the privilege to do, there is one thing I have never done. 
I've never seen Jesus.
I've talked to Him a lot.  I know the sound of His voice.  I've sung to Him and about Him, and introduced Him to a lot of people.
But what makes home, well, home is the fact that Jesus will be there.  I even think hell would be bearable if Jesus was there.
He said He was going to prepare a place.  And what matters is not what the streets are paved with or what we eat (yes, eat) in heaven.  What matters is "that where I am, there you may be also."
One day, sooner than ever, I'll be home for Christmas.  There'll be a tree there.  And the leaves of that tree are for the healing of the nations. 
Lights?  Just one… He is the light, with no need for the sun, moon or stars.
Carols?  Check this out:  Worthy is the Lamb that was slain to receive power, riches, wisdom, strength, honor, glory, and blessing forever and ever.
Gifts?  Maybe.  But we won't notice.  All eyes will be on the Giver!
After giving this beautiful picture of what our eternal home will be, Jesus makes this promise:  "To him who is thirsty I will give to drink without cost from the spring of the water of life" (Revelation 21:6, NIV).
In the next chapter, He offers this invitation:  "The Spirit and the bride say, 'Come!' And let him who hears say, 'Come!'  Whoever is thirsty, let him come; and whoever wishes, let him take the free gift of the water of life" (Revelation 22:17, NIV).
The best thing about heaven, besides the fact that Jesus is there, is knowing that I'll be there, too.
How about you?
One day, I'll be home for Christmas.  "Even so, come quickly Lord Jesus!"