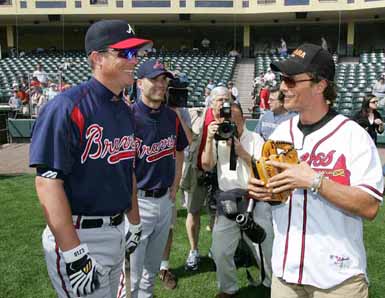 The boys of summer are back.  You'll find them hanging out in Florida and Arizona ballparks, getting those winter cobwebs cleared out, and setting out to prove they're worth all that money (or should be paid all that money). 
But while it still has to be worked out on the field, and the first word to start the proceedings is still, "Play," make no mistake about it.  The 2010 version of this game got started as soon as Mark Teixeira caught the last out of the '09 World Series.  And it was all business.  That game is played by General Managers on telephones and at conference hotels and in corporate offices throughout North America and, in some cases, in island Caribbean nations or the Pacific Rim.
They were about the business of building a team.  And not just for 2010.
Your payroll may be slightly less and your personnel decision may not involve as many people.  But wherever you connect with others to get things done, you or somebody is building a team.  And the decisions you make today can affect the quality of your team(s) for years to come.
Just ask Bobby Cox, who is retiring this year after 50 years in the game.  Cox has the distinction of hiring his own boss as the GM of the Atlanta Braves and "demoting" himself back to the field manager in 1991.  Between him and John Schuerholz, the Braves reeled off 14 consecutive division titles – a feat unmatched in professional sports anywhere.
So what can we learn from the likes of Cox/Schuerholz, or the New York Yankees, who won their 27th World Series title last year?  What could they possibly teach a youth pastor trying to build a volunteer team?  Or a Human Resources department looking to strategically plan for a decade's worth of personnel needs?  Or a new high-end ladies' boutique that will succeed or fail based on the customer service skills of its employees?
Plenty.  Here are five ways you can learn from champion MLB teams in assembling high-powered teams of your own:
1.  Cultivate:  Start developing tomorrow's champions today.
Baseball teams spend incredible amounts of time and money in player development through their farm system.  Multi-national corporations like GE also have deliberate strategies in place for developing employees into managers and leaders; current CEO Jeffrey Immelt is the direct result of the company's development system.  But you don't have to be George Steinbrenner  or Jeffrey Immelt to develop talent.  In fact, this is a lesson I've learned the very hard way:  If your organization isn't building leaders for the future, you are sowing the seeds of your own demise.
So what are you doing to shape tomorrow by training excellence in performance, growth, or leadership today?
2.  Negotiate:  Know when to call in outside help.
Sometimes the answers that champions-in-the-making are searching for are found at the other end of a paycheck, or an appeal.  Teams like the Yankees, with big dollars to spend, are famous for this.  For years they have built teams primarily by negotiating with free agents.  There is always a tension between cultivation and negotiation.  Cultivation takes time, but saves money.  Negotiation can get you what you want fast, but it's expensive and often disrupting to the team environment.  That said, even in church or nonprofit work, there is no shame in issuing what the Bible calls the Macedonian call:  Come over here and help us!
One secret that great leaders often use to leverage help is a limited time frame.  The next time you need volunteer help or you're negotiating for a possible trip to the World Series, ask for a limited timeline.  Ask for a year.  Or three months.  Decisions are easier when we're not asking for a lifetime. 
3.  Educate:  Develop your current team.
What are you doing to make the team you have today better for tomorrow?  Remember, even A-Rod has a batting coach.  Glavine, Smoltz and Maddux had Leo Mazzone in the 90s.  Great teams are made of up great people – who aren't nearly as great as they will be tomorrow or next season.
Think about Jesus Christ, and the team he built.  They were radicals and rejects, philosopher wannabes and hotheads.  And three years into the leader development plan of the early church, things were looking mighty grim.  But Jesus didn't build the early church on the basis of today's performance or resumes.  He built it on a vision of what these people could do when empowered by the Holy Spirit.
How about you?  What can you do in the next 30 days or 3 years to sharpen your current team members?
4.  Motivate:  Put it all on the field to fire up your team.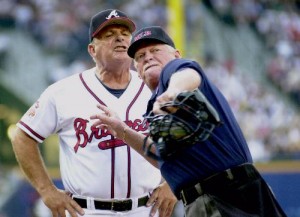 Remember all that chatter they taught you in Little League?  "Hey 'em batter batter, SWING!"  Somebody forgot to tell Bobby Cox to leave it in Little League.  He's famous for chattering away from the dugout – calling millionaire athletes by the nicknames they often got from him.  Doesn't matter if the Braves are down by nine in the ninth, or if the batter just got called up from Double-A – Bobby's cheering them on.
Oh – and did I mention that nobody has been thrown out of more ML baseball games than Cox?  Ever?  And often it's to wake up a lethargic team or let his players know he's taking up for them.
So what does your organization do to cheer on team members?  How do you show the women and men on your team that you're willing to fight their battles for them?  Leaders are often positioned in their version of a dugout.  But sometimes you have to leave the dugout, get out there, and shake things up.
5.  Rotate:  Give everybody some experience.
In a sport where people get hurt, or players are required to show up with game faces on 162 times a year, everybody needs a chance to get in the game somehow.  The great managers are unafraid to send their third string catcher when the season is on the line – because they have given them some experience.  (Hey Pirates fans… sorry to bring up a s-o-r-e subject, but remember Francisco Cabrera?)
Every day in your organization is not Game 7 of the World Series.  What kind of plan do you have to get your team members some real, meaningful experience doing something that the organization actually depends on?  Please – don't insult your interns by not teaching them something, or relegate assistants to mopup duty.  The word after "vice" is "president" and the one following "assistant" is "manager" or "pastor" or "director."  But if the clock is never running when they're running things, you may regret it one day when the team depends on them for survival.
Well, there you have it.  I'm sure there is more we can learn.  But for now, I think I'll go back and listen to Skip Carey shout "Braves Win!" one more time.