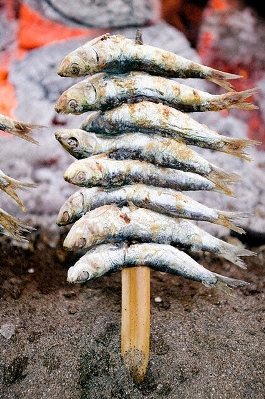 I think I've found another reason to identify with Simon Peter, that famous-for-so-many-reasons disciple of Jesus.  I can already relate to the fact that I feel like I'm supposed to be the first to show off when I think I know the answer to a question.
I can so relate when it comes to answering supernatural statements with in-the-natural answers or observations.
Most of all, I can relate to wanting so bad for my screw-ups to be the secret kind, only to have them aired out for the whole dang world to see.
But there's another characteristic I see in this impetuous, impulsive, impassioned fisherman that I totally understand:
His randomness.
You just get the idea that Peter's mama must have had a time trying to get him to do his homework.  The very image of Andrews's brother planning ahead for anything is laughable.
Ready.  Fire.  Aim.  Uh oh.  Sorry.  Shutting up now.
Resurrection Randomness
So get this scene.  Jesus has been crucified and risen from the dead.  Peter, having denied the Lord publicly had become a reproach and embarrassment to the Lord, himself, and his companions.  But he had also met the risen Christ and experienced the wonder of being forgiven by Christ.
So what now to do?
"I'm going fishing," he said.
Seriously?  No meditations on the theological ramifications of what they'd just seen and heard?  No "told you so" sermon prep for the Scribes?
"We'll go with you," six other disciples said.
Alrighty then.
In a scene right out of the ministry playbook, they fished all night and caught nothing.  As the sun was rising over the Sea of Galilee, a friendly fellow calls from the shore and asks whether they'd caught anything. 
"No," they answered.
"Cast the net on the right side of the boat," said the friendly voice.
Hey, wait a minute….
"It's the Lord!" John said to Peter, and out the boat Mr. Impulsive flew, leaving the others to haul in the 153 large fish.  How does He do that?
Peter's Turn on the Grill
They get to the shore and discover Jesus has the Kingsford going, and bread and fish (another fish-and-loaves scene) on the barbie.  "Bring me some of the fish you've caught," He says, insisting they have some buy-in to this breakfast.
What a scene.  What a feast.  Don't you just know they laughed with wonder and joy and gratitude and – dare I say it – relief?
And the randomizer?  This was right up his alley.  He ate surprises for, well, breakfast.  He just didn't know he had another surprise waiting.
After bellies were full and the conversation lulled a bit, Peter became aware of those eyes, looking at him again.  The last time he'd felt a gaze like that, a rooster crowed at his cheating heart, and Simon Peter went from The Rock to the ruined.
Now here were those quiet eyes, fixed on him again.
Here Christianity's most public failure is confronted by a God of mercy and purpose.  Three times – no accident there – he is asked by the One he denied, "Do you love me?"  The language pattern is fascinating:
"Peter, do you love me?"  "Yes, I like you."
"Peter, do you love me?"  "Yes, I like you."
"Peter, do you like me?"  "Yes, I love you."
And the challenge to Peter was always the same:  Shepherd My people.  Feed my sheep.
Lessons from the Coals
This speaks to me on several levels.
It reminds me that I will answer to the holiness and mercy of the Lord Jesus for my failures.  Not just the church.  Not just the world.  But Jesus Himself. 
It reminds me that the prevailing issue to God is always – always – the love relationship we share.
It shows me that God is willing to meet me where I am ("like") in order to lead me to where I am supposed to go ("love"). 
It reminds me that the gifts and calling of God are irrevocable.  Peter was still called to lead, and the idea of disqualification is a human invention. 
It shows the priority of people in the heart of the Lord Jesus.  ("Feed My sheep.")
It says to me that shepherding people does not require a formal office.  Yes, Peter wound up with one.  But the activity of a shepherd of people is based on relationship, whether the formal office is there or not.
Living in a world of just desserts, Peter would have been permanently branded a failure.  But the Random Angler discovered he was living in a different world – the world of Fish for Breakfast.  He lived in a world where the Savior he denied and betrayed and failed was waiting to serve him.  Eager to point out where the fresh fish were.  Wanting to hear Peter say what Jesus already knew:
"Peter, do you love me?"
"You know I do."
Chew on this:
He had betrayed Christ three times, and he knew that he didn't deserve Christ's love.  But Jesus did love him and forgave him.  He made him breakfast on the shore and they fellowshipped together.  Then, when Peter responded in love and repentance to Jesus' love, Christ not only forgave him for the betrayal, but put his trust in him by making him responsible for his own sheep.  Peter, who betrayed Christ so openly in his worst hour, was not only forgiven, but made the rock of the church and asked to lead it. 
I wonder what Jesus knew (and still knows today) that we don't and Peter didn't?  Maybe He knew that arrogant shepherds lead sheep astray, but broken and repentant ones have learned where the green pastures and still waters are.
Maybe He knew that Satan's desire to sift us like wheat didn't thwart God's scandalous plan to use Satan-sifted people as pillars in the Church.
Maybe He knew that, regardless of his failures as a leader, a follower, and a lover of Jesus, this Random Fisherman was still destined to be a fisher-of-men.  And that in just a few short days, this man who always had something to say would be ablaze with Holy Spirit fire.  And thousands of people would be asking him of all people… "What do we do?"
And meanwhile, some Pharisee from Galilee whispers to his scribe buddy, "Wonder what got into him?"
(Pssst… Thanks, Kara and Rob)