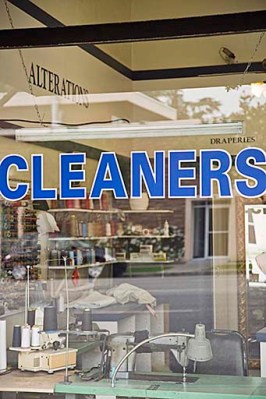 Here's a new definition of boring:  working at a dry cleaners at 3:30 on a Saturday afternoon.  In a town like ours, where the cleaners on virtually every corner close at noon or 1:00 on Saturdays, and nothing is actually being cleaned, it can be a pretty sleepy time.
Until I show up.
The wedding was scheduled for 5:00, and everything was ready.  The church was decorated, the ceremony was prepared and printed, and the wedding party was starting to party (translation:  flashbulbs were popping).  All I needed to do was go home, freshen up a bit, and change into my suit.
In what part of me remains traditional, I keep a black suit.  It goes with anything, is appropriate for funerals or weddings or any other semi-formal something.   Problem is, I only wear the thing when there is a semi-formal something.
(You probably know where this is going.)
So as I leisurely stroll into my closet on Saturday afternoon to change, I make the horrifying discovery:  I have nothing to change into.
Now this is about an hour and a half before tee time.  Actually the pants were in good shape, but the coat was nowhere to be found – which could only mean one thing.  Yep, buried about halfway down the cleaners hamper was my suit coat.  Impossibly wrinkled, and marked with a couple of ugly dusty stains of some sort.
On Saturday afternoon.
At 3:30.
Okay, I thought semi-calmly.  I do have a tux.   Yeah – buried there right next to the suit coat.
Plan C:  This bluish-gray suit that would grossly crash with the Red-Raider-black-and-red colors of the wedding.
You can always tell something's up when I leave a perfectly fixed cup of coffee virtually untouched.  Coffee sipping is for people who have the time, and I had none.
Out the door I went, in desperate search for the impossible – a dry cleaner that may be open late on a Saturday afternoon.  Wearing the black pants, hauling Plan C, I knew in my heart of hearts I was looking for a haystack in a needle factory.
Sure enough, one by one, I passed them.  Empty.  Lights off.  There was only one faint possibility I could think of:  Brite Way.
It's probably the same in your town, but these days in ours, you usually don't take your clothes to the actual cleaners.  You take them to one of the cleaners' outlets where a van picks up and delivers clothes to and from the real cleaning source somewhere else.  Brite Way is the kudzu of this type of operation in Lubbock.  They have locations all over town.  But none of them that I know of – none – clean clothes on site.  But they were the only ones open.
So with desperation on my ministerial face, I walk into one of those Brite Way locations and ask:  "Y'all don't actually clean here, do you?"
"No," came the predictable answer.
"Do you know anybody who's open right now that does?"
She looked across the street at the competition that, on a Monday morning, would certainly fit the bill.
"Not at this time," she replied sympathetically.
Go across the counter from me and think for a minute.  What would you do?  The simplest thing, of course, would be to simply say, "I'm sorry – but I'll be glad to have it ready for you by Monday afternoon."  Nobody would ever fault you for that.  After all, this wasn't even a dry cleaner!  It was just a pickup and delivery outlet.
"What do you have?" she asked.
"I just need this coat steamed," I said.  "I can get the dust off of it."
"Let me take a look at it," she said.  "I brought my steamer  up here from home and I've been wanting to try it out."
On a coffee-sipping occasion, this may have been a little distressing.  But desperate does as desperate is, and there went my jacket while I waited.
Tick-tock.  It was a bit comforting listening to the Christian music they had playing on their little radio.
About fifteen minutes later – with still just over an hour to go, she brings my wrinkle-free coat out to me.  And yes, she had also removed the dust stains.
"How much do I owe you?" I asked in a very relieved voice.
I think you know the answer to that.
LifeVesting  – doing more than you have to, more often than you want to, for less money than you deserve, with a greater good in mind.
So on Saturday, Brite Way lived up to its name at least once.  Here was a cleaner that wasn't a cleaner, open when everybody else was closed, doing what they didn't have to do, for a reward that money couldn't touch – my gratitude and good will.
Later at the wedding, somebody actually said, "Man, you look good!  You been losing weight?"
"Naw, it's just the suit."
So I asked her, "What's your name, so when I write the boss, I can tell him who was so helpful?"
"Jennifer," she said.  It was only then that I realized she was wearing a hand-written name tag.
"Thanks Jennifer," I replied.  "Good thing I didn't tell him that was your name."
Jennifer looked down and laughed, embarrassed.  Somebody had written "Farty" on the tag and slapped it on her.
Hey, I said it was boring on Saturday afternoons.