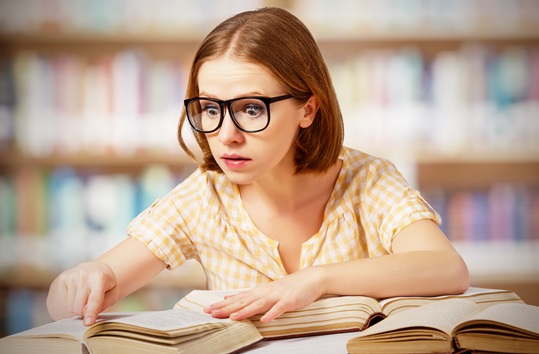 Well, the spring semester is well under way and the papers are already starting to fly.  Most of them get their well-deserved grades and get sent back with a little feedback.
Next!
But every once in a while a student will arrest me with a statement that is profound, beautifully written, or just plain funny.  And so over the years I have kept a file of favorite student quotations.
This edition is dedicated to some of the smiles or laugh-out-loud statements I have seen over the years.  Keep in mind that all of these were written for a grade, so humor carries a bit of risk when you're supposed to be writing about serious things.  That didn't stop this bunch.
So have a smile break on me and enjoy these seven…
+++++++
I do more toddling in the power of the Spirit than walking.
–William Royal
+++++++
Personally, I see no problem with couples using contraceptives. Like God, we have been given the ability to create. Yet even God after six days quit (even though he could have kept creating!).
-Dominic Done
+++++++
I know I am not Catholic because the authority of my wife trumps the Pope. We do not let Roman Catholic clergy and their teachings into our bedroom – it ruins the mood.
-Clayton Jones.
+++++++
Twenty-one years in the U.S. Navy and a few in the service sector have taught me that you cannot lead on your rear end.
-Peter Damianidis
+++++++
Gomer Pyle actually had some wisdom that Sergeant Carter failed to see. So it is with leadership: sometimes the answer to a problem is found in the simplest things.
–James Newcomb
+++++++
As I look upon my many years in leadership, I can honestly say it has not been a slow upward progress.  I believe it is more like a roller coaster ride with many dips and hills and lots of screaming along the way.
–Marcylle Combs
+++++++
I love sports so much I believe I could watch a turtle race.
–James Buckner