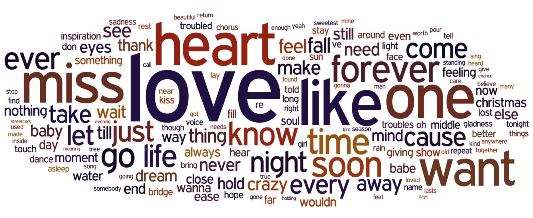 In his famous poem Desiderata, Max Ehrmann cautioned, "…neither be cynical about love, for in the face of all aridity and disenchantment it is as perennial as the grass."
I think he was right.
But I also think I know what makes people cynical about love.
Having stood on the solo side more than 200 times as a man and woman use the most famous words in promise-making – "'til death do us part" – then assemble plenty of substitutes for "death" as the reason love goes awry, it's hard sometimes not to get a little jaded.
But on this day that we set aside to celebrate love, apparently in all its manifestations, I am thankful to be part of a Kingdom that still speaks of love with the language of forever.  And God didn't blink, cough or shuffle side to side when He talked about love.
Love is as powerful as death; passion is as strong as death itself.  It bursts into flame and burns like a raging fire. Water cannot put it out; no flood can drown it.  But if anyone tried to buy love with his wealth, contempt is all he would get (Song of Solomon 8:6-7 TEV).
See that?  God gets passion.  But He also understands that Forever Love is more than pleasure, and it's oblivious to wealth or other distractions.  So what's so different about this Love that Lasts Forever?
Start with a sense of purpose, or destiny.  People who demonstrate Forever Love seem to understand that this romance, this friendship, this connection on whatever level is not the object of chance. It was meant to be, forged in the mind and heart of an only-wise God who still includes us in His plans.
Love that Lasts Forever thrives on presence.  It attends to the little things. The casual graces. The daily duties.  Forever Love never fears the ordinary, so long as those ordinary experiences are shared on some level.
It also grows in absence.  Cliché as it may sound, absence really does make Forever Love grow stronger.  When Willie Nelson sang "You were always on my mind," he captured part of the essence of this.  When Paul told the Philippians, "I have you in my heart," he did, too.  Forgettable or disposable people are not the stuff of Love that Lasts Forever.
Forever Love helps give purpose or make sense out of the things we do or the choices we make.  It gives meaning to the days of waiting, as Jacob did for Rachel, or the extraordinary risks we take, as David did for Abigail.
Love that Lasts Forever also becomes the driver of our vision. It inspires our imagination to dream of greater things or solve impossible-looking problems.  Forever love is solution-focused, not trapped in the world of issues or impossibilities.
Forever Love transcends feeling, but it also isn't afraid of it.  As the verses above remind us, it continues to arouse passion and jealousy, fury and hope, laughter and tears.  The difference is that Love that Last Forever harnesses those feelings into something excellent – something that builds up rather than destroys.
Forever Love is neither demanding nor controlling.  But it is also never afraid to ask for help or to express need.  Love that Lasts Forever understands the vulnerabilities that make all of us human.  It also knows that we were all created with a need to be needed.
Love that Lasts Forever has a way of coming alive at the point of connection.  Even when the "connection" is a memory of someone who has passed away, the love lives on, even in the mourning.  But for those still able to connect on this side of the veil, Forever Love is a reminder of John Donne's words that "no man is an island" – and Solomon's reminder that "together" has power.
Anybody can gush or blush in the fury of the moment. But until you've discovered the meaning, the inspiration, the togetherness and the delight of a Love that Lasts Forever, you have some learning – and living – to do.