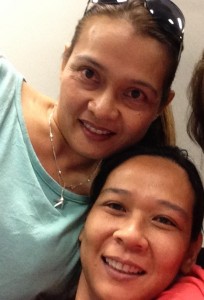 Our Thai friend Gift is back. She visited us for the first time last year and has returned with her sister Goy.  It's always a delight to spend time with our Thai friends because of their contagious joy, their delight in serving, and in the case of Gift, her husband Dui, and Goy, their deep love for Jesus Christ.
It also always leads to some interesting conversations.  Gift is many things – a deep thinker, a shrewd businesswoman and entrepreneur, a disciple in every sense of the word.  She told me that this time while she was here, every once in a while she wanted some time to ask some questions.
Fine, I said. Feel free to ask anything.
Lo and behold, she nailed me with the first one. She was looking at one of the books I had out – a book on leadership – and she asked, "Why do Americans study and read so much about leadership?"
That sound you didn't just hear were the crickets chirping in my head.
Somebody just asked the fish to explain water.
"Well," I said to break the awkwardly long silence and try to get that deer-in-the-headlights look off my face, "that's the first time anybody has ever asked me that."
Wow.  That was really helpful.
I remembered the trip we made in 2009, when I had the opportunity to teach Thai pastors and I taught on leadership and influence. They were gracious, but openly said, "These are things we have never thought of before."
Seriously? Doesn't everybody think about leadership and influence? Especially those who are in positions of leadership and influence?
Actually, no. Some people don't study leadership – they just lead. Maybe well, maybe not. Or they just follow, content that those in authority are there for a reason and their task is to follow faithfully.
Also, just to be clear, not all Americans are all that interested in learning about leadership. But (shameless promotion coming…) maybe they should be.
But go to any book store, if you can find any left where you live, and check the business/management/leadership section. You'll always find a plethora of leadership secrets, fads, ideas, or metaphors. Type "leadership in books" into Amazon's search engine, and you'll get 92,649 results. Why do people keep writing about leadership? Because somebody keeps reading.
But what is it about we Americans that find leadership so interesting or important? Here's a random sampling of ideas – very much a work in progress. I'd like to hear from you what I haven't thought of, so please drop a comment in the box below (or click on the title if you're reading this by RSS or email to add a comment).
1. That's where the money is.
Let's get the cynical out of the way first. Americans are interested in leadership because Americans are interested in money. And in organizational life, leadership is where the money is. It's a fascinating conversation I get into sometimes with business students, most of whom are broke and exhausted. Whenever I ask about CEO compensation being too much, almost every one of them to a person says that no one should put limits on CEO pay.  Even when you're not the CEO? No. Because one day they just may be.
2. Americans are raised to question authority, but follow leaders.
Case in point: When then-Senator Obama wrote The Audacity of Hope he was described by the media as a "rock star." People wept when he was elected president. I don't think anybody cried when George W. Bush was elected, except maybe Al Gore, but he blamed it on climate change. But Obama was this inspiring figure who breathed passion and hope into the electorate. Once elected, of course, he became the most hated man in America, as is every president. But culturally, we are inspired by those who can point us to the future with inspiration and confidence.
3. We believe that anybody can lead.
"Boy," my mama used to say, "you put on your pants every day just like he does." Make no mistake about it, the U.S. has economic classes, but nobody is doomed to stay in theirs. If Americans had a patron saint, it would probably be Abraham Lincoln. Most Americans are brought up to believe they can become anything they aspire to be. And while we may not individually aspire to lead others, we are taught at an early age that we could if we wanted to.
4. We make heroes out of change agents (as long as they aren't trying to change us).
We champion the stories of the underdog or the woman or man nobody ever heard of who rose up to start a movement. We routinely (ad nauseum) tell young adults that they have the capacity to change the world, then we celebrate those who do (unless they're politicians – see #1 above). The stories of gadget inventors, marshals who bring law and order, outlaws who confront crooked sheriffs, business turnaround specialists, great athletic coaches, charity leaders who launch movements bathed in pink and many more are epic tales of conquest and inspiration.
5. Technical ability does not translate into leadership ability.
Many Americans are vitally interested in leadership because they aren't any good at it, and they need to be. Organizations tend to promote people who are technical geniuses or entrepreneurs. These people know technology or some system for doing things, and are rewarded with a company or a team to lead. Trouble is, they know nothing about leading people, and it shows. Add to that the fact that the landscape is always changing, with new technology, new competition, and new economic realities, and we have a leadership challenge.
6. Americans find their security in their dreams.
Other cultures may find their security in stability, tradition, or a hierarchy of class-based leadership that keeps order and peace.  Not so the good ol' USA. Americans are directly or indirectly taught early on that "dream" is an American cultural badge. After all, have you ever heard of "the Brazilian Dream" or the "Turkish Dream?" Maybe they have one, but I've never heard of it. Americans will follow someone who experiences the fulfillment of his or her own dreams, and can lead them to the fulfillment of theirs.
7. Americans believe they lead the world.
This isn't patriotism; right or wrong, it's more like paternalism. And there are two versions of it – the "ugly Americans" who act superior wherever they go, and the "city set on a hill" that shines a beacon of freedom and hope to the world. Both may be wildly inaccurate, but if we had a cultural slogan it would be "Be the best and help the rest." And that, in our view, takes leadership skills.
8. Leadership skills are transferable.
A certain set of Americans, though not all, have learned an important secret.  When you learn to be a good leader, you also learn to be a good husband or father. A good student or teacher. A good communicator, even cross-culturally. A good conflict manager. When you learn leadership, you learn good spiritual practices. Good personal and public service. Good life planning and goal setting. You learn vision casting, life and process improvement, and team building. In short, you learn things by studying leadership that you may not learn any other way – and you can take them with you into whatever field or life endeavor you choose.
I'm sure there are more ways to answer that question, and I'd love to hear yours. In a world where every culture has its leaders, why do you think Americans are so interested in learning about it?
Related articles