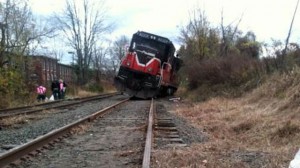 Congratulations on your purchase of Leaderail® – the all-in-one resource designed to completely undermine your influence and effectiveness as a leader.  Whether you purchased the CEO Golden Parachute Edition, the One-Term-in-Office Plan, or the 90-day Let's-Get-This-Over-With Formula, you're sure to be pleased with the results.  Soon you'll be free to search for other opportunities for employment or service without the cumbersome distraction of someone else looking to you for guidance or vision.
Each component in the Leaderail® package sells separately and functions as an independent module.  However, when used in combination with other components, we are confident that you will see twice the results in half the time.
You'll want to read the instruction manual for full details on putting the Leaderail® system into practice.  This document is meant just to introduce you to your Leaderail® package contents.
Relationship Ruin
The core component in the Leaderail® system is Relationship Ruin – the supplement you take twice a day to boost your natural defenses against meaningful relationships.  The proprietary formula in Relationship Ruin has been proven effective in:
Making you suspicious that everybody is out to get your job.
Keeping you secretive about your intentions and plans.
Helping you stay alert to opportunities to betray confidences.
Transforming your calm personality into an explosive volcano.
Blaming your employees for any mistake you make.
Making commitments with no intention of keeping them.
Shading the truth to cover your assets, no matter who you're talking to.
While Relationship Ruin starts working right out of the bottle on the first day, you should begin seeing dramatic results in about 21 days.
Goal Gutter
You'll love all the bright, shiny objects in the Goal Gutter kit.  They're sure to make even the most focused executive lose sight of the mission or vision of the organization.  With regular use, soon you, too, will be fad-finding, Facebook trolling, or politicking with the best of them.
If you purchased the deluxe edition, make sure to check out the special section for chief executives called Soundbytes and Psychbabble.  There you'll find a ready list of excuses and finger-pointing activities, sure to convince yourself that it's just not your fault that your team or organization failed to achieve its goals.  You'll find useful phrases to use in critical times, such as, "I just want my life back," or "What part of 'no refund' do you not understand?"
Church and nonprofit leaders will love the gold-plated sacred cows and time-honored traditions add-ons.  Also to assist you in the paralysis of analysis and make you the toast of Indecisionville, we have included as a special bonus feature our exclusive copper-plated WWJCD bracelet – reminding you to put the brain back in no-brainers by asking, "What would Jimmy Carter do?"
And you bureaucrats and policy wonks – don't think for a minute we've forgotten you!  Included in Goal Gutter 2.0 is our own policy and procedures manual manual (you read that right), wrapped in the decorative red tape.  You'll have the time of your life learning how to slow down and complicate the simplest of procedures and decision-making processes.
With all that's included in the Goal Gutter kit, we think it's worth the entire price of the Leaderail® system.  But wait (betcha know what's coming!)… there's more!
TeamBuster
Your Leaderail® system also includes the latest edition of TeamBuster, the office politics game sure to bring hours of delight to the lone rangers and Martha Martyrs in your organization.  TeamBuster can wreak havoc on the most effective of teams in a matter of a couple of meetings, transforming them into a group version of Trivial Pursuit.  Inside the Team Buster DVD Training System, you'll learn strategies such as:
Avoiding conflict at all cost.
Avoiding holding other team members accountable.
Leading Groupthink sessions.
The small group filibuster, and
Rubber-stamping whatever the team "leader" says.
Employ all these strategies and soon your teams will be dead in the water – which is exactly where you want them to be.  After all, everybody knows that a camel is a horse designed by a committee.
Change Repel No. 5
No Leaderail® system would be complete without the pungent fragrance of Change Repel No. 5.  With just one or two spritzes on the morning, you'll be set in your ways all day long.
The beauty of Change Repel is that we bring subtlety to the entrenchment process.  Rather than bulldozing over others to avoid any type of change, Change Repel arms you with useful language skills.  Before long, instead of saying "old timey," you'll refer to your approach as "classic."  Rather than that blunt, offensive "Hell no!" you will smile and politely suggest that we take this under advisement.  Either way, the proposed change is dead where it stands, but you'll come across much nicer in the process.
With Change Repel, one size really does fit all.  Everybody gets the same treatment, whether they're competent or not, or whether they're motivated or not.  With regular use, Change Repel will help you keep the main thing the main thing – even when the main thing hasn't been the main thing for a decade.
We hope once you've seen how effective our products are here at LifeVesting Laboratories, you will come back for moreproducts and services.  Watch for the early fall release of our newest product under development – "I Just Blew the Interview."  It's sure to keep you unemployed or your money back.
Limited Warranty
The Leaderail® system comes with a twelve-month money-back guarantee.  We are confident that , used as directed, the Leaderail® system will completely derail your leadership within a year. If you are still employed in a position of leadership after 12 months of regular use, LifeVesting Laboratories will not only give you your money back – we will also send every employee in your organization a copy of Melody Beattie's classic, Codependent No More as a token of our good will.
So what are you waiting for?  Start sabotaging your influence today!
Related articles