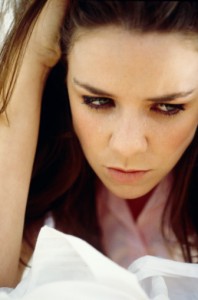 Promise.  It's one of the most charming words in the English language.
Do you realize that so much of what we experience, of what we know about God, of our spiritual maturity, and of our success or failure in the Christian life has something to do with how we respond to the promises of God?  Peter says, "And because of his glory and excellence, he has given us great and precious promises. These are the promises that enable you to share his divine nature and escape the world's corruption caused by human desires" (2 Peter 1:4).
But what do you do when you are standing on the promises and it doesn't turn out like you expected?
What do you do when you wait on the Lord, and all you get in return is more waiting?
What do you do when you know – you know you've heard from the Lord about a specific situation, and it just doesn't happen?
In short, what do you do when you're disappointed with God?
With Friends Like That…
I want to introduce you to two people who experienced that kind of disappointment.  They were sisters, and friends of Jesus.  And so was their now-dead brother, Lazarus.  These siblings from Bethany offered Jesus and his troupe a home away from home – a refuge from the madness of His schedule and demands.  So when Lazarus became gravely ill and they sent for Jesus, these women knew He would be faithful to save the day.
But there were too many days to save.
Day one – no Jesus.
Day two – ditto.
Day three – my God, where is He?
Day four – Jesus finally appears, and on separate occasions, both of these women said the exact same thing to Him – "Lord, if you had been here, my brother would not have died."
When Disappointment Collides with Hope
Other than those who traveled with Christ, nobody loved Jesus more than Mary and Martha, and the feeling was mutual.  But loving Jesus didn't make them immune from disappointment, nor will it spare you.  In fact, sometimes the promises of God seem to directly contradict what we are experiencing.  Do the math here…
Day 1 – Lazarus gets sick, so Martha sends a message to Jesus, who is a day's travel away.  Sometime just after the messenger leaves, Lazarus dies.
End of Day 2 – the messenger returns with no Jesus – just a promise:  "This sickness is not unto death, but for the glory of God."  Seriously?  My brother is graveyard-dead and you're sending a messenger with promises?
Day 3 – Jesus still doesn't show up.
End of Day 4 – Finally He appears.  Thanks, Jesus. Glad you could make it.
What to Do with Your Disappointments with God
We know how this story turns out.  Martha and Mary didn't.  They were hurt and confused and had no clue what this pain had to do with the glory of God that Jesus had promised.  And the ways they responded to this sense of unfulfilled promises from God can give us some anchors for our times of spiritual disappointment.
1.  Appeal to the love of Jesus.
"Lord, the one whom you love is ill."  That's the message they sent to Christ.  We don't know what made Lazarus so special, but to Jesus Lazarus was more than just a believer or a follower.  He was a friend.
One of the reasons this is so important is not so you can try to manipulate God to do what you want Him to, but so you can keep in mind that God has never forsaken His ultimate promise to you – to love you unconditionally.
2.  Move toward Jesus, not away from Him.
"When Martha heard that Jesus was coming, she went to meet him" (v. 20).  Oh boy, here it comes.  We pick on Martha a lot because she's easy to pick on.  But one thing I love about her is that even in her times of disappointment, pain, or lack of understanding, she moved toward Jesus, not away from Him.
That doesn't come naturally to me, so when I see it in others it challenges me.  My tendency is to go into my cave and hide or pout.  But what neither Martha nor Mary knew at the time was that He was about to redefine what miracles look like if they would just trust Him and move toward Him.
3.  Respond to God's call, whether you feel like it or not.
True to her personality, Mary waited back at the house until Jesus sent for her (v. 28).  Then she came to meet Him, just as Martha had done.  Did she feel like it?  I doubt it.  Did she respond because she knew what He was about to do?  No way.  She responded to His call because He called her, and she trusted Him – even when she didn't understand Him.
Don't be surprised if, in the midst of your spiritual disappointments, you feel pressed upon by God to do something.  Be somewhere.  Say something.  It could be something as simple as showing up in church or getting alone with Him.  But when He calls, respond.
4.  Express your disappointment to God.
Mary and Martha used the exact same words, but produced different reactions in Jesus.  But both were true to who they were and how they felt.  I don't think God expects anything less from you.
Jesus, you could have done something, but you didn't.
Jesus, you could have been here, but you weren't.
Jesus, you could have warned me that something bad was going to happen, but you didn't.
Jesus, you could have protected me from this hurt, but you didn't.
One thing is sure – when you're honest with yourself and with God about your pain, Jesus will respond as personally to you as he did to Mary and her sister.
5.  Focus on a relationship, not a religious system.
"Your brother will rise again," Jesus said.
"Sure, at the Resurrection," said Martha.  That's what her religious system (and the Bible) taught. What Martha didn't understand was that the Resurrection is not a thing – it's a person, and she was looking at Him!
Promises aren't things. They're extensions of the heart and character of God.  They are gateways through which we partake of the divine nature, Peter says.  When you're disappointed in God, set aside your systems for a minute and let Him be Father to you.  Talk to Him.  Listen to Him.  Give to Him and receive from Him.
6.  Look for the greater glory.
This is hard to see, much less hear from somebody else when you're heart deep in sorrow or anger.  But I'll say it anyway… Maybe it's time to raise the bar of faith.
Sometimes we believe that when God didn't seem to keep His promises to us it was because we'd raised the bar too high.  Maybe it is because we had it too low.  Twice in this passage, Jesus said they would see the glory of God.  And boy, did they.
If you're standing on a promise and it doesn't happen like you'd envisioned, gird up!  You're may be about to see the glory of God in ways you hadn't imagined.
Your disappointing experiences are opportunities for you to experience greater glory and deeper faith than you ever could without them.  Bring Him your hurts, your confusion, your broken heart.  Bring Him the sting of your disappointments and the fear you have in ever trusting Him again.  Bring Him your humiliation and your heartache and hurl it for all it's worth at Him if you need to.  I think He's big enough to take it.
But while you're there, maybe you can prepare yourself to receive something back from Him.  After all, He's faithful to deliver on what He has promised, whether you can make sense of it all or not.  Faith in the face of confusion and hurt is still faith.  And if you don't see the promise on this side of eternity, guess what?
You'll just have to plan to enjoy it forever, not just for your short time on this planet.