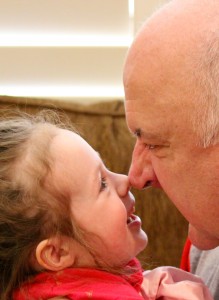 Ladieeeees and Gentlemen!  Boys and girls of all ages!  It's the ultimate prophetic showdown since Elijah and the prophets of Baal!
And I've never been so nervous in all my life.
In that corner, at 3 years of age and weighing in at 35 pounds or so, from McKinney, Texas, it's Laura Kate Wiley.
In this corner, at 53 years of age and weighing in at none-of-your-business, from Mobile, Alabama by way of Lubbock, Texas, it's yours truly.
I come armed with a theological degree and lots of really useful ministry experience.  She comes armed with a Big Picture Story Bible and can sing from memory all four stanzas of "Joy to the World," the Doxology, and another two dozen hymns and praise choruses.
But this throwdown isn't about lyrics or words or theology.  It's about boys and girls.  And what's coming home from the hospital in July.
See, about a year or so ago I "prophesied" that all the rest of the grandchildren would be boys – and that it would take that many boys to keep up with the one her mom calls the Big Sasster.  So far… so good.
After Baby Cohen (boy) came Baby Shepherd.  Check.
Then Baby Jack.  Check.
On deck:  Baby Cason.  Checkuary.
So when Carrie develops some symptoms and goes to the doctor a few weeks ago she discovers that the cyst is actually a sister  for the Sasster.  Or a brother.
Meanwhile, at the same time back at the casa, the prophetessa is drawing a picture.  Of seven people.
"Who are these people?" her Daddy asked.
The two on the right were friends of hers.  The four on the left were her Daddy, Mommy, herself and Shepherd.
And the one floating above the family?
"Oh, that's the other little girl. We don't know her name yet."
Out of the mouths of what?
As far as she's concerned, it's a foregone conclusion.  It's a girl named Hannah.  And she's hearing no talk of an alternative plan.  Nobody's shaking her from the firm conviction – come mid-July, she's having a little sister.  After all, she already has a baby brother.  A sister is the only thing missing.  And why should anything be missing?
All the adults in her world are bracing her for the world of 50-50.
She's bracing them for told-you-so.
So far I'm sticking to my guns.  It's a boy named Fischer.  I haven't drawn any prophetic pictures, had any prophetic dreams, or received any prophetic voices, verses, or visions.   But I'm sure of it.
That said, wisdom suggests that I have a contingency plan that doesn't involve sticking two fingers in my mouth and howling like a certain three-year-old who will remain unnamed.  And I do have a verse for that.
Now listen, you who say, "Today or tomorrow we will go to this or that city, spend a year there, carry on business and make money." Why, you do not even know what will happen tomorrow. What is your life? You are a mist that appears for a little while and then vanishes.  Instead, you ought to say, "If it is the Lord's will, we will live and do this or that" (James 4:13-15).
What James was really saying was that if God has different plans than the ones you knew were his yesterday, it's probably a good idea to be flexible.
Admit you're wrong?  Of course not.
Just act on greater revelation today.  Be faith-flexible.  Faixible.
I'm sure my opponent is going to need that.
But just in case… if you see a piece here titled "Dear Hannah" this July, you'll know two things are true:
David whipped Goliath all over again.
I won't be predicting God's plans for babies anytime soon.
N-n-n-nervous?  N-n-n-n-nevah.