Eight Weeks that Can Change Your Life!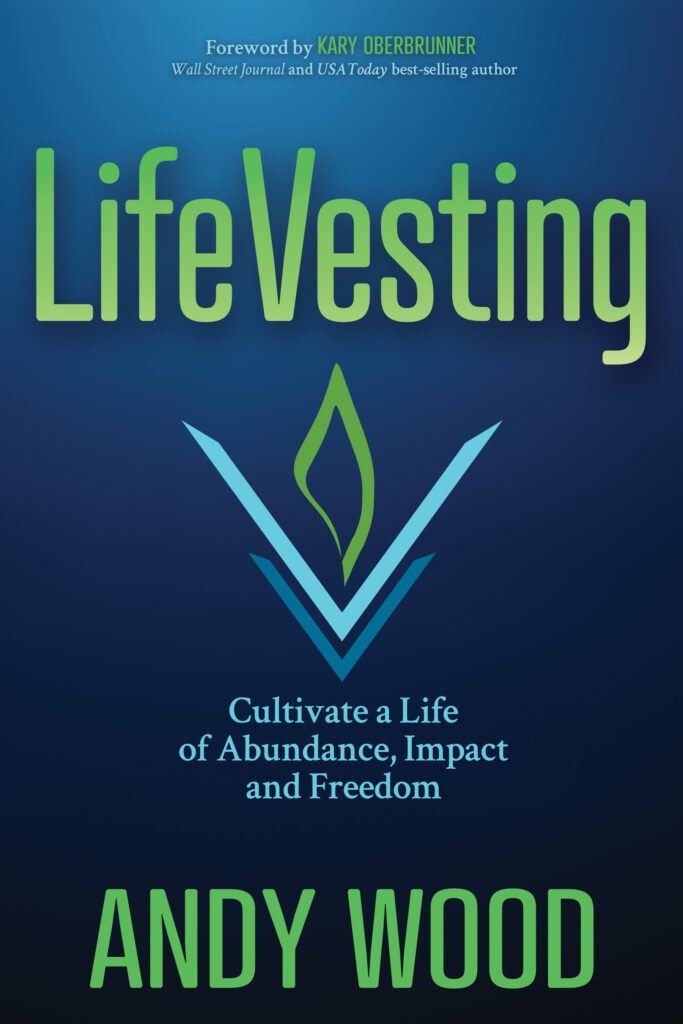 Hi Friend,
Have you ever looked in the mirror and thought to yourself, "I just want my life to count!"
Or heard others talk about an "abundant life" and wondered where yours was?
Have you ever wondered how some leaders made influence look so easy?
Ever wished you could return to a previous season of vibrant growth and transformation?
Have you recently felt stuck because of past choices?
Hey, I get it. I've lived it. And all the while I knew that God had more for me than what I was experiencing.
All that changed one night when my son – then a freshman in college – called to ask for help with an English paper. "Dad," he said, "I'm thinking of an idea and I wanted you to help me." His idea – take concepts of investing from the financial world and apply them to other areas of our lives.
"I'm calling it LifeVesting."
That one call launched an ongoing series of conversations. With God. With my son. And with thousands of people around the world over the last 15 years. Now I'm inviting YOU to join the conversation. Not for my sake. For yours.
Hot off the press! Available pre-publication… the latest edition of the book based on that experience. It's called LifeVesting: Cultivate a Life of Abundance, Impact, and Freedom.
Recently people like you from all over the nation began to explore how they can take charge of their future. And they found new motivation to make an eternal impact with their lives. They began to dream about new possibilities and find the courage to make those dreams come true. And the results were stunning!
Andy Wood encourages his students to embrace the freedom and fulfillment of living a life of purpose and generosity. Andy's transparency, wisdom, and knack for asking the right questions guided our class in dreaming and doing the life God created us for.

—Susan Murphy
I'm excited to announce that we're launching a new LifeVesting course soon, and I'd love for you to be a part of it.
This 8-week group coaching experience combines individual study with group engagement. We'll meet together once a week via an online platform (Zoom.us). We'll also engage with each other throughout the week in different ways. You'll receive the training, support, and direction you need to add value to every area of your life!
My experience with my LifeVesting group really gave me confidence in my future and in myself as a leader. I went into this group as a recent college graduate, unsure about what to do with my future or how to find direction. Through LifeVesting I was given the tools and inspiration I needed to grow personally and professionally, and to develop my dreams and visions into action steps. Each week is full of valuable insights and questions that will push you to take action steps and set goals for yourself. The lessons on passion and vision really challenged me and opened my eyes for the type of future I saw for myself. Going through the material with a group of likeminded people was an incredible experience and a great way to grasp each week's lessons. Anyone, no matter what your career or stage of life, could truly benefit from this experience.

–Allison Forbes
Wouldn't you love to rekindle your passion for what really matters? Wouldn't it be amazing to awaken a new vision for the type of future you can experience? How might that impact your relationships? Your influence? Your legacy for future generations?
I first heard about LifeVesting after listening to Dr. Andy Wood preach at my church. I researched his program and asked Dr. Wood to come and speak to the Lions Club of Mobile where I was the First Vice-President at the time. After hearing Dr. Wood describe this program for just a few minutes I knew it was something that I was very interested in. I participated in the initial 8-week class with various professionals from all over the United States. This class taught me things that I would never have thought about in my professional and spiritual walk. It also pointed out areas of both aspects of my life that were staring me in the face at the moment. The LifeVesting program is not only a great value, it is a tool that will change your life for the better.

-James Harred
This is more than just a Bible study or discussion group! A coaching group encourages and empowers you to apply the principles we talk about. It's a safe place to process and explore new ideas. It empowers you to overcome your fears. It challenges you to follow through with commitments you make to yourself. And all that is under the care of the group coach, whose only interest is in your growth.
The word LifeVesting intrigued me right away and I was excited to get started. If you are not sure the best way to use your God-given talents or you have a FEAR about how God will use your gifts, this study will provoke your mind and help you work through those hurdles. One of my favorite concepts from the book was the Life Maximizer. Ask yourself: "At the end of a perfect day for me, what can I say that I have done?" Andy's question will help you create your own perfect day and maximize your time. This study is very convicting. It's useful for anyone wanting to grow spiritually and emotionally and improve their quality of life. If you are on the fence about whether you need to invest in a study like this, I would highly recommend taking advantage of this opportunity.

-Charity Render
This could be the most significant investment you have made in your personal growth in a long time. Perhaps ever.
Included in this offer:
My goal is for you to receive incredible value through this experience. Here's what you'ill receive if you choose to commit to this coaching group:
A copy of the 212-page LifeVesting book. The book is biblical, practical, and intensely personal.
A link to a free digital copy of the book that you can use yourself or share with someone else.
Nine 90-minute group-coaching sessions that I personally lead. This will help you apply what you're learning. AND you'll receive encouragement from other group members.
A 45-minute private coaching session with me around any topic in the book.
A private Facebook group for ongoing interaction throughout the 8 weeks together.
Free first access to extra materials as they are developed. This includes videos, podcast-type messages, and other written resources.
Discounted books in the future. You'll be able to order in bulk should you ever want to use them for coaching or small group leadership.
Individual coaching at a discount off my regular rate anytime during the next year.
Benefits to You
There are many practical and intangible benefits to being in this group. Here are a few :
A renewed sense of Christ-centered abundance in multiple dimensions of your life.
Practical ways to increase your influence and leave a legacy for future generations.
Growth – spiritual, financial, relational, and much more.
Freedom from mindsets and habits that have limited you in the past.
New vision for your life in multiple areas.
Clarity about what you value most in life and the courage to pursue it.
Encouragement and support for times of testing you may be encountering.
What's Next?
This course is not for everybody. But for those who participate, it could be life-changing.
Programs of this intensity and value often charge $3,000 or more. Your actual price is only a fraction of that.
I am offering group coaching around this material for $295.00. And if your spouse is interested, they are welcome to join for just $40.00 more.
Space for this group is limited. If you're curious about exploring it further, please click here to pre-register. This helps me gauge your interest and get your feedback on one other important question. After that, I'll contact you to answer any questions and complete the process.
You only get one life. Let's decide to invest our lives together!
Sincerely,
Andy Wood
P. S. – Just to be clear, pre-registering does not obligate you to sign up for the group. It just lets me know you may be interested. Click here to get started.